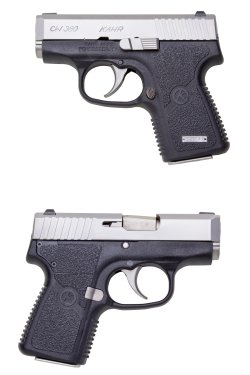 One of Kahr Arms' top selling products on the north American market, the CW380 semi-automatic pistol was showcased at the 2016 edition of the HIT Show in Vicenza (northern Italy) by its local distributor − the Diamant S.r.l. company.

Specifically conceived for concealed carry and personal protection, or as an optional off-duty or backup weapon for law enforcement or private security personnel, the Kahr Arms CW380 is a Browning-type locked-breech, recoil-operated, striker-fired pocket-sized pistol
built around a matte stainless machined slide and a black polymer frame with checkered front and rear grip straps.

The Kahr Arms CW380 pistol is barely 15cm (4.96") long overall, sports a conventionally-rifled 2.58" barrel with a 1:16" right-handed twist, and weighs barely 289 grams (10.2 ounces) when unloaded. Its single-stack metal magazine hosts up to six rounds of .380 ACP ammunition.