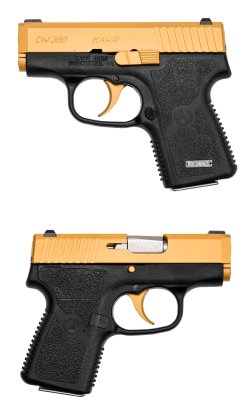 The Kahr Arms company − an US-based manufacturer and a global market leader in the field of pocket pistols for personal protection, home defense, and backup duties − once again announces the establishment of a partnership with famed distributor Davidson's to offer a limited edition exclusive double-action semi-automatic micro-compact pistol in .380 ACP in the United States of America.

The CW380 is currently offered in an attractive Cerakote Gold finish and can only be purchased through Davidson's and the Gallery of Guns website for a limited time.
The Cerakote Gold Kahr CW380 semi-automatic pistol features a 2.58 inch conventional rifled barrel, an overall length of 4.96 inches, a height of 3.9 inches and it weighs just 10.2 ounces. The pistol has a black polymer frame and a stainless steel slide. The attractive gold features can be found in the slide, trigger, and the slide stop lever giving it an opulent appearance.
The CW380 pistol features a locked breech, modified Browning type recoil lug, and utilizes Kahr's seven patents including the "safe cam" action found in all Kahr pistols. The result is a micro-compact pistol with very little recoil and quick follow-up shots. The pistol also has a drift adjustable white bar-dot combat rear sight and a pinned-in polymer front sight. It has a 6+1 capacity and comes with one 6-rd magazine. The high temperature gold Cerakote coating is a multi-step process which results in a durable finish that holds up well under normal use.
The Cerakote Gold Kahr CW380 pistol is shipped with two magazines and has a manufacturer's suggested retail price of $439; it is available in the United States only.
Kahr Firearms Group's models are distributed exclusively in Europe by Waffen Ferkinghoff.