This video has been hidden because of an external service (YouTube) that could potentially collect personal data.Allow video services for the duration of the visitAllow video servicesStop allowing video services
Kahr Arms polymer-framed P series was introduced in 1999, a development upon earlier Kahr's all-steel pistols produced since 1995. The P series is made up of double action only (DAO) hammerless, striker-fired, short recoil operated, semi-automatic pistols in different calibers including .380 ACP, .45 ACP, .40 S&W and 9 mm Luger (aka 9 Para or 9x19mm). As the name implies, The P9 model is chambered for the latter caliber, and the version we tested is the P9 Duotone, characterized by a molded black polymer frame mated to a matte stainless steel slide.
Kahr Arms P9 Duotone: quality and accuracy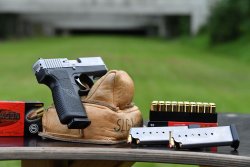 We must admit that we have a soft spot for two-tone guns dating back to the 1980s when this kind of aesthetic solution started to catch on. The P9 DuoTone is indeed visually pleasant, but there is much more about it: Kahr's parent company, established in 1981, has been a leading supplier of computer numerical control (CNC) machine tools and applications engineering, providing quality contract machining, manufacturing and assembly services for diverse industries.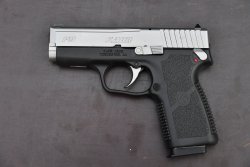 That's probably why the P9 components are accurately computer-machined, with quality finishes. No frills or useless niceties, just a sound, well-made product. In this respect it's worth mentioning that the transfer bar is fully enclosed into the frame, which is always a good thing since it reduces malfunctions.
As is common in polymer-framed guns, the steel slide rides on steel inserts within the polymer frame. The 3.6 in / 91 mm barrel is a Lothar Walther polygonal-rifled match grade type.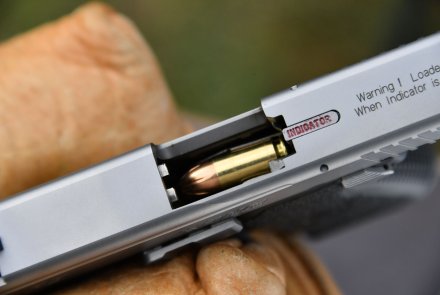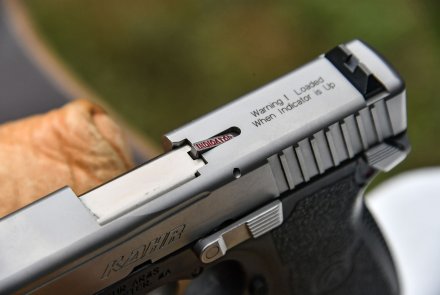 Kahr Arms P9 Duotone: technical data
| | |
| --- | --- |
| Model: | P9 DuoTone LCI 3,6" Premium |
| Manufacturer: | Kahr Arms |
| Caliber: | 9 mm Luger |
| Magazine capacity: | 7 |
| Barrel: | 3.6 in / 91 mm  |
| Finish: | black polymer frame and matte stainless steel slide |
| Sights: | drift adjustable, white bar-dot  |
| Abzugsgewicht: | 2.850 g |
| MSRP: | 1.071 Euro |
Kahr Arms P9 Duotone at the shooting range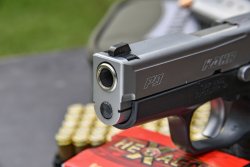 Equipped with drift adjustable, white bar-dot combat sights, the P9 Duotone is designed as a concealed carry or back-up pistol. Being a hammerless double-action only (DAO) gun it's also very intuitive to use. Thanks to its low bore axis, the P9 DuoTone is easy to control even when shooting one-handed, especially considering that it's a full 9x19mm chambered compact gun.
The slide is slightly heavier than the competition, and combined with the polymer frame, helps to dramatically dampen felt recoil and muzzle flip, as you can also see in our video. Thanks to this, double taps are easier than most single-stack compact handguns, and regaining the sight picture is also faster. The perceived kick is still sharp, however never unpleasant. We feel the quality of the sight to be very good – short sight radius notwithstanding, the bar-dot system is efficient and allows good accuracy in fast drills. The pistol's  ergonomics and balance are well-engineered and it feels good in the hand, transmitting confidence to the shooter. Contrary to expectations – and other experiences with different DAO guns – the double-action only trigger was smooth and easy to control even if the pistol was out-of-the-box, with no break-in at all.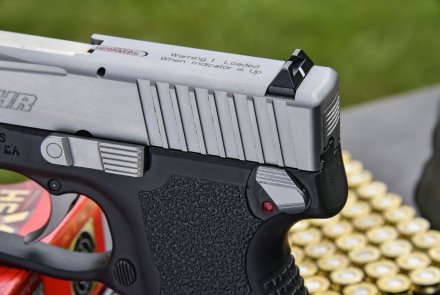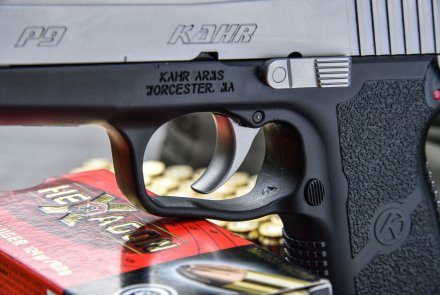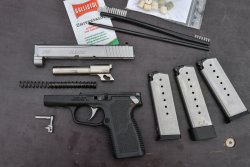 The 7 rounds in the magazine, plus the one in the chamber, are sufficient for any self-defense scenario; the length of the grip, almost ending flush with the pinky finger of a medium sized hand, allows a reasonably fast magazine change should the need be. About accuracy, nothing to complain. The gun we tested – provided by Waffen Ferkinghoff, the distributor for Europe of Kahr Arms products – featured an external safety and a loaded chamber indicator, but the P9 is also available with neither if you prefer so.
This video has been hidden because of an external service (YouTube) that could potentially collect personal data.Allow video services for the duration of the visitAllow video servicesStop allowing video services