Article also available in other languages
This video has been hidden because of an external service (YouTube) that could potentially collect personal data.Allow video services for the duration of the visitAllow video servicesStop allowing video services
The buzz has been around the Web for a few weeks now, with the most important gun-related blogs and websites − including Guns.com, American Rifleman, and others like RomeoTangoBravo, The Firearm Blog and world.guns.ru − have been reporting "rumors", "leaks" and other informations concerning a soon-to-be-launched, brand new striker-fired pistol proposed by the most important German arms manufacturer, Heckler & Koch GmbH − or, more specifically, by its north American branch, Heckler & Koch USA.
all4shooters.com has however refrained from relaunching these news so far, as there was no official word from the Company that could tell the truth from a possible Internet hoax.
That is... until now. An official press release dated June 10th, 2014, announced that the Heckler & Koch VP9 9x19mm caliber semi-automatic pistol will be launched in July, with distribution starting first of all in the United States of America.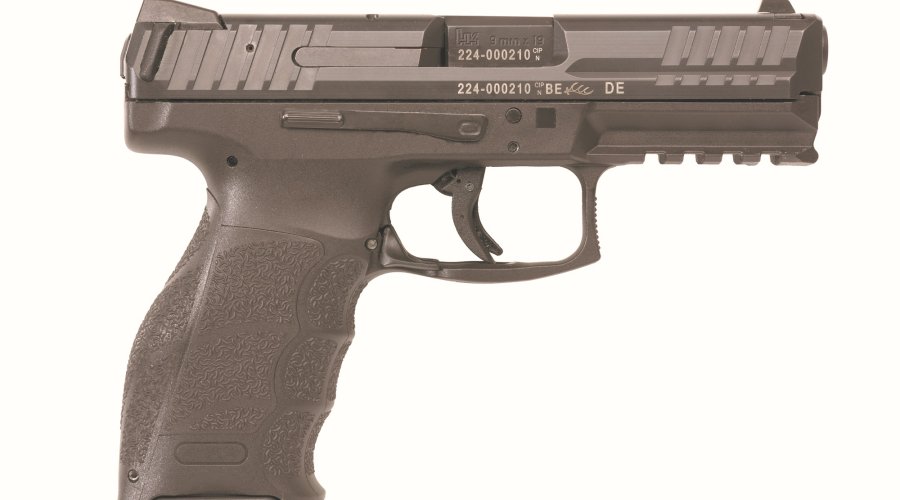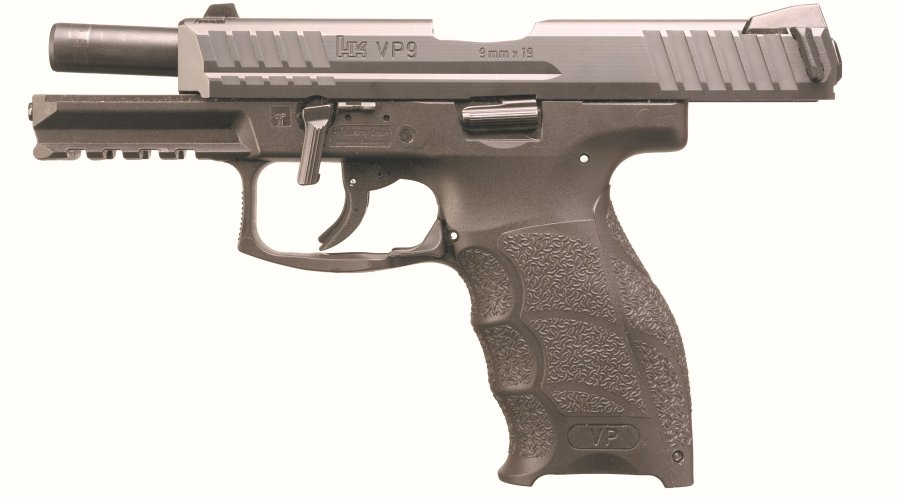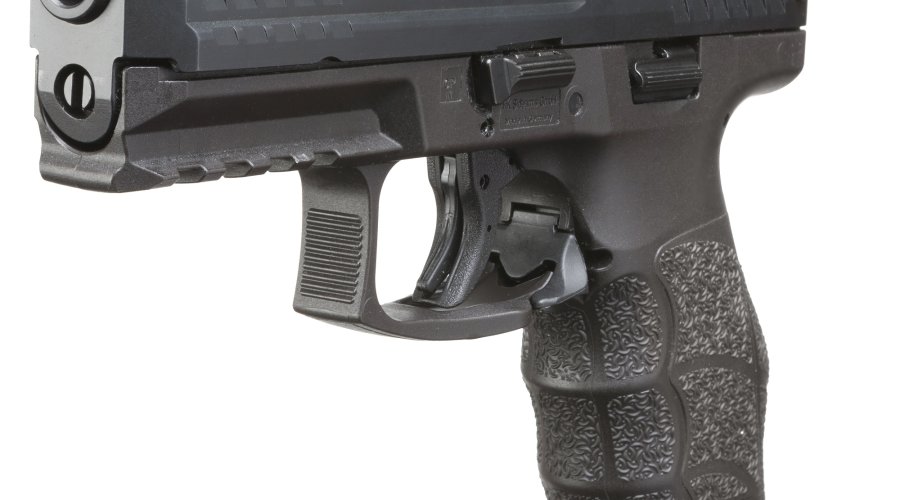 The Heckler & Koch VP9 has been in development for around four years now, and its name is an obvious homage to the VP70, Heckler & Koch's groundbreaking "People's Pistol" of the 1970s, known as the world's first commercially available striker-fired, polymer-frame handgun.

As a matter of fact, Heckler & Koch has always been a pioneer in striker-fired pistols: in the second half of the 20th Century, the Company launched some successful striker-fired designs such as the above-mentioned VP70 and the P7 series; now long out of production, these handguns were state of the art back in the day − or possibly, even well ahead of their times − and are now considered as well-established milestones in the history of modern firearms industry and technology.
Just like the P7 and the VP70 back in their days, the new VP9 is an extremely modern pistol. Sure, the design heavily borrows from the experience gained by HK engineers with the P2000, P30 and HK-45 pistols.
However, the Heckler & Koch VP9 is much more than just a "striker-fired P30", as some gun blogs promptly slammed it.
Technically speaking, the Heckler & Koch VP9 is a blowback-operated, locked-breech semi-automatic pistol based upon a modified tilting-barrel Browning locking system.

Much like all the latest Heckler & Koch pistols, the VP9 is built around a reinforced polymer frame, featuring a MIL-STD-1913 "Picatinny" rail for tactical accessories and other peculiar twists, such as a slightly redesigned trigger guard and an ergonomically-shaped pistol grip with front finger grooves and replaceable polymer backstraps and side panels for small, medium or large hands.
The fully machined, blued stainless steel slide sports front and rear serrations, for easier cocking and chamber checks; the standard, "HK-type" sights are of the classic three-dot, non self-luminescent (i.e. H3 based) type, and are adjustable for windage.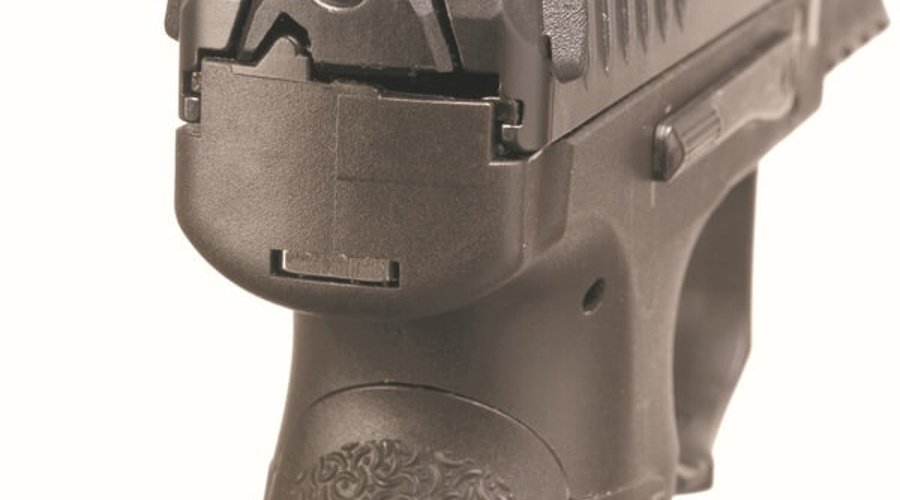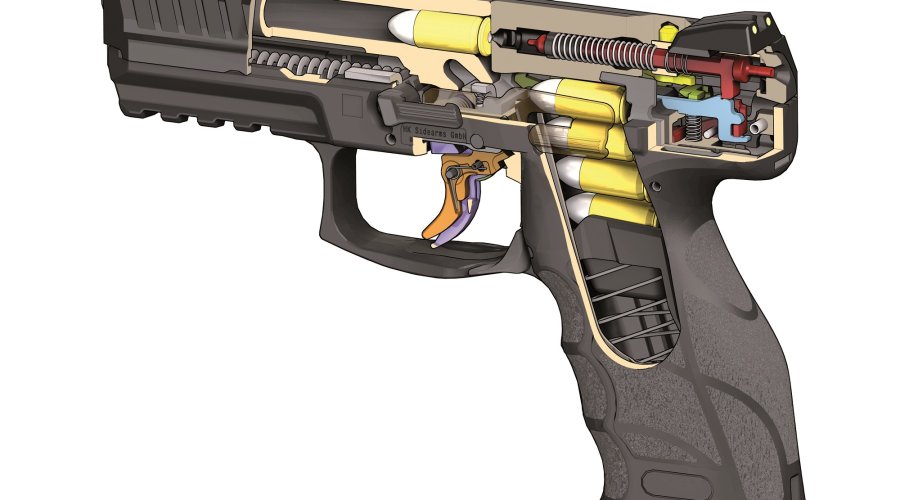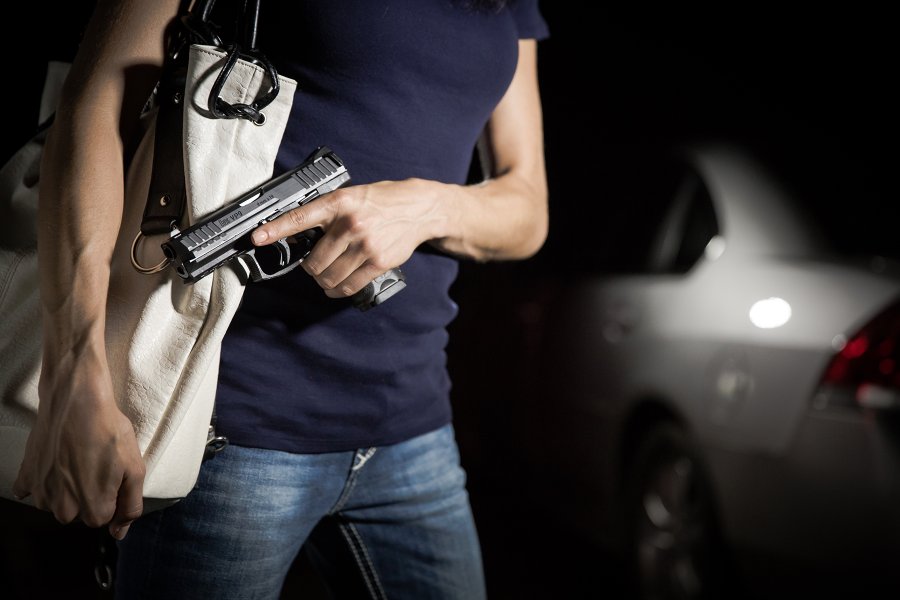 Heckler & Koch, GmbH -- HK USA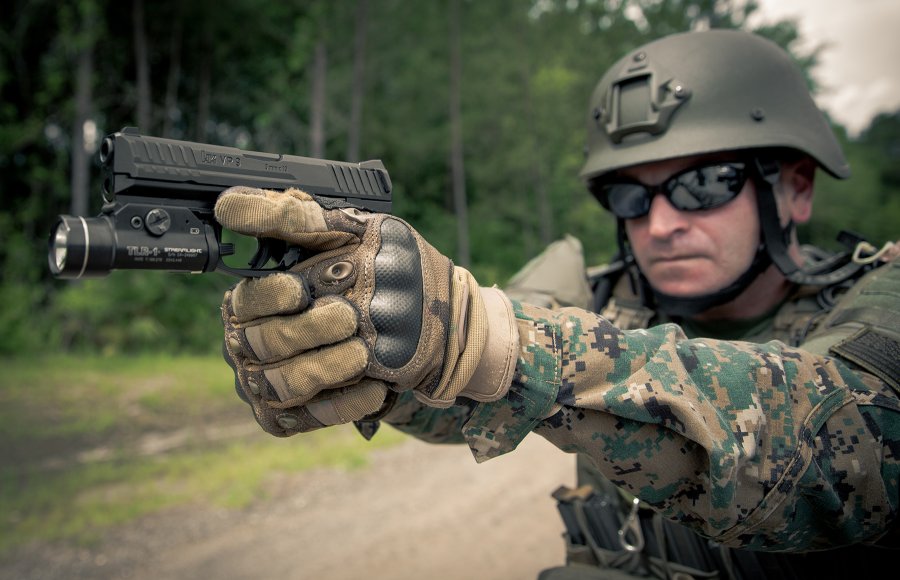 Heckler & Koch, GmbH -- HK USA
What's new with the VP9 slide can be found at its rear: its patented charging supports − simple protruding components, mounted on each side − not only provide better gripping leverage for racking the slide rearwards, supporting speed reloading and allowing easier operation for shooters with reduced hand strenght, but also allowing emergency racking with the slide resting against a corner, a shoe, any kind of makeshift support, a possibly life-saving capability for operators that may need to use the gun one-handedly and from any position.

The rear portion of the slide also hosts the seat from which a red indicator will protrude when the Heckler & Koch VP9 is cocked, dubbing as a visible warning for the user.
The Heckler & Koch VP9 will also be available with adjustable tritium sights. The sight radius (distance between front and rear sights) is set at 6.38"/162mm, providing both rapid alignment for instinctive or otherwise defensive shooting and an accurate target acquisition for precision shooting in both tactical or sporting scenarios.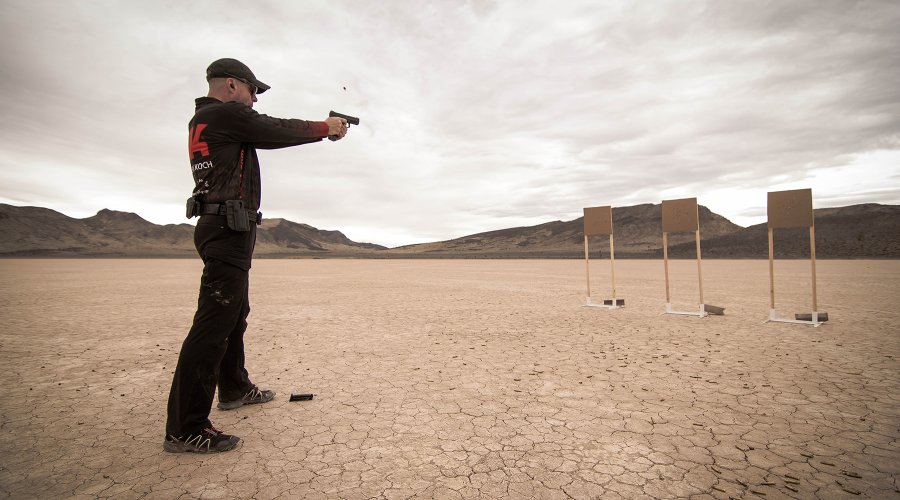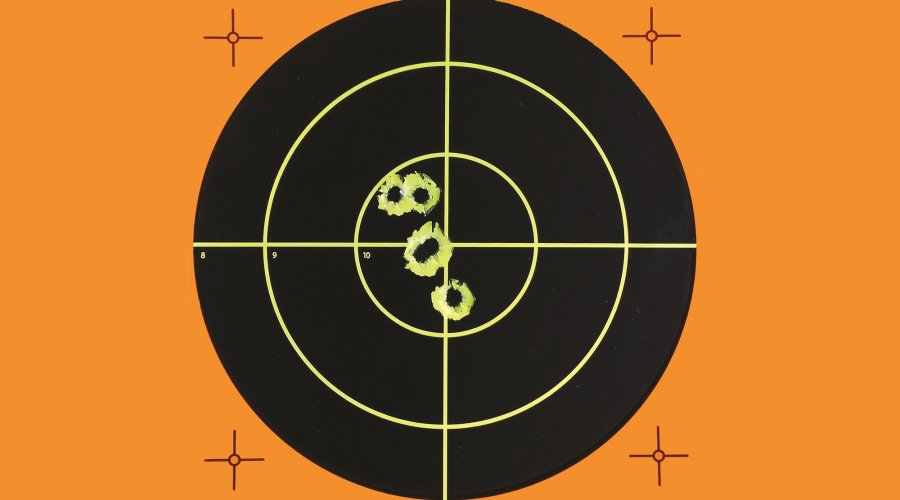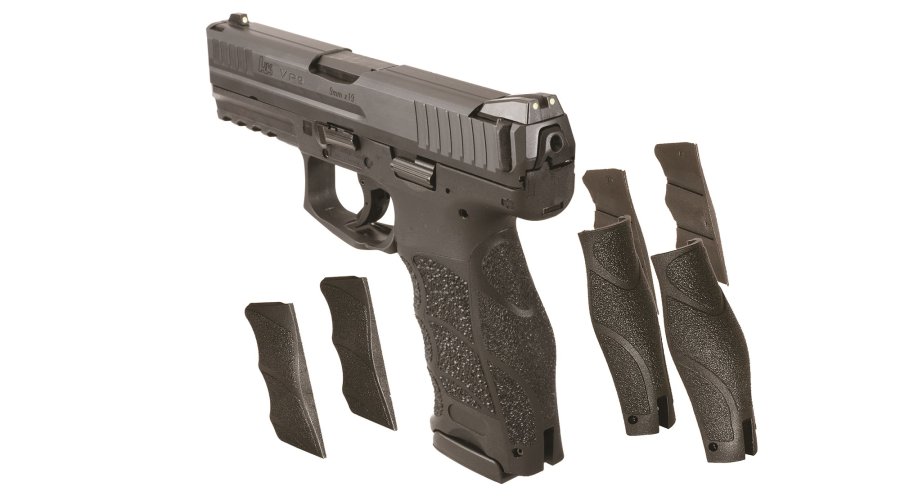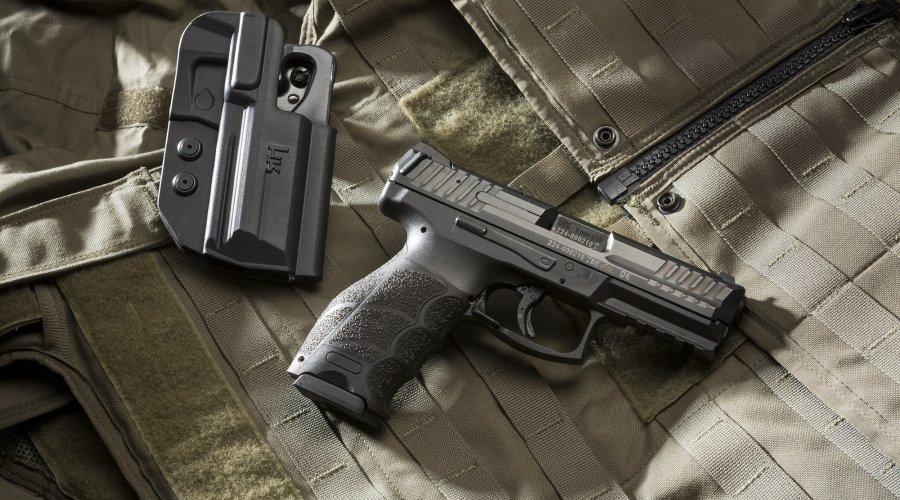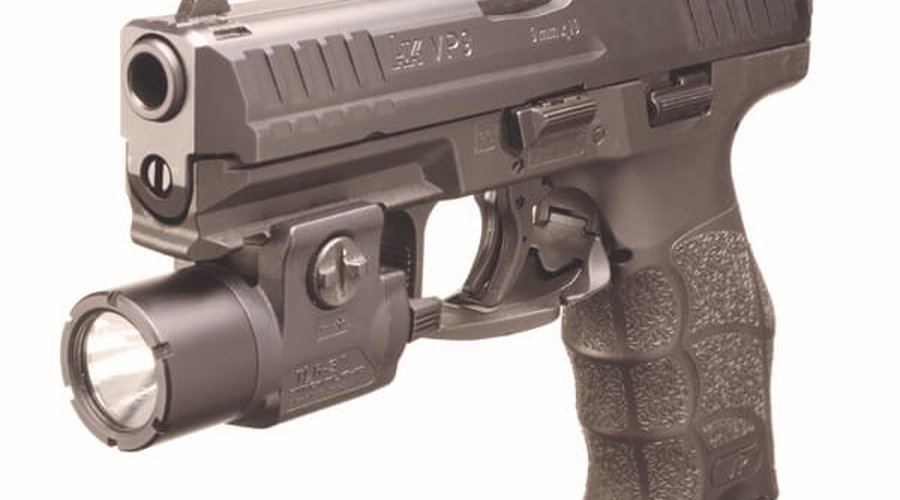 The trigger of the Heckler & Koch VP9 semi-automatic pistol sports a short, light take-up with a solid, single action type break followed by a short positive reset. 
The VP9 trigger has a consistent pre-travel pull with a positive wall/crisp break; typically, striker fired guns have a pre-travel pull that increases in weight as you go through the trigger stroke, while the VP9 offers a less than noticeable pre-travel pull until the trigger reaches the engagement point of the fire control parts prior to release. 
The trigger pull is set at 5.4 ounces (2,4Kg., 24N), offering a trigger quality hardly matched by most currently available striker-fired handguns.
There's no manual safety on the Heckler & Koch VP9, which however features a trigger safety latch and a firing pin automatic safety; the magazine release catch and hold-open lever are both ambidextrous for convenient handling by both left-handed and right-handed shooters.

Field-stripping procedure has also been simplified: now, all it takes is to clear the chamber, remove the magazine, turn the disassembly lever downwards (located just over the trigger guard, on the left side), pull the pin away and remove the slide.
The Heckler & Koch VP9 feeds through  the same 10-rounds or 15-rounds double-stack, polymer-padded metal magazine used by the Heckler & Koch P30 pistol; the only caliber announced so far for the VP9 design is 9x19mm (a.k.a. 9mm "Parabellum" or 9mm "Luger").
The VP9 pistols coming with standard three-dot sights will be issued with two 10-rds or 15-rds magazines, depending from the jurisdiction; the VP9 pistols coming with Tritium sights will instead be sold with three 15-rds magazines.
The Heckler & Koch VP9 is 18.6cm./7.34" long, 33.5mm/1.32" wide, 5.41"/18.6cm. high, and stands extremely lightweight at 735 grams/26.56 Ounces empty. The 104mm/4.09-inches barrel sports a polygon rifling: six right-handed grooves, with a pitch in 250mm/9.8" for superior accuracy in sports shooting. All features also make the VP9 an excellent choice for personal, home and property defense, as well as for service purposes and issue to military, law enforcement and private security officers.
Quality levels are as usual for Heckler & Koch designs: test models have fired over 10.000 rounds so far, and the company is going on with forced tests to achieve the 91.000 rounds threshold of other comparable HK 9mm models.
Furthermore, the VP9 has been tested with 3.1 impulse and 2.6 impulse ammunition, according to SAAMI and CIP specs, and has been certified under ACC225 NATO and NIJ0112.03 safety specifics, which include drop tests.
The manufacturer's suggested retail price of the Heckler & Koch VP9 pistol has been set to 719.00US$ for the United States; that translates to approximately 530,00€ at current change, but no detail has been provided so far concerning distribution outside of the US; Heckler & Koch is slated to release further details on global distribution of the VP9 during a press conference in August or later on.
Of course, all4shooters.com will keep its followers from all around the globe constantly up-to-date with the development and marketing of the VP9, so stay tuned!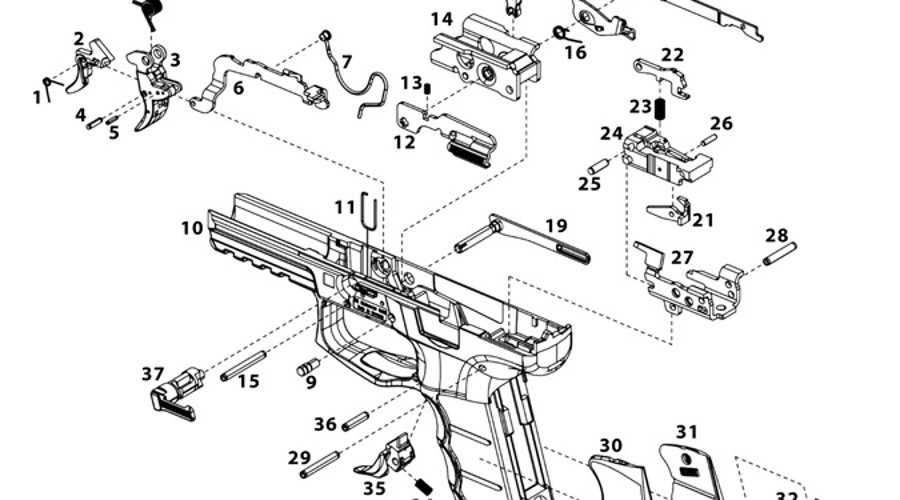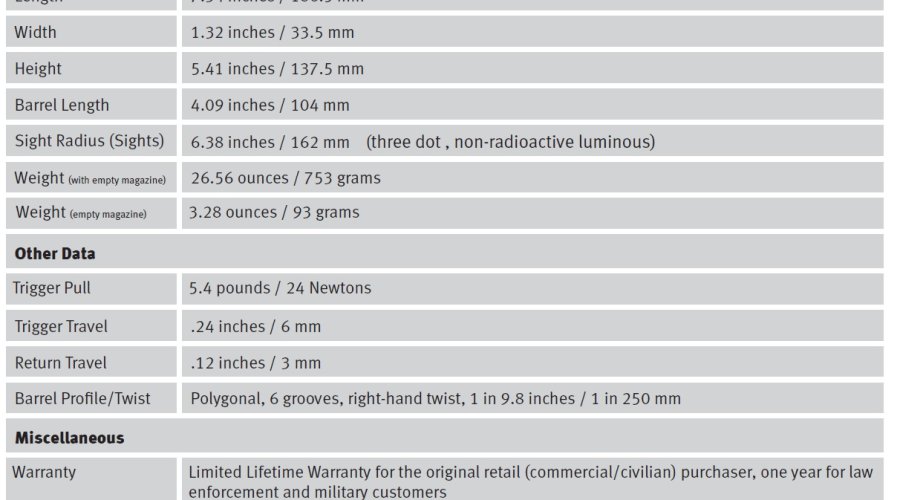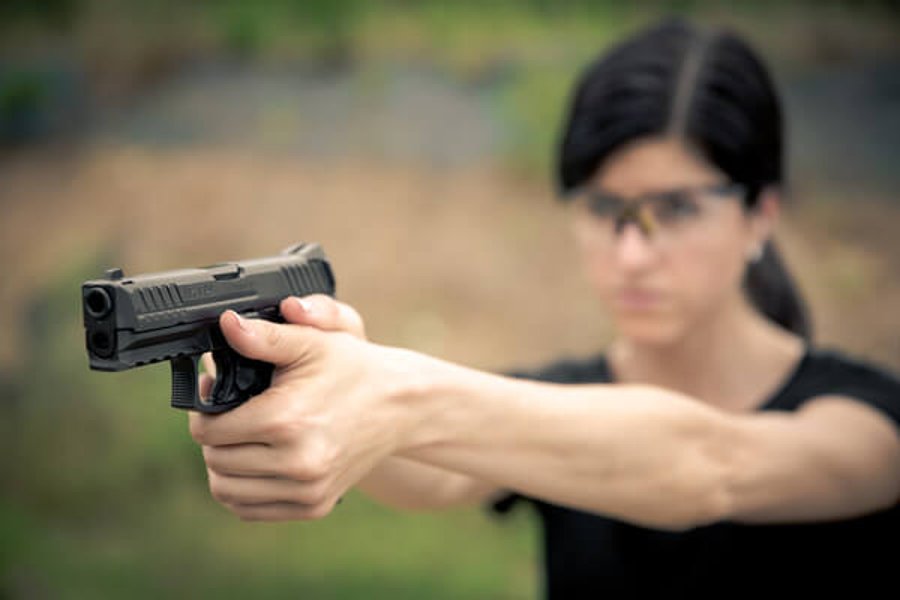 Heckler & Koch, GmbH -- HK USA