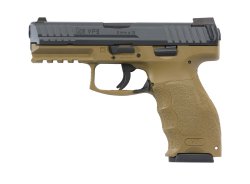 The new Heckler & Koch VP Flat Dark Earth (FDE) striker fired handgun models are manufactured using special colorants added to the frame during the molding process and are available in both 9 mm (VP9) and .40 caliber (VP40). The color frame cannot fade or chip and is unaffected by chemicals, sun, and exposure to the elements. FDE is a tan/brown color scheme that has gained favor among many military and security units in recent years.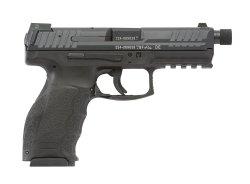 The VP Tactical models (available in both 9 mm and .40 S&W) are also identical to standard HK VP pistols, except for the addition of premium grade threaded barrels - only their weights and lengths differ due to the longer and slightly heavier threaded barrel.
The cold-hammer forged threaded barrels are manufactured at HK's Oberndorf factory in southwest Germany, from proprietary cannon grade steel and are well known for their long service life.
Color frame models and VP pistols with threaded barrels have been introduced in response to customer request.
Both the VP FDE color frame and the VP Tactical models are made completely in HK's Oberndorf factory in southwest Germany. HK VP pistols are competitively priced and covered by Heckler & Koch's lifetime warranty.