Belgian defense company FN Herstal, based in Liège, unveiled its new generation of service pistols, the FN HiPer, on May 31, 2022. The 9 mm pistol is FN Herstal's response to the current requirements for short-barreled weapons for armed forces and security agencies: A handgun dedicated to both armed forces and law enforcement: FN Herstal.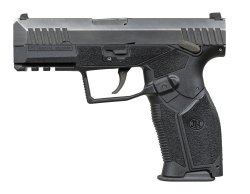 The FN HiPer was completely developed in Belgium and is also manufactured there, which means that the duty pistol is not subject to ITAR regulations. The demand for "ITAR freedom" was frequently found in German and European tenders in recent years. 
According to FN, the HiPer "combines the best globally proven solutions with a large number of innovative patented FN features to deliver an ergonomic, reliable and safe weapon dedicated to both armed forces and law enforcement". 
First, the architecture: alongside a rigid metal chassis and a completely new firing mechanism, all subassemblies of the polymer-framed, striker-fired FN HiPer are designed to have no gaps  between them, providing a sealing against dust and dirt. The aim is to make the pistol extremely reliable in both normal and adverse conditions.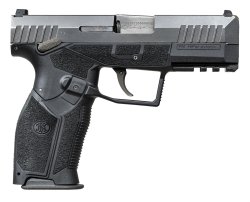 Then comes ergonomics: the pistol has been designed to best suit the shape of any user's hand. The optimised hand grip angle recalls the Hi-Power one, having been intensively studied to find the best com
This, together with the balance of the pistol and low bore axis, should offer perfect controllability, even for fast follow-up shots. The grip also features retention grooves and three interchangeable ergonomic grip covers with numerous non-slip grip surfaces. 
An optional tactical locking plate can be added to the slide back for even easier cocking.
FN HiPer duty 9mm pistol: Innovation and ergonomics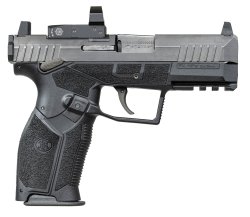 In developing its latest duty pistol, FN has not only taken into account proven and well-known design features, but has also introduced its own patented functions. These already include the classic 9 mm x 19 caliber, which has proven to be the standard in this class for decades to come. Thus, two important NATO partners (USA and France) have just recently procured their M320 and PSA respectively in this caliber.
Let's go to details: Controls on the  FN HiPer have been the subject of studies and improvements. The ambidextrous slide catch is uniquely located in the rear of the frame to prevent any accidental activation by the user. 

Also innovative is the design of the ambidextrous, rotary operating magazine catch – you don't have to press a release button, but actually you must rotate a lever downwards. That allows the shooter to change magazines in seconds without shifting grip while staying aligned on the target. (In case you were asking, the two releases – one per side – act independently, so that when one lever is activated the other remains static without being blocked by the user's hand.) The trigger mechanism is new too – pull weight and travel can be adjusted by an armourer.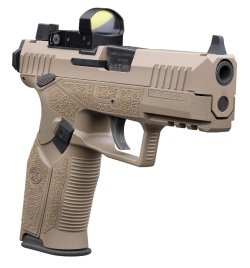 The fully polymer 15-round magazine uses new, highly resistant materials for extreme reliability and durability compared to a traditional metal magazine.
In terms of safety, the FN HiPer includes all the standard safety systems of a modern handgun – trigger safety, firing pin safety, and out-of-battery safety – and can be disassembled without pulling the trigger.
The FN HiPer is offered with both black and FDE slide and frame.  It is also available in an MRD (mini red dot sight) version, featuring an FN patented interface. This makes the pistol compatible with the most commonly used red dot sights for pistols.
Price of the FN HiPer is to be announced.
FN HiPer 9mm pistol technical specifications (2 versions)

| | | |
| --- | --- | --- |
| Model:  | FN HiPer | FN HiPer (MRD version) |
| Caliber:  | 9x19mm | 9x19mm |
| Action:  | Striker fired | Striker fired |
| Barrel Length: | 3.94"/100 mm | 3.94"/100 mm |
| Overall Length: | 7.08"/180 mm | 7.08"/180 mm |
| Height: | 5.59"/142 mm | 5.86"/149 mm  (w/tall iron sights) |
| Magazine Capacity:  | 15 rounds | 15 rounds |
| Weight (with Empty Magazine): | 4.59 oz/730 g | 4.59 oz/730 g |
| Red Dot Sight Compatibility: | No | Yes |