Article also available in other languages
Czech-based CZ - Česká Zbrojovka A.S. − one of Europe's biggest and most important firearms manufacturers − revolutioned its ageing military products line in 2009 with the launch of the 5.56x45mm NATO caliber CZ-805 BREN weapon system. Following a lenghty research-and-development phase and a series of trial tests that saw it matching against the Belgian-made FN SCAR-L, the CZ-805 BREN system was adopted as the new standard infantry rifle by the Czech Armed Forces, replacing the 7.62x39mm caliber Vz.58; the system is now under trial test in Slovakia as well, and has been exported in smaller but nonetheless notable quantities to other military and Police special operations customers worldwide.

The CZ-805 BREN weapon system is built around a reinforced polymer lower receiver with totally ambidextrous controls, and a machined lightweight aluminium alloy upper receiver sporting a full-lenght top MIL-STD-1913 "Picatinny" rail and several rail portons on the handguard, as well as key components such as a reversible cocking handle and a piston-drive, indirect gas impingment system with front regulation valve. The CZ-805 BREN weapon system is compatible with a wide array of factory-issue or third-party optical gunsights, flip-up iron sights and other tactical accessories, it may come with either a standard side-folding stock or a "tactical" folding and adjustable stock with integrated cheekpiece, and will fit CZ's own G805 single-shot, reloadable, undercarried 40x46mm-SR grenade launcher − which, in turn, can also be converted to serve as a stand-alone weapon through the attachment of a stock and pistol grip assembly.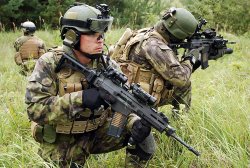 CZ - Česká Zbrojovka A.S.
According to informations released by the Company itself, other variants are cooking in the oven at Uherský Brod, including improved versions of the system and semi-automatic, civilian-grade models. At the meanwhile, the members of the specialized press, of the industry and of the defense sector gathered at the nord Villepinte exhibitions and convention center in Paris (France) from June 16th to 20th to attend to the 2014 edition of the EUROSATORY defense expo could see and handle by themselves the CZ-805 BREN A2 assault carbine variant of the system, sporting a 277mm-long, chrome-lined barrel with six right-handed helical grooves and a 1:7" twist rate.
A select-fire carbine, sporting a 700/800 RPM cyclic rate, the CZ-805 BREN A2 carbine is 585mm long with the stock folded and 780mm long with the stock unfolded and fully extended; its overall weight tops 3.41kg when fully loaded.
The most important feature of the CZ-805 BREN A2 assault carbine − and of the entire CZ-805 BREN weapon system altogether − is the feeding system modularity; the interchangeable magazine well will allow the use of proprietary translucent polymer magazines as well as Heckler & Koch G36 magazines and STANG 4179 (AR-15/M16/M4 type) magazines of any make, model, and material.

The replacement of the barrel and bolt group will also allow caliber interchangeability: the CZ-805 BREN system is planned to be compatible with the 6.8x43mm SPC caliber − feeding through STANAG magazines − and with the 7.62x39mm M43 former ComBloc round, which should be able to feed from proprietary translucent polymer magazines, from AK/AKM magazines or from Vz.58 magazines, depending from the magazine well.
This video has been hidden because of an external service (YouTube) that could potentially collect personal data.Allow video services for the duration of the visitAllow video servicesStop allowing video services