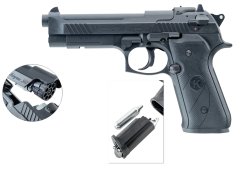 Headquartered in the northern Italian town of Azzano Mella, and operating out of Dayton (Ohio, USA) on the north American market, the Chiappa Firearms group is now one of Italy's most dynamic gun manufacturers.
Unlike many other Italian gunmakers − more or less direct competitors to Chiappa when it comes to product lines − the Company managed to shift its core business from muzzleloading and Western-style replicas to more modern designs (although still mostly rimfire and purely sporting in nature), which proved to be way more appealing for the latest generations of shooters, whom − may the "traditionalists" like it or not! − grew up playing videogames and Airsoft matches, and now want to be able to purchase modern, tactical-style firearms for shooting competitions, hunting, and defense.
And yet, Chiappa Firearms decided to "make something to suit everybody", and that was particularly clear at the 2014 SHOT Show in las vegas and at the IWA & OutdoorClassics expo in Nuremberg, where the Company launched its full new product line for the year, including modern and traditional-style replicas to meet the needs and the tastes of both older and newer generations of shooters.
As an example, Chiappa Firearms has two new airguns and two new revolvers this year, both conceived to be appealing to a broad community of gun enthusiasts. 

One of these is the AG-92 "Airgun-92", a CO²-powered, 4,5mm/.177 caliber air pistol that was first engineered and manufactured by Valtro Stocchetta (also from Italy) years ago.

Conceived as an air replica of the Beretta M92-FS semi-automatic pistol − featuring a MIL-STD-1913 "Picatinny" tactical rail and other modernized features matching the upgrades of the latest 92-series variants − Chiappa's AG-92 feeds through two 8-shots cylinders fitted on the rear portion of the tilting barrel block, while a double CO² canister is hosted inside the grip. Unlike many other Beretta-based CO²-powered airguns, Chiappa's AG-92 sports a more realistic 16-shots capacity, making it a perfect propaedeutic tool for basic training.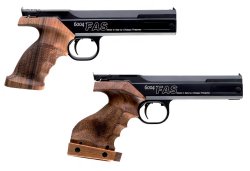 With the more classic FAS-6004, Chiappa offers instead a true competition machine to the most demanding ISSF shooters.

The FAS line of pistols have been extremely popular by ISSF competition shooters for decades now; as the Mencarelli family − the owners of the Domino Guns S.r.l. that used to manufacture the FAS pistols − is now unable to carry on with the business, the Chiappa Firearms group acquired the required rights, technologies and know-how to proceed to manufacture the FAS pistols by itself. Almost one year after the first talks were started, Chiappa's FAS-6004 pistols are almost ready to hit the market.
Precision-made out of metal, featuring three different styles of wooden, ergonomic Match-type grips and powered through a pneumatic piston, the FAS-6004 single-shot pistols use 4,5mm/.177 caliber pellets, and come equipped with adjustable sights and trigger.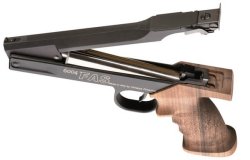 As Western-style replica enthusiasts know, Chiappa's rimfire SAA-based revolvers are extremely realistic in design and feel, remaining faithful as much as possible to the original project and allowing CAS shooters to train more with less money, saving the more expensive high-caliber ammunition for when it really counts.
This line grows even further this year with the launch of Chiappa's Puma Buntline series of 12-inch barrel single-action revolvers. Manufactured in several calibers, including .22 Long Rifle and .17 HMR, and sporting a plethora of features including adjustable sights and 6-shots or 12-shots revolvers, Chiappa's Buntline-series revolvers will also be available with an integral gun lock, located on the left side of the frame: when engaged with the factory-issued key, it will make the gun inert, preventing unauthorized access and use. Some may argue that it would slow down its use as a home or property defense gun, and that's true, but a rimfire 12" single-action revolver is not a perfect defensive pistol to begin with...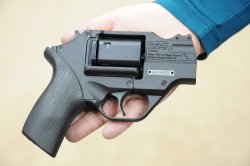 In the past years, revolver shooters worldwide got accustomed to Chiappa's "Rhino" unconventional line of sporting, defensive and service revolvers, whose distinctive outline is due to the barrel being aligned to the lower cylinder chamber (rather than to the higher), to provide lower muzzle climb and a more linear recoil as the barrel remains in axis with the shooter's arm.
New for 2014 − although distribution is due to start at the end of the year − is the Rhino Poli-Lite version, sporting a full fibreglass-reinforced polymer chassis to keep the overall weight to a minimum, so to make life easier for all those who'd carry it concealed for service or personal protection all day long.
Chiappa's "Rhino Poli-Lite" revolver will only be available in a 2-inch barrel, .38 Special (not .357 Magnum) variant, at least to begin with; the cylinder will be shorter than standard, to prevent .357 ammunition from being incidentally loaded in.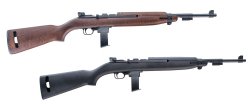 New for 2014 from Chiappa Firearms is also a new bunch of centerfire and rimfire rifles and carbines.
First of all is the Chiappa M1-9mm: following the incredible success of the earlier rimfire M1-22 version of the quintessential American WW2 vintage carbine, Chiappa answers the call for a more powerful version (particularly for home and property defense) launching a 9x19mm caliber variant.

Still featuring a blowback-operated design, with either a wooden or a black polymer stock and steel and aluminium construction, the Chiappa M1-9mm will feed on standard double-stack, detachable Beretta 92-series pistols magazines, from all manufacturers and in all capacities.
After its well-known MFour-.22, Chiappa Firearms also launches a sporting-purpose, semi-automatic, blowback-operated, rimfire version of a quintessential modern military rifle platform: the Chiappa AK-22, aesthetically patterned after the Kalashnikov AK-47/AKM assault rifle.
The market is literally full of rimfire civilian versions of the AK design, ever since the Italian Armi Jäger company started to manufacture them in the 1970s − not to mention the current production from the Philippines.

But while these versions were and are known for not being exactly faithful to the original, the Chiappa AK-22 is (other than for the caliber and the working system) 100% faithful to the Kalashnikov project: the receiver is made out of steel, the furniture is the same as the standard AK's, the magazine dimensions are the same and so is the configurations control.

All in all, a great homage to the original designer of the platform, Mikhail Timofe'evič Kalashnikov, who passed away on December 23rd, 2013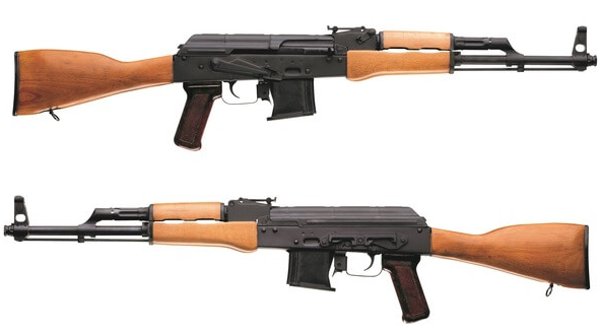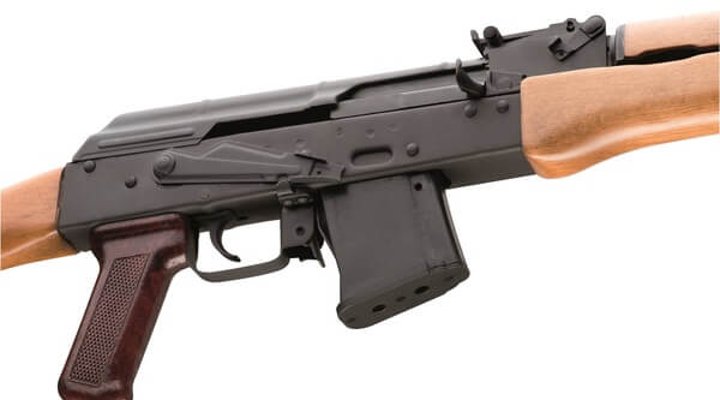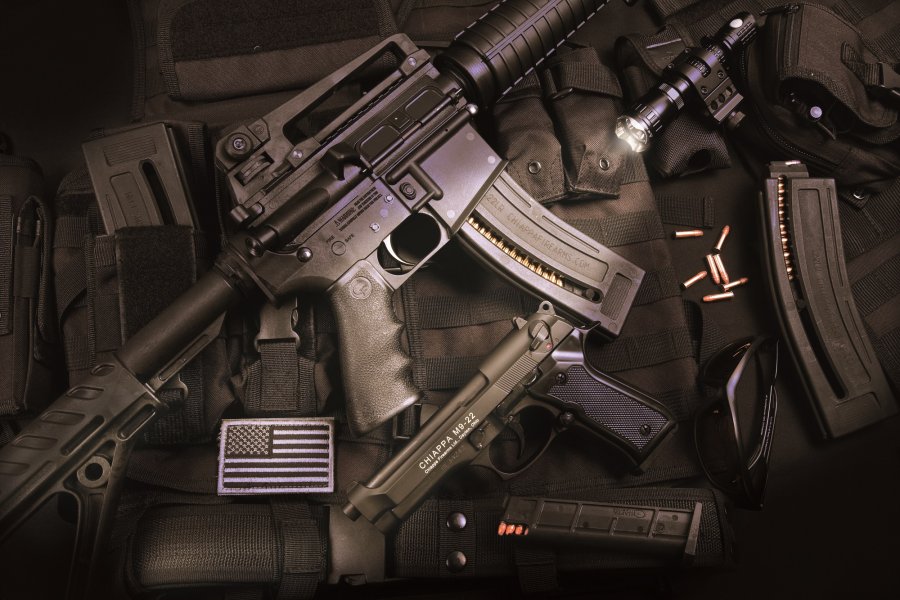 Another rimfire sporting carbine from Chiappa Firearms, the lever-action LA-322 (previously known as the "Model 39") is instead aimed to a more traditional audience. Available with matte black or case-hardened receiver and barrel, and with either wooden or brown polymer furniture, the LA-322 feeds through a Henry-style window on the right side of the magazine tube, and will hold up to 12 rounds in .22 Short, .22 Long or .22 Long Rifle, independently.

Another interesting feature of the LA-322 carbine is that it can be stripped perfectly in two for easier and more comfortable carry, for quicker cleaning or maintenance, or for a safer long-term storage: a thief would hardly be able to lay his or her hands on a fully functional firearm.

Once again, this may mean that it'd not be readily available for home defense, but yet again, a lever-action rimfire is not a great choice as a defensive gun, so there's no point in arguing about that: keep the LA-322 disassembled in the safe when you're not using it, and buy a more powerful gun to counter home invasions, that's it!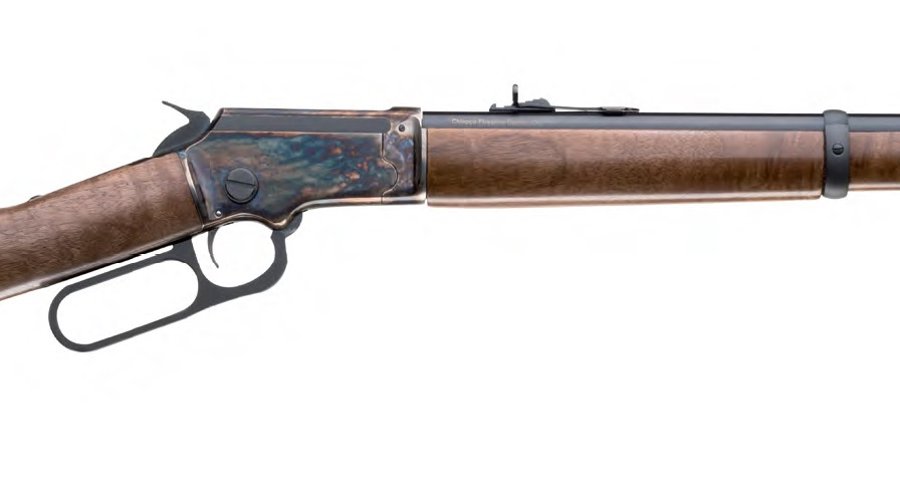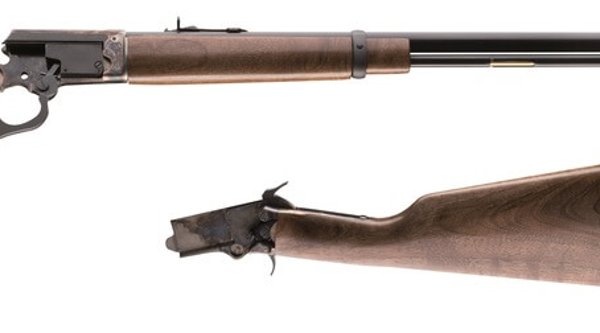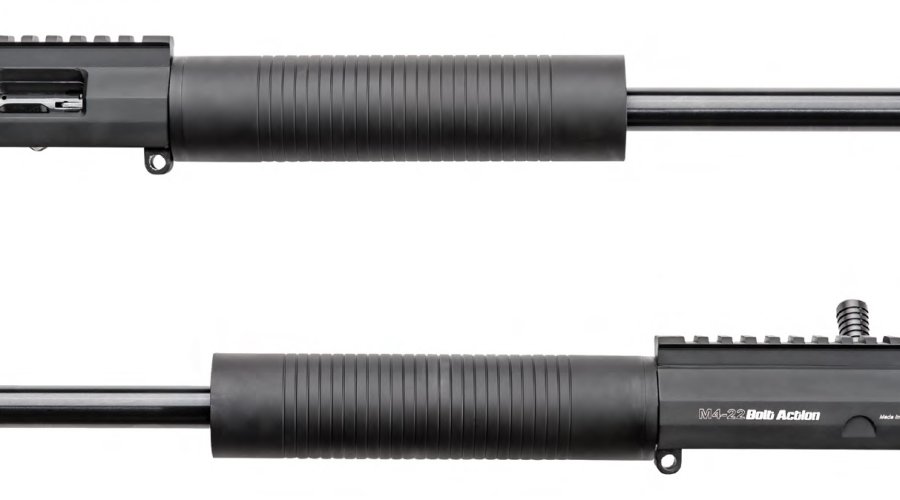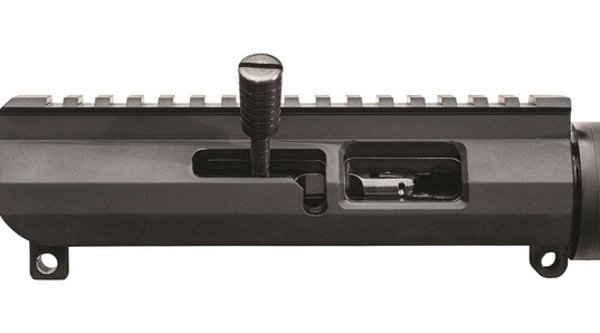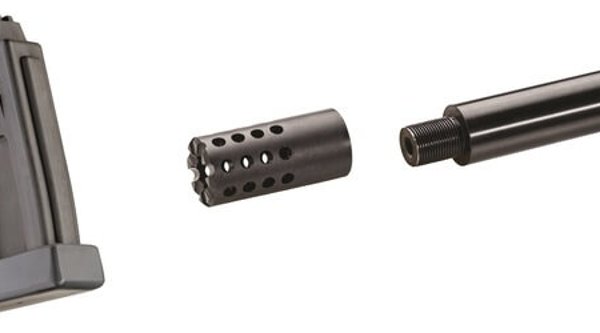 Those shooters who'd like to explore all the possibilities and alternatives offered by their AR-15 rifles and carbines may instead be interested to the Chiappa M4-22 Bolt-Action conversion upper receiver, that will fit any AR-15 commercial or MIL-SPEC lower receiver to turn it into a rimfire, bolt-action carbine for basic marksmanship training, inexpensive plinking, or other target shooting purposes.
Featuring a full aluminium construction, a 20-inch carbon steel free-float barrel with a threaded muzzle and a top MIL-STD-1913 "Picatinny" rail for optics, the M4-22 "Bolt-Action" conversion upper receiver comes issued with a single-stack polymer detachable magazine that will fit STANAG 4179 magwells and will hold up to five or ten (according to the jurisdiction) rounds of .22 Long Rifle ammunition.

Following the launch of the single-shot "Little Badger" rimfire folding carbine last year, Chiappa Firearms also has two new combination survival folding guns for 2014: the M6 and the X-Caliber.
these two new models share a lot with the "Little Badger", including the folder design, the aluminium and stainless steel construction, the M1 Carbine-type adjustable peephole rear sight (manufactured out of polymer) and the short polymer quad-rail handguard. The front sight features a fiber-optic insert, and the stock sports a polyurethane spare ammunition carrier.
Also, both sport a wide opening lever under the grip area, and two independent triggers for the upper smoothbore barrel and the lower rifle barrel, which is chambered in .22 Long Rifle for both the M6 and the "X-Caliber".
However, while the M6 model sports a 20-gauge smoothbore barrel, the "X-Caliber" version comes with a 12-gauge top barrel adapted to the use of a line of conversion inserts − aptly dubbed the "X-Caliber" system, sold in a green canvas case and compatible with any top-break single-shot 12-gauge shotgun on the market − which will readily allow the use of .380 ACP, 9x19mm,, .40 Smith & Wesson, .45 ACP, .45 Long Colt, .38 Special, .357 Magnum, 20-gauge and .410-gauge ammunition.

That's quite an advantage: shooters will be able to train or hunt more, for less, using whatever ammunition they have handy at the moment simply by fitting the right insert in the breech.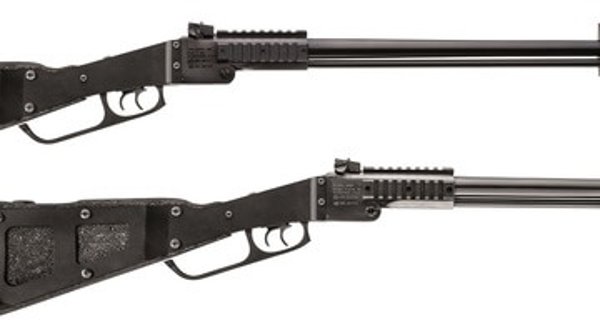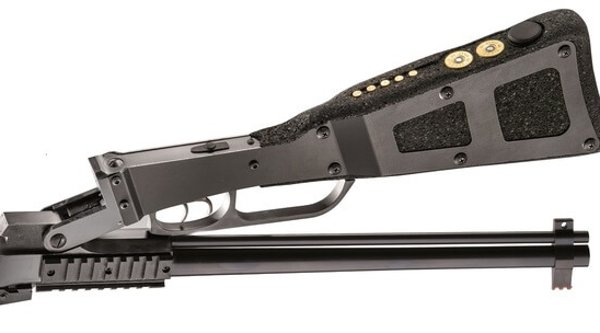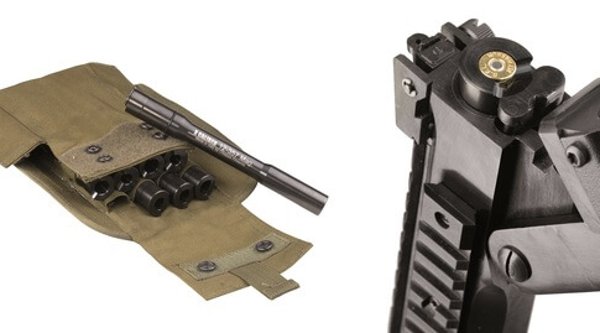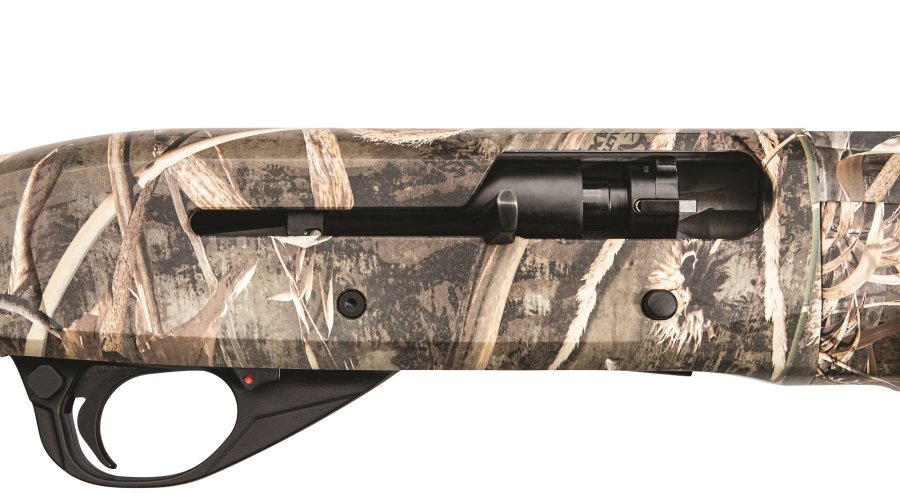 The Chiappa Firearms group also decided to meet the requests of shotgun hunters and sports shooters by expanding the line of products conceived in cooperation with AKKAR, a notorious Turkish-based gunmaker and gun parts manufacturer.
The new line of Chiappa-branded modern hunting and sporting shotguns includes the CA-612 − Chiappa's first inertia-driven, semi-automatic shotgun − built around a lightweight aluminium alloy frame, a 22-inch barrel with ventilated rib, and either a full black or camo finish. The CA-612 comes with synthetic furniture, and its magazine tube holds up to five 12-gauge, 76mm (3", a.k.a. "Magnum") shotshells.
Chiappa also has two new over-and-under 12-gauge shotguns, dubbed the 214E and 214X, respectively featuring automatic ejectors or automatic extractors, and conceived as baseline hunting or clay shooting tools, offering elegance, quality and performance at an overall budget price.
Chiappa's line of impressive triple-barrel shotguns has also been enhanced this year with the addition of a few new models, dubbed the Triple Magnum and the Triple Tom.
These new variants sport respectively 28-inches or 24-inches barrels, but are otherwise identical to the "Triple Magnum" launched last year, except for one little detail: the new 89mm/3,5" breech allows the use of heavier, high-powered "Supermagnum" loads, allowing hunters to obtain the best performance against all preys, in all conditions.
Last, the Chiappa C6-12 line of 12-gauge pump-action shotguns counts two more versions: the Black Finish model sports standard black furniture, a matte black finish and an 18-inches barrel, and has been conceived as a general-purpose gun and as a home defense, property protection and private security issue tool; the Youth model comes instead with a 22-inches ribbed barrel and with a Realtree camo finish on the synthetic stock and handguard. The overall capacity for both models is 5+1 shells.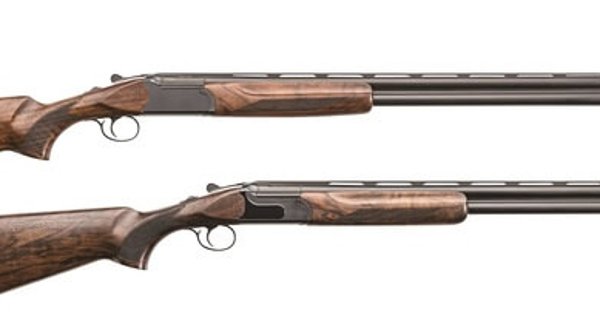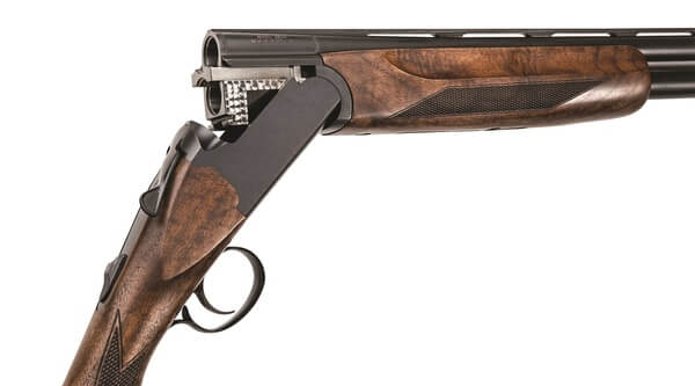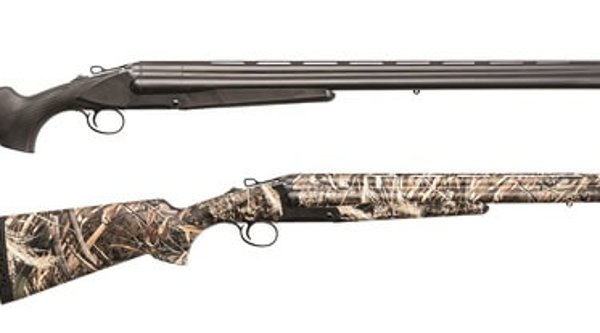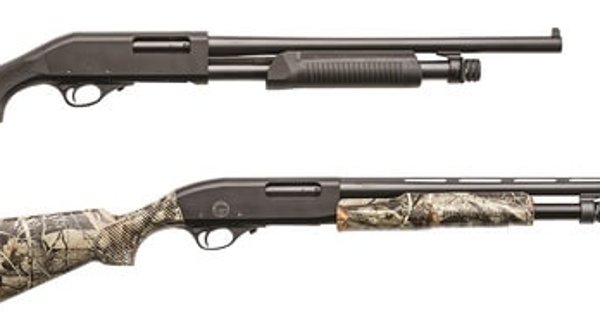 Most of the above-mentioned models are already listed on the Chiappa Firearms website, although not all are available for purchase worldwide right now. Some will be distributed later during the year, others will be launched in early 2015, and others are US-only items.
All informations concerning availability and pricing is to be asked to your local gun shop or your national authorized distributor: please refer to the Chiappa Firearms website for a comprehensive list of international dealers and distributors.