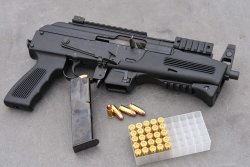 Chiappa Firearms USA, Ltd., a market leading brand of rifles, shotguns, handguns and historic replica muzzleloaders has harnessed the fun and functionality of the legendary AK rifle in the form of an easy to shoot 9mm pistol and .22lr carbine, the AK-9 and AK-22 respectively. These have the look and feel of the original but use more readily available and easier to shoot ammunition. Both models are made from steel with exceptional fit and finish.
Features of the Chiappa AK-9 pistol 
The AK-9 is a pistol based on an AK style receiver. To make magazines more readily available, the AK-9 features an innovative, interchangeable magazine adapter (sold separately) that allows it to convert from using Beretta style magazines to Glock style magazines easily and without tools. 
The version in caliber .22 Long Rifle is instead equipped with a polymer magazine with a capacity of ten cartridges. 
Chambered in 9mm, the AK-9 has a Picatinny rail on the dust cover as well as fixed sights.  Picatinny rails are also included on the right and left side just behind the front sight post to easily mount lasers, lights and other accessories. The forward handguard also has a Picatinny rail to easily mount a forward vertical grip. The AK-9 comes with two 10 round Beretta 92 style compatible magazines and carrying strap.