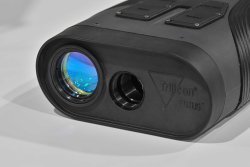 Franco Palamaro, © F.PALAMARO
Equipped with WinPro technology, sensors and Doppler LIDAR engine, the Trijicon Ventus measures three-dimensional wind velocities and directions at 6 different distances up to a maximum range of 500 yards (457 m). The feasible measuring distance will certainly be even longer in the future. Trijicon Ventus measures headwind, tailwind, crosswind and vertical wind components. In addition, the device reliably and practically ranges non-reflective targets at a maximum distance of up to 5000 yards (4570 m). 
This is the first time that shooters can obtain measurement data that previously could only be obtained by extremely experienced long range shooters with the aid of simpler wind meters (e.g. Kestrel) in order to be able to hit accurately at long ranges. With the hand-held Trijicon Ventus, 4 collimated lasers form a cone to measure wavelength interactions with dust particles and thus wind velocity/direction under all environmental conditions (fog, snow, etc.).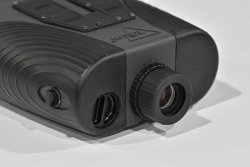 Franco Palamaro, © F.PALAMARO
According to the manufacturer, Ventus was tested to MIL-STD-810G standards. The device features a rugged housing, with 9x magnification and a center cross-dot reticle. Menu navigation and large pushbuttons are clearly arranged and intuitive. Two rechargeable Lithium 18650 batteries supply the rangefinder and anemometer with power. In addition to the standard version, there is also the extended Ventus X model with a on-board ballistic solver that can communicate with the "Trijicon Ballistics Calculator App" via Bluetooth on iOS or Android mobile phones. The geographic data/location of the shooter and the target are stored, ballistic solutions are provided and a wind map is displayed.
The prices for the Trijicon Ventus and Ventus X are not yet defined. The devices should be available starting from the second half of 2020. We will keep you up to date.
Importer for Europe is Ferkinghoff International . 
---
Further information about Ventus and Ventus X can be found on the Trijicon website .
Find all the news from   SHOT Show 2020   on all4shooters.com / all4hunters.com.