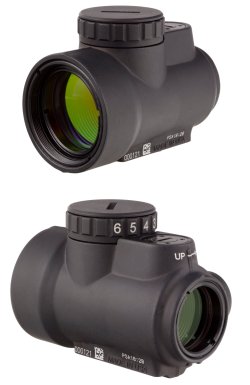 Headquartered in the city of Wixom (Michigan, U.S.A.), the Trijicon, Inc. company is one of the leading brands on the global markets of optics and electro-optical aiming systems dedicated to semiautomatic and full-automatic weapons for Police and military  service purposes, as well as to semiautomatic and manually-operated modern sporting and hunting rifles, carbines, shotguns and handguns − the most popular and sought-after firearms among hunters, sport shooters and otherwise civilian gun owners worldwide.
Trijicon's latest product was launched on the U.S. market in early August.
Dubbed the MRO (standing for "Miniature Rifle Optic") Trijicon's latest is also one of the Company's most versatile and yet compact products ever, as well as one of the most compact classic-design red dot sights currently available.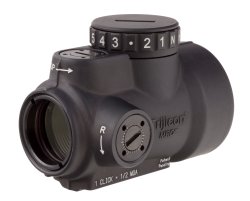 The Trijicon MRO 1x miniature rifle optic is built around a dry-nitrogen filled 7076-T6 aircraft-grade aluminum alloy that's fully sealed treated to be corrosion and chemical resistant, and protected against the toughest elements.

Certified as capable to operate in temperatures ranging from -51°C/-60°F to +71°C/+160°F, the Trijicon MRO sports a 25mm objective lens and is 6,6cm/2.6" long, 5cm/2" high at the most and barely 4,3cm/1.7" wide.

Its overall weight, with the factory-issued Lithium battery but without the purpose-built raised, quick-detach mount − which can be either purchased with the MRO itself or separately − tops barely 116 grams (4.1oz).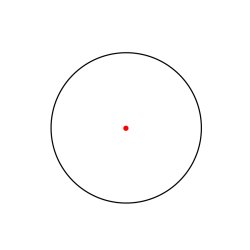 The ratio between the reduced overall lenght and the relatively wide objective lens was conceived to allow faster target acquisition and engagement, while mitigating or even eliminating the so-called "tube effect" common to many red dot sights.
The multi-coated lenses on the Trijicon MRO miniature rifle optic provide superior clarity and light fathering capabilities with zero distortion and provide for a crisp dot reticle. The LED-illuminated 2 MOA red dot can be adjusted on a 70 MOA travel both in windage and elevation.

The relative adjusters offer ½ MOA clicks and were designed to be surface-flush, low-profile and snag-proof against inadvertent adjustment or loss of zero; they can be adjusted without tools, possibly with the rim of a cartridge casing.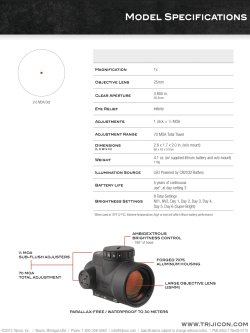 The Trijicon MRO miniature rifle optic is powered through a single CR2032 battery, offering a continuous service life of around five years depending from the selected dot illumination setting.
The brightness control dial is located on top of the aluminum body, and offers six day-capable brightness settings (including an ultra-bright "Day-6" position, conceived to be used in very bright environmental light conditions or with weapon-mounted lights) and two night vision devices-compatible positions.
The Trijicon MRO miniature rifle optic is being sold in the United States at a manufacturer's suggested retail price of $579.00 (about €515.00) without its mount, and $629.00 (€560.00, approximately) with it. There is still no word concerning availability or pricing outside of the U.S. market; prospective export customers should contact Trijicon's Export Compliance Team or their local authorized Trijicon dealer for further informations.