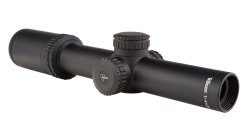 First introduced just short of one month ago at the 2015 NRA Annual Meeting & Exhibits in Nashville (TN), the AccuPower line of riflescopes is Trijicon, Inc.'s latest entry in the field of illuminated, variable-power optical devices for bolt-action, semi-automatic, and modern sporting rifles and carbines.
Trijicon's AccuPower riflescopes have been conceived to serve a plethora of purposes − from hunting to target practice, from competition shooting of all sorts (including long-range shooting) to service and tactical uses − and are built to withstand even the harshest uses in any environment and under all weather conditions.
Offering features such as an aircraft-grade aluminum housing, superior quality glass lenses and advanced application-specific illuminated reticles, the AccuPower riflescopes offer the durability and dependability that shooters worldwide now expect from any product bearing the Trijicon brand.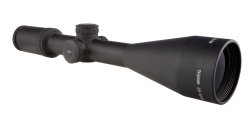 Unlike many other Trijicon products, whose operation is based on fiber-optic technology, Trijicon AccuPower riflescopes instead employ a LED-based illumination system patterned after the one first implemented by the company in other successful optics such as the VCOG and the TARS systems.
The Trijicon AccuPower riflescopes all feature a hybrid black chrome/etch and fill illuminated-reticle system, available in red or green. Four reticle choices are available for all models of the line: an intuitive MOA reticle, a MIL-square reticle, a Duplex crosshair, and the popular competition Segmented Circle crosshair with ballistic drop compensation capabilities. All reticles are located in the second focal plane, meaning the reticle size and appearance remains constant as magnification increases. This provides a more exact aiming point at higher magnifications and is faster to use in low light situations.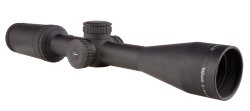 Not being fiber-optics based, the LED-based reticles of the Trijicon AccuPower line of riflescopes do not adjust automatically their brightness according to the environmental lighting conditions. Instead, each Trijicon AccuPower line scope is powered by a single, commercial CR2032 battery and features a brightness adjustment dial offering eleven settings and an "Off" option between each one.
Furthermore, all the Trijicon AccuPower riflescopes, if plunged in water, remain waterproof up to 10 feet (roughly 3 metres) in depth; they are also all dry-nitrogen filled for total fogproof capabilities.
The use of high-quality, multi-coated lenses provides superior clarity and light gathering capabilities with zero distortion; a fast-focus eyepiece and easy-to-set adjusters provide no-tools-required, quick zeroing capabilities.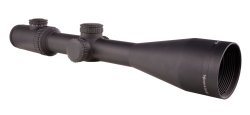 As of today, the Trijicon AccuPower line of riflescopes includes four entries.
The AccuPower 1-4x24mm scope provides a constant 3.5-inch eye relief and a variable (0.60 to 0.20 inches) exit pupil, with a field of view ranging between 97.5 and 24.2 feet at 100 yards. Its turrets provide a ¼ MOA/0.1 MIL adjustment per click, with a total travel of 50 MOA or 14.8 MILs.

The AccuPower 2.5-10x56mm riflescope offers a constant 4-inches eye relief and a 0.65-to-0.22 inches exit pupil instead, with a field of view ranging between 37.9 to 10.2 feet at 100 yards. The adjustment clicks are the same as with the previous model, but its adjustment range provides a total travel of 30 MOA or 8.9 MILs.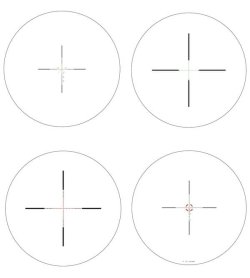 The AccuPower 3-9x40mm scope provides both variable eye relief (3.7-3.5 inches) and exit pupil (0.52-0.17 inches), with a field of view ranging between 35.5 to 11.8 feet at 100 yards: the adjustment clicks and the total adjustment range are the same of the 2.5-10x56mm model.
Last, but not least, the powerful AccuPower 3-9x40mm model offers an eye relief ranging between 3.6 and 3.7 inches, an exit pupil ranging between 0.37 and 0.12 inches, and a field of view ranging between 25.8 and 6.4 feet at 100 yards. The total adjustment travel is of 40 MOA or 11.9 MILs; the parallax adjustment ranges between 10 yards to infinity.
At the maximum brightness setting, all the Trijicon AccuPower riflescopes offer 31 hours of battery life.