Steiner presented its new flagship at EnforceTac 2018: the M7Xi. This is a new generation of smart military rifle scopes. all4shooters.com has already reported on them. 
One thing is clear: the German manufacturer from Bayreuth is keen to sell more of its M5Xi series – mainly reserved for military use until now – on civilian markets. The model is already a legend among military customers, and is in use in over 30 countries around the world. The German KSK (Special Forces Commando) and other units trust in them as well. This and other reasons have stimulated demand on the civilian market. We find this product family so interesting that we have taken a close look and put together the most important information for you. We will begin with the main aspect:
M5Xi rifle scope from Steiner's military series deliver first-rate optical and technical performance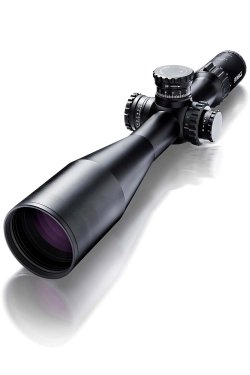 As we've said, the entire model series with its top-performing optics has now been launched on the civilian market as well. However, these products were built to meet military requirements and specifications, guaranteeing a truly outstanding performance. And this is precisely what sets them apart from so many other products. The result is a line of rifle scopes that you can buy in retail stores "just like any other product" and that fulfill even the high demands of snipers due to their technical specifications. 
Today, the civilian variants are excellently suited to long-range shooting and other sporting and hunting requirements. This is because all models of the Steiner M5Xi series boast absolute precision. 
A primary focus of the Steiner's M5Xi model series is its high-quality optics and mechanics: in order to ensure the long-term impeccable condition and durability of the optical sights, Steiner places great emphasis on flawless workmanship. So the manufacturer guarantees that these rifle scopes remain watertight to a depth of 10 meters. The rifle scopes operate smoothly between -25 °C and +62 °C and do not fog over, even in misty and wet weather. In addition, all glass and electronic parts are designed to easily withstand loads of up to 900G and to absorb impacts.
The M5Xi series is fully engineered for absolute robustness and functionality. For example, the central tube of the M5Xi 5-25x56 is crafted from a single piece with a diameter of 34 mm, allowing greater adjustment for windage and elevation. 
The turret is home to 11 illumination levels: 7 for at night, 4 for during the day. Thanks to their slip-proof lobes and ribs, the controls allow for good handling even when wearing gloves. The M5Xi rifle scopes - originally used for military purposes - have highly resistant controls to prevent accidental alterations. This is a handy feature for sports shooters as well.
Technical Specifications of the Steiner M5Xi 5-25x56 mm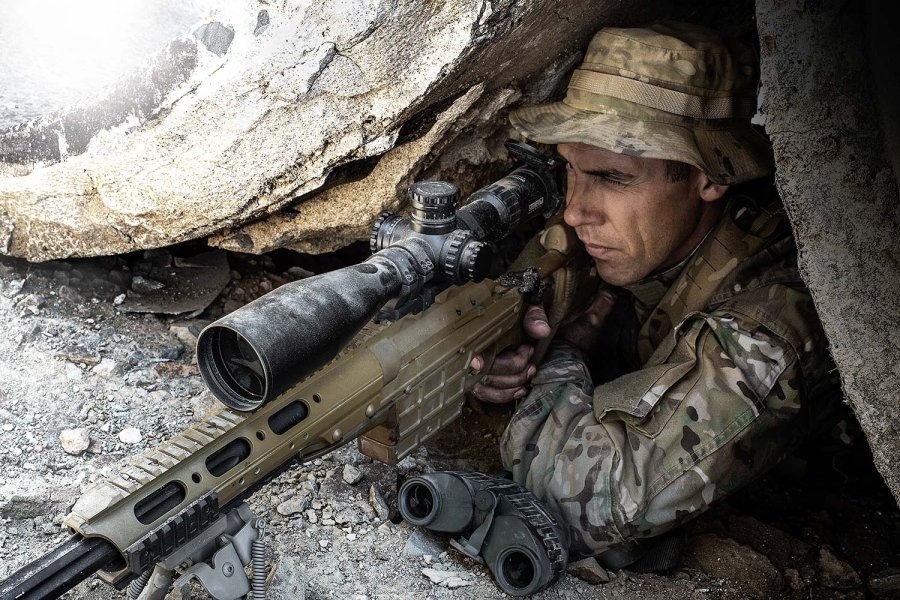 The different reticle versions of Steiner's M5xi series are particularly interesting: with its M5Xi 5-25x56 at SHOT Show 2018, Steiner was the first optics company in the world to present a rifle scope equipped with an MSR-2 reticle by FinnAccuracy. This tactical reticle was mainly developed for long-range, precision, and professional shooters. It allows the target area to be identified with only a few glances, regardless of whether it is nearby or far away. 
Other versions of the Steiner M5Xi 5-25x56 are coming soon with the G2B Mil-Dot, MSR, Horus H59, or Horus Tremor 3 reticles. The prices for the M5Xi series vary depending on the reticle version used.
---
Here is a list of all model versions and prices for Steiner M5Xi models:
M5Xi 5-25x56 / MSR-2 (Black): 2.700 euro
M5Xi 5-25x56 / B4I-BE2 (Black): 2.700 euro
M5Xi 5-25x56 / GB2 Mil-Dot (Black) 2.600 euro
M5Xi 5-25x56 / TreMoR 3 (Coyote Brown): 3.500 euro
M5Xi 5-25x56 / MSR-2 (Coyote Brown): 3.000 euro
M5Xi 3-15x50 / MSR-2 (Black): 2.600 euro
M5Xi 3-15x50 / G2B Mil-Dot (Black): 2.500 euro
M5Xi 1-5x24 RAPID DOT .223 (Black): 2.450 euro
M5Xi 1-5x24 RAPID DOT .308 (Black): 2.450 euro
All models are currently available through specialist retailers.
Prices (RRP): May 2018.

This video has been hidden because of an external service (YouTube) that could potentially collect personal data.Allow video services for the duration of the visitAllow video servicesStop allowing video services