Kahles K18i – the new riflescope for competition shooters
In order to develop the K16i successor, Kahles brought some of the best shooters from Europe and North America on board and designed the K18i specifically for sports disciplines such as IPSC and 3-Gun. At the top of the specifications was an intuitive and fast target acquisition at ranges from 20 to 300 meters in IPSC and up to 700 meters in 3-Gun competitions.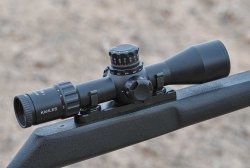 Franco Palamaro, © F.PALAMARO
The Kahles K18i is available in 2 variants, which differ in the reticle. On the one hand there is the IPSC reticle and on the other hand the 3GR reticle for 3-Gun competition. The reticles were provided with precisely tuned holdover lines. Whereby Kahles followed the "less is more" principle in order to grant a picture as free of disturbances as possible. they made no compromises in the optical performance of the K18i. Besides a large eye box, the new innovative illumination helps Kahles Max Light function to quickly find its way into the field of view from 5.3-42.5 m/100 m. As the name K18i at Kahles suggests, the magnification range goes from a true 1x magnification to an 8x zoom. To change the zoom factor quickly at any time, 2 individually adjustable throw levers in alternative sizes are included. The robust design is backed by a 10 year warranty.  

Important additional information: although it has just been presented at the SHOT Show, the brand-new model is already available from March 2020. The Kahles K18i will be available in specialized shops at a price of 2500 euro.
Kahles K18i technical data
| | |
| --- | --- |
| Model: | KAHLES K18i |
| Price: | 2500 euro (price may vary in your country due to VAT and import duties) |
| Magnification: | 1-8x |
| Objective lens diameter: | 24 mm |
| Eye relief: | 3.7"/ 95 mm |
| Field of view: | 42.5-5.3 m/100 m |
| Diopter compensation: | +2 / -3 dpt |
| Exit pupil diameter: | 8.1-3.0 mm |
| Twilight factor (DIN 58388): | 2.9-13.9  |
| Parallax adjustment: | 100 m |
| Adjustment/Click: | 10 mm/100 m |
| Adjustment range H/S: | 2.4/2.4 m/100m |
| Main tube diameter: | 30 mm |
| Filter thread: | M27 x 0,75 |
| Length: | 11.8"/ 300 mm |
| Weight: | 19.57 oz / 555 g |
| Reticle: | IPSC or 3GR |
| Image plane: | 2nd |
| Battery type: | CR2032 |
| Illumination: | KAHLES Max Light Function |
| Quick adjustment: | optional |
| Warranty: | 10 years |
Kahles Helia RF-M – the rangefinder for the hunting ground
The other major innovation from Kahles 2020 was developed especially to meet the hunters' requirements. The compact Kahles Helia RF-M weighs only 7.54 oz / 214 g and is hardly noticeable when hunting, without having to do without an ergonomic design, intuitive operation and simple menu navigation.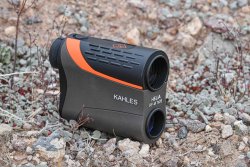 Franco Palamaro, © F.PALAMARO
Fast targeting is possible up to 2000 m. At 1000 m the hunter still has a field of view of 117 m with exceptional edge-to-edge clarity. The premium-quality OLED display can be manually adjusted in 5 brightness settings and shows the distance in either meters or yards. In addition to the distance, the Helia RF-M can display temperature and air pressure in scan mode too. For correct measuring results, the Kahles rangefinder also features a patented angle correction function called EAC (Enhanced Angle Compensation). Kahles has paid attention to low energy consumption and a battery should last for about 4000 measurements.
The Kahles Helia RF will be available in April 2020 at a price of 550 euro .
Kahles Helia RF-M 7x25 technical data
Model:
KAHLES Helia RF-M 7x25
Price:
550 euro (price may vary in your country due to VAT and import duties)
Magnification:
7x
Objective lens diameter:
25 mm
Eye relief:
15 mm
Exit pupil diameter:
3,6 mm
Twilight factor (ISO 14132-1):
13.2 
Field of view (m/1000 m):
117 m
Field of view / field of view apparent:
6.7° / 4.9°
Close focus:
10 m
Diopter compensation:
+/- 4 dpt
Measuring range:
10-2000 m
Measuring accuracy:
up to 100 m: +/- 1 m
up to 1000 m: +/- 2 m
over 1000 m: +/- 0,5 %
Display type:
OLED
Brightness levels:
5
Dimensions (H x W x D):
3 x 1.4 x 4 in (78 x 37 x 102 mm)
Weight:
214 g
Laser class:
1 M
Battery type:
CR2
Battery life:
4000 measurements
Warranty:
2 years
---
We will certainly have the opportunity to test both devices in detail soon.
For further information about K18i and Helia RF-M please visit the Kahles website .
Find all the news from   SHOT Show 2020   on all4shooters.com / all4hunters.com.