The two new Kahles Helia TI 18+ and TI35+ thermal imagers are equipped with the latest generation of high-resolution 12 μm VGA sensors, providing three times more pixels and 40% more sensitivity (NETD <20 mK) compared to standard QVGA sensors.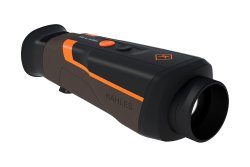 The new Kahles Helia TI 18+ scores with its very large field of view of 44 m at 100 m. Its low optical magnification of 1.0x in conjunction with the latest technology is also intended to make the wide field of view very contrasty, so that a very fast detection of heat sources is possible. This means that even larger areas can be scanned very quickly and reliably.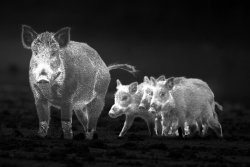 The new Helia TI 35+ stands out with its extremely high detail resolution. thanks to its very high image resolution and a 2x optical magnification, it is claimed to be ideally suited for recognizing all the necessary details so that the observed game can also be reliably identified.
Helia TI 35+/TI 18+ video presentation
This video has been hidden because of an external service (YouTube) that could potentially collect personal data.Allow video services for the duration of the visitAllow video servicesStop allowing video services
Kahles relies on a simple and intuitive operating concept for the Helia TI 35+ and TI 18+
Both devices are operated via just two ergonomically favorably positioned pushbuttons on the top of the devices, which are intended to ensure intuitive operation. In addition, Kahles has designed the housing for easy, ergonomic handling and fatigue-free observation. Rubber armoring makes the waterproof and drop-resistant housing easy to grip, and controls such as pushbuttons and adjustment wheels are conveniently located within easy reach. The manufacturer has concentrated on the essentials, especially when it comes to menu navigation. A menu with only five sub-items allows the individual adjustment of contrast and brightness as well as the automatic light function and the image sharpness calibration. The available color modes (White Hot, Black Hot, Red Only) and the digital zoom (1×, 2×, 4×, 8×) can be selected directly using the two control buttons on top of the device without opening the menu. 
To display the images captured by the sensor sharply and with high contrast, the new Helia TI+ models devices from Kahles each have a high-resolution 1024 x 768 px OLED display. Both versions are powered by a lithium-ion battery integrated into the device.
The intelligent automatic switch-off and switch-on function with tilt and motion sensor of the display (Automaticlight) ensures that no telltale light output from the display scares off the game when the device is used in the dark. The automatic light function also ensures that the display is switched on again immediately when the user returns to the observation position without having to press a control button. Of course, this feature also supports the efficient energy management of the devices and enables long battery run times, even at extremely cold temperatures down to -20° Celsius. By the way, the manufacturer specifies an upper temperature limit of +50°C for the use of the devices.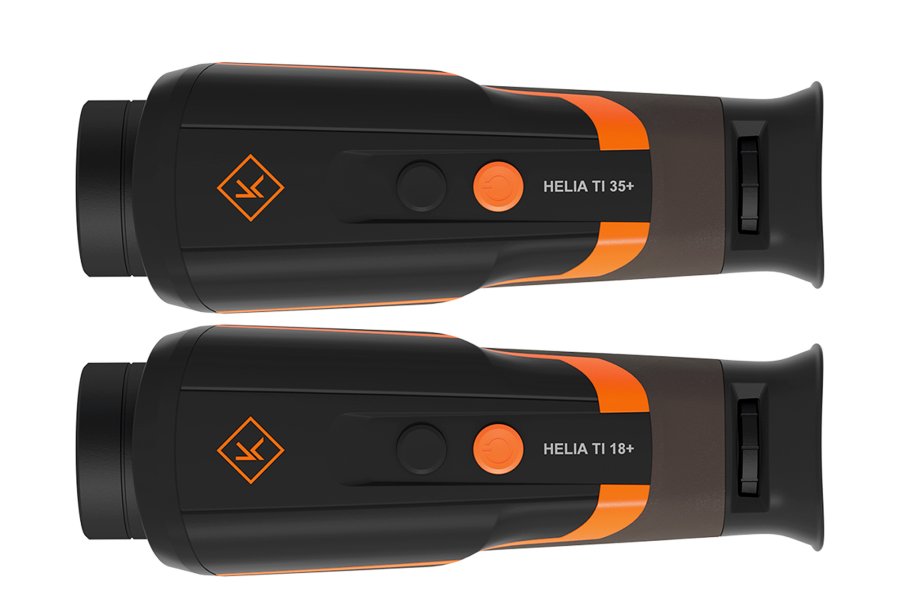 Kahles Helia TI+ models specs and prices
Model:


Kahles Helia TI 35+

Kahles Helia TI 18+

Type:


Handheld thermal imager


Price (RRP):


2,950 euro


Sensor Resolution:


640x512 px, 12 µm


Objective Lens:


35 mm, F 1.0


17.5 mm, F 1.0


Thermal Sensitivity NETD:


< 20 mK

Frame Rate:


50 Hz

Field of View at 100 m:


22 m

44 m

Magnification:


Optical: 2.0x, Digital 1x, 2x ,3x ,4x


Optical: 1.0x, Digital 1x, 2x ,3x ,4x


Display:


OLED

Resolution:


1024x768 px

Battery Type:


Li-Ion battery, internal


Battery Life:


Up to 6 h


Dimensions:


198x68x63 mm


Weight:


430 g

The new Helia TI+ thermal imagers complement the current Kahles thermal imager product lineup and are scheduled to be available from retailers from March 2023 at an MSRP of €2,950.
---
For more information on the new TI+ series thermal imagers please visit the Kahles website. 
You can find a detailed review of the predecessor model Kahles TI 35 here on all4hunters.com.