Naturally people think about GECO brand firstly as an ammunition manufacturer. But optics have a long tradition with the company too: already in the 1930s Gustav Genschow & Co. (GECO) binoculars were produced under the well-known brand. Today, GECO offers observation optics and riflescopes of great optical and mechanical quality - and with an excellent price-performance ratio.
In addition to the GECO entry-level products and GECO Gold series for the demanding hunter , with the GECO Black series the German manufacturer developed an optics range especially dedicated to sports and tactical shooting . The GECO Black series is based on the high-quality construction methods of GECO Gold products and is particularly matched to the requirements of sports shooters and law enforcement officers. 
Moreover, in this high performance range GECO strives to offer an unbeatable fair price. With their high zoom factors, their excellent light transmission and high-quality workmanship, the GECO Black optics play right at the top - with a compact and durable design as well. The optical and mechanical performance is unique in this price class.
In order to check whether the manufacturer lives up to its motto " GECO - ALL YOU NEED  , we took the GECO Black 1-8x24i riflescope to the shooting range and shot it "tactically".
Video: the GECO Black 1-8x24i tactical riflescope on the shooting range!
This video has been hidden because of an external service (YouTube) that could potentially collect personal data.Allow video services for the duration of the visitAllow video servicesStop allowing video services
GECO Black 1-8x24i: a scope for tactical shooting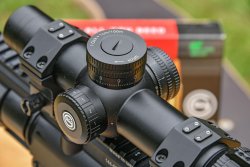 Externally, the riflescope has a design of military-like appearance. No wonder, because it is primarily aimed at tactical shooters - athletes and law enforcement officers. In addition, the GECO Black 1-8x24i features a high adjustment range, which gives the shooter convincing accuracy over long ranges . The adjustment turrets can be handled smoothly and perfectly locked - even with gloves. Just as intuitive, however, is the quick switchover to short ranges. The horseshoe reticle in the test enabled both fast shots at close targets and good accuracy at longer ranges – thanks to a trouble-free switching even in dynamic sequences.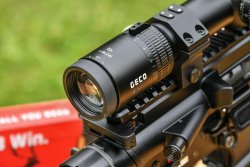 In addition, the riflescope transforms into a red dot sight with no magnification that can be used with both eyes open. Thus it is well suitable also for dynamic rifle shooting (IPSC Rifle). The illuminated reticle lies in the first focal plane and switches off automatically if it is not used for a longer period of time. This is particularly good for the batteries and means maximum energy efficiency.
The GECO Black 1-8x24i features a 34 mm a central tube and an 8x continuously adjustable zoom (in contrast to the 6x zoom of a 1-6x24i with 30 mm central tube). Up to the highest magnification, the light transmission remains at up to 90%, resulting in a very bright, clear image . Thanks to GECObright technology, the GECO Black delivers good images even in poor lighting conditions.
GECO Black 1-8x24i riflescope: technical data
| | |
| --- | --- |
| Model: | GECO Black 1-8x24i |
| Type: | tactical riflescope |
| Magnification: | 1-8x |
| Central tube diameter: | 34 mm |
| Field of view at 100 m: | 35.0 - 4.4 m |
| Reticle: | horseshoe |
| Overall length: | 273 mm |
| Total weight: | 770 g |
| Price: | 1899 euro (recommended retail price) |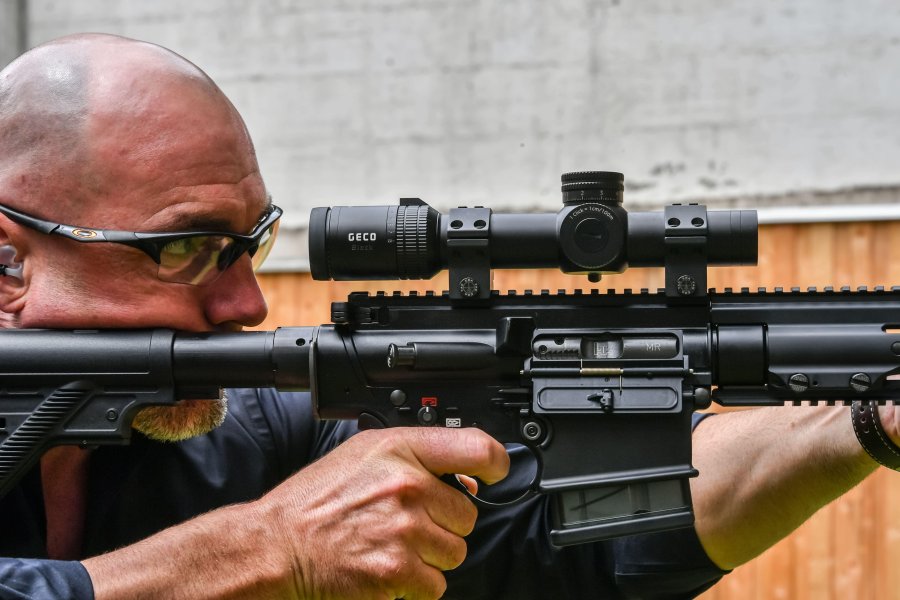 GECO Black 1-8x24i riflescope: wrap-up
The GECO Black riflescope offers everything to meet the high demands of a tactical shooter. It features excellent optics in a sturdy and compact housing. It can be described as a classic example  of tactical riflescope with a military design. On the shooting range the GECO Black 1-8x24i riflescope allowed for the combination of intuitive fast shots at short ranges and accurate shots at long ranges. Thanks to the horseshoe reticle and tactical turret , bullet drop and wind-drift could also be corrected easily.
At less than 2000 euro, the GECO Black 1-8x24i is a top-range tactical scope offered at a very fair price. Included with the scope, a flip cover and a 10-year guarantee from GECO - the manufacturer guarantees high quality and long-lasting reliability.
---
For further information on GECO optics please visit GECO website .
Here you can find an overview of the newest products by GECO Munition .