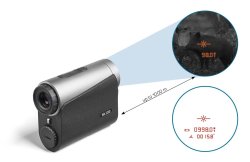 Until a few years ago pocket rangefinders were very expensive items, with prices approaching a thousand euros. Today fortunately laser-based technology has become affordable and is increasingly popular among hunters, and not only them.
With a retail price of less than 300 euros, the new Noblex NR 1000 rangefinder offers accurate measurements up to a maximum distance of 1000 meters.
The measured values are visible through an OLED display that is unrivaled in brightness and clarity. The red numbers and symbols stand out clearly against a dark background and their intensity can be adjusted manually. This is a great advantage, as it allows the measured values to be read clearly and distinctly even in difficult lighting conditions such as twilight. The NR 1000 also impresses in bad weather – the rain mode can be activated to digitally filter out reflections that could falsify measurements.
Noblex NR1000 details and features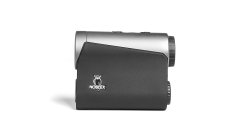 Simple and fast operation was of particular importance to the Noblex development team. At a simple push of a button you can measure the distance to the target instantly or continuously by holding down the same button. If required, the integrated position sensor can be used to calculate the angle to the target, allowing the hunter to compensate for ballistic deviation when on steep terrain or in the mountains.
To ensure clear and distinct targeting of distant objects, the NR 1000's precision optics have a fixed 6x magnification and a wide field of view of 140 m at 1000 m. Thanks to its compact dimensions (4.7x3.1x0.78 in, or 12x8x2 cm) and the weight of only 6 oz/170 grams, the NR1000 Laser rangefinder is the perfect companion even for your daily visit to the post office or just for an evening walk, when binoculars are often left at home for weight reasons.

Both the laser and the display are powered by a single CR2 battery with a capacity of over 4000 measurements. After 15 seconds, the device switches off automatically. The NR 1000 has an internally nitrogen-filled housing to prevent fogging and is also waterproof.

With the new rangefinder NR 1000 Noblex offers a true all-rounder, providing not only hunters but also long range shooters all the decisive information they need to take a safe and accurate shot, and this comes at a price of just 299 euro.
Noblex NR1000 rangefinder specs and price
| | |
| --- | --- |
| Model: | NR1000 6x21 |
| Magnification: | 6x |
| Laser: | Class 1 |
| Objective Aperture:  | 21 mm |
| Measuring Range:  | From 5 to 1000 m |
| Field of View at 1000 Meters:  | 140 m |
| Exit Pupil: | 3.3 mm |
| Measurement  Accuracy:  | ±1 m |
| Minimum Focusing Distance: | 5 meters  |
| Weight:  | 6 oz/170 g |
| Price: | 299 euro (price may vary in your country) |