SOG Twitch line consists in three models: Twitch I, II and XL, being I model the smallest with 2" (50,8 mm) blade and overall lenght of 4,75" (120,7 mm). Twitch I comes only with satin finished anodized aluminum 6061-T6 handle while the other models are available with black hardcased aluminium or satin polished rosewood handle.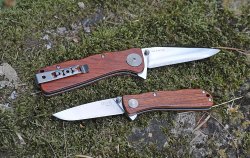 Twitch i, II and XL have common features such as the S.A.T. assisted opening mechanism (SOG Assisted Technology) and the simple, but time-tested lockback system that helps insure the blade will not open while being carried or close unexpectedly while in use.
The stainless steel clip can be used for low-carry or securing bills and credit cards. Twitch XL clip is reversible and slimmer than the non reversible II clip, it also displays the SOG logo.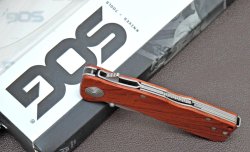 Blade profile is drop point with straight or partially serrated edge. It is 2,65" (6,73 cm) long for the II and 3,25" (82,6 mm) long for the XL. It is made in AUS 8 stainless steel tempered to 57-58 HRC and satin finished. 
The Twitch is extremely quick to open with either hand using the double thumb studs or the flipper.
Lockback safety system is very smooth and allows for a safe operation when folding the blade. To fold the blade, just press the button on the center of the knife back. A little cursor works as an extra safety; sliding it forward it will block the lockback button. 
This system allows to lock the knife closed and open.
Overall lenght of Twitch II is 6,2" (157,5 mm) that grows to 7,5" (190,5 mm) for the XL. Overall weight is respectively 2,6 and 4,2 ounces (approx. 74 and 120 grams) while retail price is 85 and 120 USD.