Article also available in other languages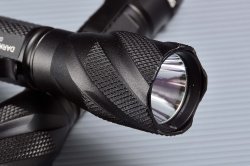 SOG Specialty Knives and Tool – the famous company known for its great blades, offers a great deal of LED flashlights in its catalogue. SOG Dark Energy flashlights vary in power and size and are taylored to different tasks: from extreme tactical situations to household domestic emergencies.
All models have common features: they are made of excellent materials and are easy to use. The only way to choose the right one for you is to consider the purpose for which the flashlight was designed and compare it to your typical needs.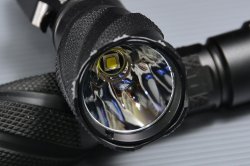 The important thing to remember about the use of a flashlight in a tactical contexts is this rule: one is nothing and two is one.
This means that you always need a back-up flashlight in case the first one stops working.
Another technical feature that is shared among these flashlights is the tail cap switch, which is one of the most important parameters when establishing if a flashlight can be used for tactical purposes.
The housing of the SOG Dark Energy flashlights is made of 6061-T6 aluminum, as this alloy is particularly suited to build hollow elements. Furthermore, T6 means that the aluminum has been heat treated which increases its durability.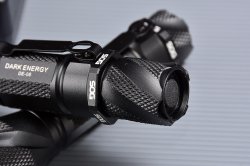 The housing of the SOG flashlights is matte black hard anodized, which protects the alloy underneath it.
The entire structure of the flashlight is checkered, which improves the grip in difficult situations when your palms are sweaty.
The front part of the light head is serrated, which can be very important for alternative uses. The protruding face cap protects the glass of the head. The power switch is protected by an annular extension of the cap. This helps to avoid involuntary actions.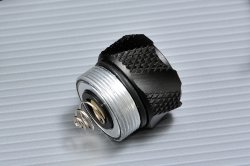 A part of the rear hexagonal part is connected to the belt clip and allows you to place the flashlight on inclined surfaces without worrying it may roll away.
The power button has a constant and instantaneous function. The momentary on action does not require any effort and allows you full luminosity at all times, as it should be the case with a tactical flashlight.
To activate the full on mode, all you need to do is push the button firmly. In this way, you can choose from four different intensity settings, easily set by pushing the button subsequently.
In this way, you can also choose one of the lower brightness levels as well as the strobe light option. SOG flashlights are waterproof and can resist water immersion for up to 30 minutes, at a depth of 1 meter, following IPX-7 specification.
There is also a working belt clip, which allows you to tie the flashlight to your clothes, in order not to loose it in your pockets.
We tested three of the most interesting models. Let's start with the smallest, but not the least powerful one.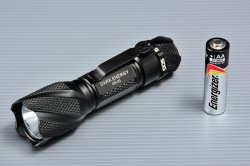 SOG Dark Energy - 120A - DE 03. 
Neatly pocket-sized, this flashlight is more than a back-up flashlight and offers 120 lumens of white light, capable of dazzling and temporarily blinding the opponent.
An AA battery, included in the packaging, guarantees 75 minutes of full on power or 5.7 hours when used on low mode.
SOG Dark Energy flashlight – 120A – DE 03 is 4.5'' (11.93 cm) long, and weighs 2.89 oz (81.93 gr). The dimensions of this flashlight allow you to carry it comfortably, but also to use it as a blunt object, unless you have very large hands. It is important to notice that it requires AA batteries, which are very easy to find.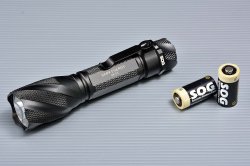 Without a doubt, the most tactical and versatile one is the SOG Dark Energy – 550A – DE 05.
The power output of this tool is an astonishing 550 lumens. The energy provided by two CR123 batteries  (that come with the flashlight) allows 77 minutes of full on light and 24.3 hours when on low mode.
The SOG Dark Energy – 550A – DE 05 is 5.51'' (14 cm) long and it weighs 4.3 oz (121.91 gr).
With higher power, the size increases.
This is definitely a tactical flashlight that meets all the standards since it can offer high power and it can be held easily for different tasks.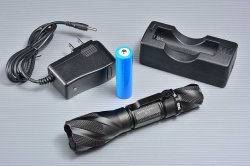 The most powerful of the three is the SOG Dark Energy – 750 A – DE 06. This great device is capable of emitting 700 lumens. We tested the flashlight in broad daylight, noticing that the emission of the light beam is unbearable even when the pupils are contracted. We can only imagine what effect it could have when pointed at someone with dilated pupils in a dark space.
SOG Dark Energy – 750 A – DE 06 is powered by a 18650 type rechargeable battery, but it can work with two CR123 batteries.
The flashlight comes with one rechargeable battery as well as its charger.
SOG Dark Energy – 750 A – DE 06, lasts 105 minutes on full on power and 32 minutes when in low mode. Its size is also larger – the flashlight is 5.95'' (15.11 cm) long and it weighs 480 oz (136, 08 gr).
These dimensions and the power it can generate, definitely places the SOG Dark Energy – 750 A – DE 06 in the tactical flashlights category.
This product is particularly appropriate for controlling large open spaces or for the operations in hostile closed spaces. The best idea would be to carry this gun with a 120A and use it as a back up.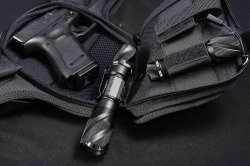 As we've said before, tactical flashlights should always be carried with the tactical tools of the Law Enforcement officer, and should always be in the pockets of those who work in risky environments and in our houses.
SOG Dark Energy flashlights can be especially useful in case of a blackout, when even the smallest movement in the dark can lead to injuries.

In situations that require the use of a gun, no luminescent aiming devices can solve the problem of lack of light. The only real solution is to have a tactical flashlight. A SOG Dark Energy flashlight makes a difference.