Article also available in other languages
The idea of combining a knife with a flashlight is nothing new, but we had to wait for technology to develop LED light sources powerful enough to offer a reasonable performance. 
In the last years some folding knives equipped with retractable single LEDs were on the market, but the poor performances made them fit only for easy tasks, such as finding the car keyhole in a dark parking, but nothing more. 
There was not a combined tool with a reasonable burn time and a good light output.
Along came SOG, with its BladeLight, a patented fixed blade knife (but also a folding version is available) that embeds six LED lights into the glass-reinforced nylon handle that also is the housing for the single AA battery.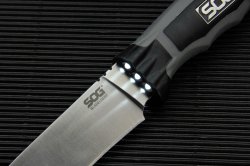 The six LED crown of the standard model offers a white light intensity of 30 Lumen, while the tactical version provides 20 Lumen of red light, for use with night vision optics.
The flashlight can also be used without extracting the knife from the sheath. The light switch is located at the edge of the handle and features a lanyard ring.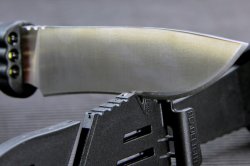 Bladelight is not the most powerful flashlight in town but it is meant to enlighten the working area in hunting and camping situations, where a super-bright light beam is not required. Burn time is about 175 minutes of 30 lumen light beam, comparable to a general purpose pocket flashlight.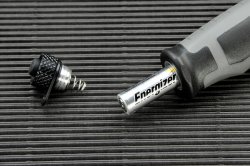 The heart of the Bladelight concept is the handle, while there are several different blade and finish styles. Both Tactical and Camp blades are 8Cr13MoV steel and also share the same length of 4,5 inches (114 mm) and 0,15 inches thickness (3,8 mm). Finish is black powder coating for Tactical, and satin polished for Camp. Anglers will be glad to know that Bladelight is also available as a fillet knife with 6 or 7,5 inches blade.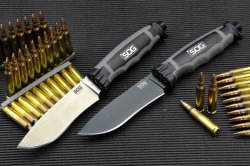 Bladelight is an interesting innovation, a sturdy knife to carry in the field as a support to a more powerful or lasting flashlight and do perform tasks where a strong light beam is needed. Skeptics will object that single function tools usually work better than multifunctional ones, but remember that 15 years ago nobody would expect that cell phones could completely replace walkman, cameras and navigators.

It will be interesting to keep an eye on the development of these hybrid products and to follow their rise or fall.
Sure Bladelight is a SOG knife, this means that its quality is top notch.