A pocket sword: this is how Cold Steel aptly describes the XL Espada. "We have never been afraid to break with convention", they say.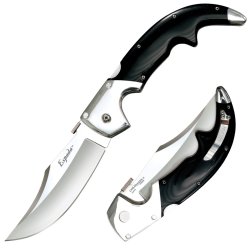 Well, you have to take their word: the XL Espada could be technically described as a folding knife, but on steroids, with an imposing 7.5"/190 mm blade and a 9 1/4"/235 mm long handle, for a whopping overall length of 16-3/4"/425 mm! By the way, weight is 16 oz/452 g, not much less than that of some micro-compact 9mm pistols. The Espada series actually also includes a smaller version, called the Large Espada. In fact, it is "small" in proportion only, being 12 1/4"/311 mm long with a 5-1/2"/139 mm blade. Blade thickness is 4mm in both models.

The Espada series is inspired by the classical Navaja knives of Spain (Espada in fact means "sword" in Spanish), whose age-old design is replicated fairly faithfully. But materials are modern: the blades are premium American S35VN Alloy Steel, that according to the manufacturer "not only take a super-fine cutting edge" but holds it "for an exceptionally long time". Scales are polished G-10, while bolsters and frames are mirror polished 7075 Aluminum. Am ambidextrous stainless pocket / belt clip is provided.
Cold Steel Espada knives: amazing shock resistance and strength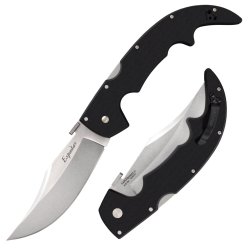 These mega-folders were born out of a collaboration between custom knife maker Andrew Demko and Cold Steel President Lynn C. Thompson. 
The manufacturer ensures that the Espada knives "are expertly designed to fit comfortably and discreetly in your pocket. You'll soon forget that you are carrying such a large and impressive blade. Equipped with the patented Demko Thumb Plate, the Large and Extra Large Espadas can be snagged on your pocket, opening the knife as you draw it - and opening in the blink of an eye!"
The knives feature the patented Tri-Ad locking mechanism for amazing shock resistance and strength: in a product testing, "the XL Espada was not only capable of holding 600lbs of free hanging weight, but we even used it to support a hanging engine block!"
Cold Steel XL Espada knife in video
This video has been hidden because of an external service (YouTube) that could potentially collect personal data.Allow video services for the duration of the visitAllow video servicesStop allowing video services
Both the XL Espada and Large Espafda are also available in a "G-10" version featuring a hard-wearing stonewashed blade and your choice of G-10 handle scales in black, OD Green, or Flat Dark Earth colors. In the G-10 models, the blade has the same length as the standard versions, but it is only 3.7 mm thick.
Prices of the Espada knives are somewhat proportionate to the size: the XL Espada comes at $649.99 and the Large Espada at $449.99. If you still intend to impress but don't want to spend that much, the "G 10" versions are more affordable, at $299.99 and $229.99 respectively.