A quite inexpensive all-purpose flip-open pocketknife: Cold Steel has just introduced the new Crawford 1 model designed in collaboration with custom knife maker Wes Crawford.
"Wes Crawford, the custom knife maker, has been a friend of Cold Steel for years, so we were happy to collaborate with him on the creation of an inexpensive version of one of his pricey custom flippers," they say at Cold Steel. The new Crawford Model 1's hybrid straight/clip point profile blade has a subtle false edge, sharp point, and pronounced belly to promote slicing and slashing with a wide saber grind. Made from Japanese 4034 Stainless steel for corrosion resistance, it is hollow ground to a thin, razor edge, and is 3.5"/89 mm long and 0.129"/3.3 mm thick. 
Cold Steel Crawford 1, safe to use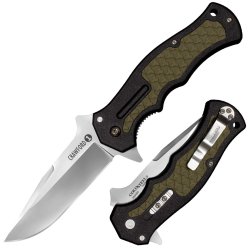 The handle is made from Zy-Ex, a strong and economical glass reinforced nylon and includes traction rubber inlays for maximum grip even with wet or slippery hands, and a low-profile stainless pocket clip for tip-up carry. There is a through-hole in the handle for a lanyard too. A prominent finger grooving with jimping along the front promotes a solid grip and the handle's ergonomics.
As for safety of use, the Crawford 1 has a leaf spring lock and a (patent pending) secondary sliding locking mechanism that, when engaged is extremely resistant to shock and impact. Once the sliding lock is moved forward to unlock the blade, a flipper integrated into the tangallows fast and smooth one-hand blade deployment. The folded carry length of the Crawford 1 is 4-7/8 inches (122 mm) with an overall length of 8-3/8 inches (210 mm).
With a tempting price tag in the US of less than 50 bucks, the Cold Steel Crawford can be added to your kit without much thought.
Cold Steel Crawford 1 knife specs and price
| | |
| --- | --- |
| Model:   | Crawford 1 |
| Type: | Flip-open pocketknife |
| Locking Mechanism:  | Leaf spring lock |
| Weight: | 4.1 oz/116 g |
| Blade Thickness:   | 0.129"/3.3 mm |
| Blade Length:  | 3.5"/89 mm |
| Blade Steel:  | 4034 stainless |
| Overall Length:  | 8 3/8"/210 mm |
| Handle Material:  | Zy-Ex glass reinforced nylon  |
| Additional Features:  | Stainless Pocket / Belt Clip |
| Price (MSRP): | 49.99 USD |