Franco Palamaro, © F.PALAMARO
We attended the 3rd Annual SIG Sauer Premier Media Day, held at the Clark County Shooting Complex Sunday January 20th, two days before the SHOT Show 2019. 
The SIG Sauer Premier Media Day 2019 is an exclusive event that is by invitation only: just selected media members, military, dealers and in general VIP that have been personally invited can attend. The event is also sponsored by the NRA, NSSF and manufacturers that include TYR Tactical and Beaverfit. all4shooters.com has been invited and we had the opportunity to testfire the most important new products. Our focus was on the products that are expected to hit the EU-markets soon.
2019 two days before SHOT Show opens it's doors:
The 3rd SIG Sauer Premier Media Day with all new products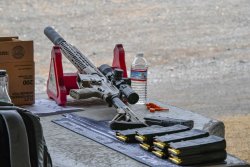 Franco Palamaro, © F.PALAMARO
An impressive display welcomed the visitors at noon, with the professional demo of a tactical operation took place. At 12:15, the range was opened for testing. The complete line of products manufactured by SIG Sauer was available. 
We were able to handle and test fire on a live range the new firearms, accessories and optics that SIG Sauer introduces this year, a full two days before the official display of the same products on the floors of the SHOT Show at Sands in Las Vegas.
Helpful SIG Experts and representatives, including instructors from SIG Sauer Academy, were always available to answer all our questions and to showcase and explain features of the products.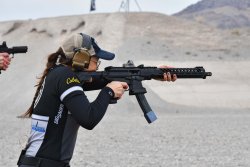 Franco Palamaro, © F.PALAMARO
Here is a quick overview about the most interesting new products from SIG Sauer for 2019: 
Many new products were available, we saw some new P320 pistols, including the new XCompact line, the latest addition to the Xseries, and updated XVTAC and XFull models, all featuring a machined slide to accommodate optics. Also, a few new compact versions of the MCX and MPX carbines: the MCX Canebrake in .300 Whisper, and the MPX Copperhead. 
Also updates on many other rifles and carbines. New optics, including the Kilo 3000 BDX laser range finding binoculars, and Romeo 8 T. New Elite 9mm NATO "Military grade" ammunition rounds in many loadings. Additionally, new accessories – including a new sound moderator - complete the new product lineup showcased at the event.
All of these  SIG products are featured in depth in their own news on all4shooters.com, just follow the links!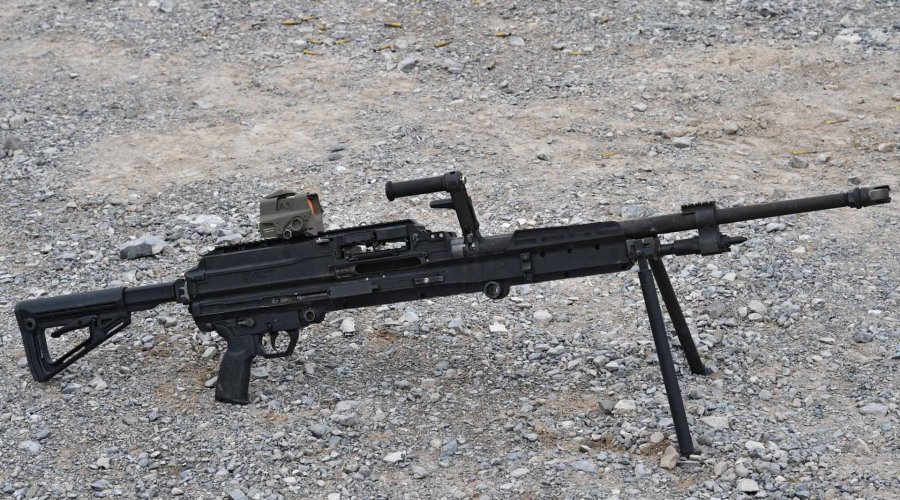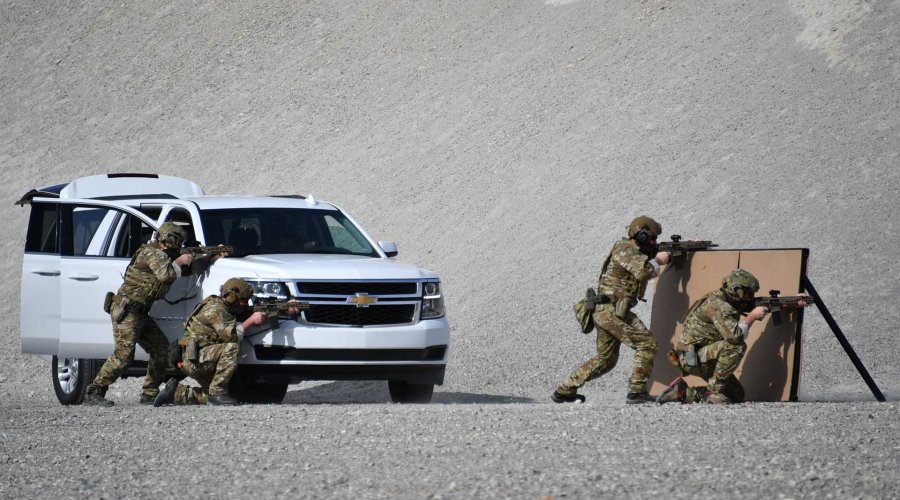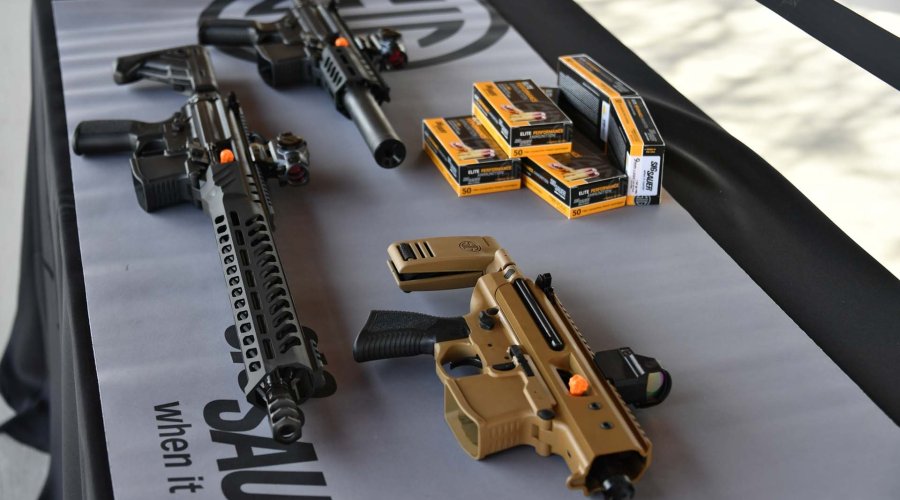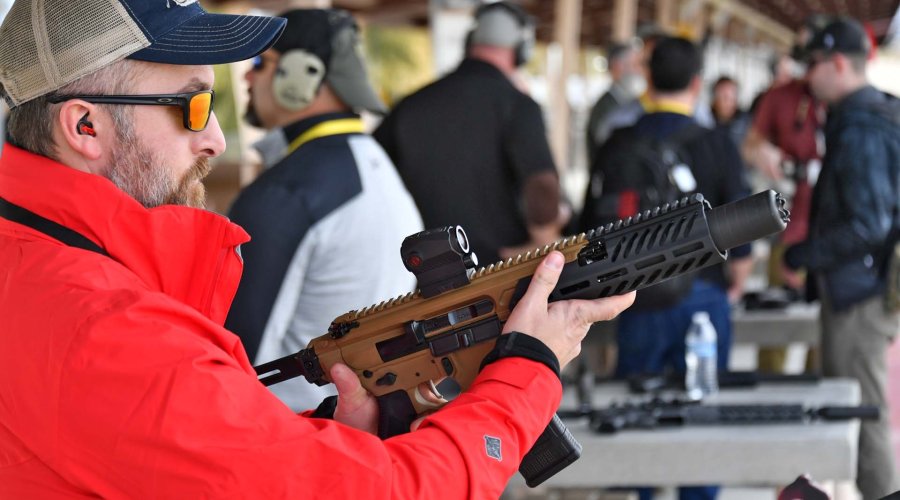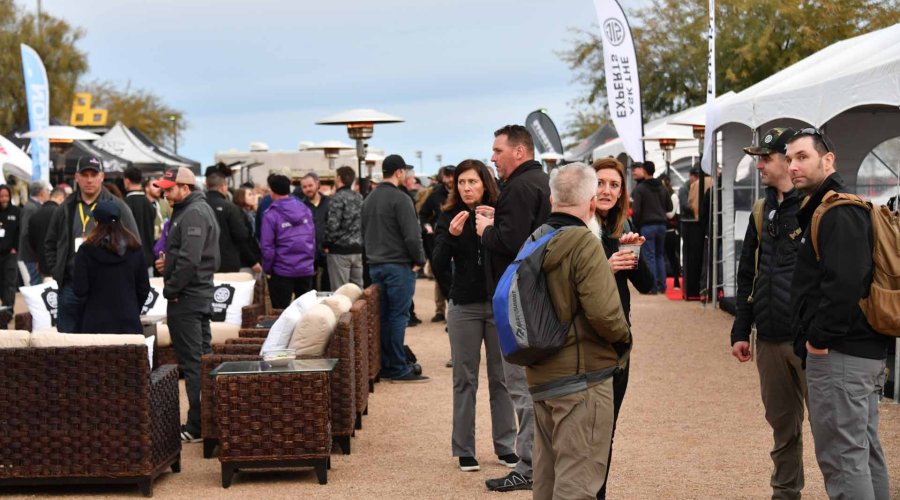 Franco Palamaro, © F.PALAMARO
At 2PM, Team SIG, members Max Michel, Lena Miculek and Daniel Hornor attempted a world record in a new NRA Steel plate Speed Shooting, an event hosted by SIG Ambassador Kyle Lamb. Team SIG managed to finish the best attempt out of three with a time of only 4.42, shooting 42 plates shooting together; in one instance, Lena shot the same plate with Max, and the two rounds hit at the same exact time!
The Event closed at 3:45PM with, again, a shooting demonstration featuring SIG shooters. This time, a surprise was disclosed: the new SIG Sauer belt-fed SLMAG (SIG Light Machinegun) was showcased, chambered in .338NM. The SLMAG is capable of touching targets in excess of 2000m and is extremely lightweight. The weapon mounted a Romeo 8T reflex red dot sight. Recoil is comparable to a 7.62mm gun.

all4shooters.com will report on this new machinegun from SIG Sauer, unveiled for the first time at AUSA in October 2018, soon.