SIG Sauer showcased the new Elite "Military Grade" M17 +P 9mm pistol ammunition, available in two loadings, both with a 124-grain bullet. Introduced in late December 2018, we tested this ammo during the SIG Sauer Premier Media Day just before the SHOT Show, and we were pleasantly surprised at the performance and accuracy of both loads. 
SIG Sauer Elite Carry and Elite Range ammunition - brandnew in 2019

The first new cartridge is the Elite Carry M17, with a Sierra V-Crown Jacketed Hollow Point (JHP) bullet, meant for service handguns and self defense. The V-Crown bullet features a stacked hollow point design, expands reliably with excellent weight retention, and offers dramatic stopping power. 
The Elite Carry M17 load is sold in 20 rounds packages, at a MSRP of 20.95 USD. That's the price for the US-market. More info is not yet available at this moment.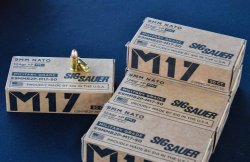 Franco Palamaro, © F.PALAMARO
The other load is the Elite Range M17, with a standard Full Metal Jacket (FMJ) 124 gr bullet, that is engineered to closely match ballistics, reliability and shooting experience of the V-Crown load. SIG Sauer suggest this load to be the perfect training ammunition to use on the range, saving the more expensive Elite Carry for actual service and self defense: offering, quoting SIG, "seamless transition from training to carry". 
Offered in 50 rounds boxes, it is priced at a MSRP of 18.95 USD.
Both 9mm loads are optimized for all modern semiautomatic handguns – obviously including the SIG Sauer P320 series of pistols - and feature matched ballistics, with a muzzle velocity of 1,198 fps and muzzle energy of 395 ft.-lbs.