We already introduced Savage 's first-ever semiautomatic 12-ga shotgun, the Renegauge , here on all4shooters.com .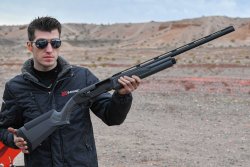 Franco Palamaro, © F.PALAMARO
In short, the Renegauge's Dual Regulating Inline Valve (D.R.I.V.) gas system regulates the gas that cycles the shotgun's action, for consistent ejection, less felt recoil, and a fast cyclic rate.  At present, this new series of 12/76 gauge semiautomatic shotguns with tubular magazine includes three camouflaged hunting versions – namely, the Renegauge Waterfowl, the Renegauge Turkey Bottomland and the Renegauge Turkey Obsession – plus the all-black Field model. Our friends who already had the chance to shoot the new guns report that they have perfect balance, a very fast cycling with consistent cartridge case ejection, and a remarkably mild recoil. All functional parts are made of steel, with the fluted barrel reducing the weight by around ten percent. A large loading gate and enlarged controls allow for easy loading and manipulation. Magazine blocks limiting the capacity to two cartridges are available (which, by the way, is also required for waterfowl hunting in the US). The stock allows for numerous adjustments to the shooter's individual preferences.

Savage M110 Elite Precision Series, the long range rifles

With its 10 BA Stealth Ashbury and 110 BA Stealth Drake model series, Savage Arms already had repeating rifles with a light alloy chassis in its product range in the past. However, the brand-new 110 Elite Precision series goes even one step further. Already back in October of last year, Savage presented the new rifle series as the cosponsor of the large, two-day GAP Grind/Bushnell PRO/AM competition at the K&M Shooting Complex in Finger, Tennessee. Building on the time-tested M110 bolt action, it features a 26" / 660 mm stainless steel match barrel and a muzzle brake. In the Magnum calibers, the barrel length is 30" / 760 mm. The light alloy chassis is the ACC from Modular Driven Technologies (MDT), featuring a fully adjustable stock, a separate vertical pistol grip, and a long M-Lok forend with a long ARCA mounting rail on the bottom. The adjustable "AccuTrigger" can be set easily within a weight range of 680-1,800 grams. A sturdy hard coating rounds off the 110 Precision model, which has an AICS box magazine with a 10-round capacity (5 rounds for Magnum calibers such as .300 WM and .338 LM). Calibers available include .223 Rem., .308 Win., 6.5 Creedmoor, 6 mm Creedmoor, .300 Win. Mag., .300 Norma Mag., .300 PRC, and .338 Lapua Mag. Unfortunately, because there is conflicting information, it was not fully clear at the time this article was written whether the recent .300 Norma Magnum and .300 Precision Rifle Cartridge (PRC) calibers are actually being offered. The US prices go from 1999 to 2149 USD, depending on the configuration.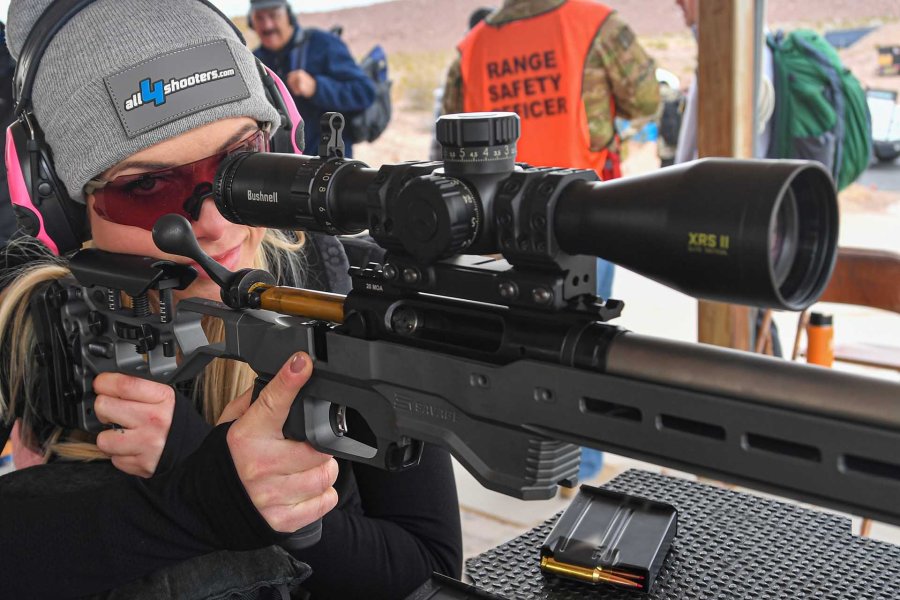 Franco Palamaro, © F.PALAMARO
A trimmed-down version of the Model 110 Precision is being offered with an MDT LSS XL chassis in an FDE Cerakote finish and a 20" standard barrel length – a 24" barrel length in Magnum calibers.
Thoroughly interesting is the Savage Axis II Precision, for which MDT designed its own modern chassis. This bolt-action rifle is available in standard calibers such as .223 Rem., .243 Win., .270 Win., 308 Win. 6.5 Creedmoor, and .30-06 with a 22" barrel, with a 10-cartridge magazine, and an AccuTrigger that can be adjusted in a weight range of 1100 to 2700 grams.
Savage Rimfire Precision – new B22 and A22 rifles


The fact that Savage also offers the B22 bolt-action rifle in .17 Hornady Magnum Rimfire (HMR), .22 Long Rifle, and .22 Winchester Magnum Rimfire (WMR) and the .22 LR A22 semi-automatic rifle in new "Precision" designs with an MDT light alloy chassis and an adjustable stock is certainly a sensible way to round off this new luxuriant line of match rifles in different price classes. These rifles are ideal for inexpensive training and for introducing newcomers to the booming PRS shooting discipline. The Savage B Series Precision and A22 Precision rimfire rifles can be purchased in the US for 599 USD.
Savage 110 Ultralight hunting rifle with carbon fiber barrel
We would be remiss if we did not mention the interesting Savage 110 Ultralite bolt-action rifle which – as its model name indicates – is extremely lightweight (only around 2720 grams) thanks to to its Proof Research carbon fiber barrel. Savage already teamed up with Proof Research in the past with the MSR-15 Competition semi-automatic rifle. The new hunting rifle with its grey, modular, and adjustable "AccuFit" synthetic stock, fluted bolt, AccuTrigger, and box magazine is available in .308 Win., 6.5 Creedmoor, .280 Ackley, .270 Win., and .30-06 (4-round magazine, 22" barrel) plus .300 WSM, 6.5 PRC, and 28 Nosler (2-round magazine, 24" barrel).