The date is getting closer: on 12.03.2021 the IWA Studio Edition will take place. As we have already reported, the event will be the first stop on the "Road to IWA 2022". Visitors to the virtual industry show, which will be held under the "Studio Dome", can look forward not only to plenty of input and entertainment, but also to socializing and seeing familiar faces again. That is no miracle, because the anticipation and participation in the industry is strong, just like the organizer. Philip Krätzig, Head of Marketing at German Precision Optics, says: "Special times call for special measures. Of course, we would prefer to talk to visitors, customers and partners directly at the trade show as usual. So it's all the nicer that IWA is now opening up this opportunity for digital dialog for the industry. We look forward to a lively exchange with everyone, and at a safe distance from each other."

Many surprises are pre-programmed: NürnbergMesse has deliberately revealed hardly anything about the concrete program so far. Nevertheless, all4shooters.com has already been able to find out a few key points:
IWA Studio Edition 2022 – These topics are on the agenda
Visitors can look forward to two high-profile discussion panels: one will be on the topic of "Sustainability in the Hunting Industry" and there will also be a panel on "Challenges for Specialist Retailers". So there is plenty of exciting input and subsequent need for discussion! In between, there will be spotlights on the IWA newbies: in other words, an overview of all the young companies that are taking part for the first time. The young company German Precision Optics, for example, is looking forward to presenting its own product portfolio, all the latest news and the quality of its products to customers and interested parties at the IWA Studio Edition, as well as answering any questions that may arise. In addition, of course, industry-renowned and well-known manufacturers from the fields of optics, sporting guns, clothing and accessories have announced for presentations.
Anschütz introduces its new hunting bolt-action rifle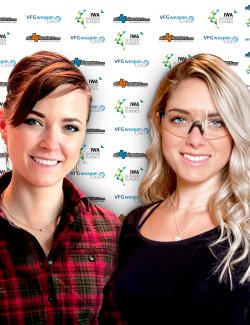 Such as the well-known manufacturer Anschütz. The long-established company, which has always been represented at IWA, will of course be there.  Dominik Walther, from the company's marketing department, has this to say about it: "The IWA has always been the industry's leading European trade show for the international trade public and a very important platform for presenting our new products to our trade partners, customers and Anschütz friends from all over the world. Therefore, we are pleased that the IWA Studio Edition will take place and the industry will come together in March as usual." Here, all4shooters.com has also already learned more details: Anschütz will present new products for the hunting sector, namely the bolt-action rifle 1782!
There's not much time left: here's how you can participate in the IWA Studio Edition

The event is intended for specialized dealers, wholesalers and retailers, as well as exhibitors, suppliers and media representatives. Interested participants can register free of charge at www.iwa.info/show-time and will receive their exclusive access data in good time before the start of the event.
For those who don't work in the industry: no problem! As usual, all4shooters.com will be there for you and will report on all important news, new products and topics!
---