New Kimber models for 2020: K6s DASA 4" Combat+Target and Kimber 1911 Rapide Ice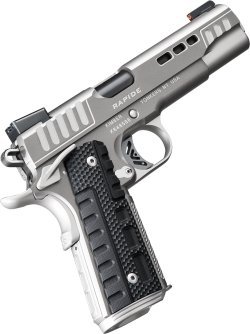 The Kimber K6s revolver is now available with a new barrel length. Beside the known 2" and 3" versions, it's now also available with a 4" barrel. Additionally, you can choose between a new Double Action or Single Action version. High-strength steel and offset stop notches make the cylinder diameter as small as possible. For hunting or self-defense we recommend the Combat version of this six-shot all-steel revolver with fixed white 3-dot sights. For sport shooters,  the Target version with adjustable micrometer rear sight and fiber optic front sight is preferable.
Kimber presents in 2020 the new 1911 Rapide Black Ice  pistol with weight-reducing partially skeletonized slide. The barrel is  DLC-coated. This stands for Diamond Like Carbon, an extremely hard, wear and corrosion resistant carbon coating with low friction resistance. The KimPro finish on frame and slide is durable and provides a subtle contrast. Safe and fast handling is guaranteed by the thumb safety on both sides in combination with the tactical grip safety. A quick, intuitive magazine change is possible due to the extended magazine funnel. The model comes with tritium day/night sights. The pistol features diagonal cocking serrations  and a weight-reducing, partially skeletonized slide.
Desert Eagle special edition: Black & Gold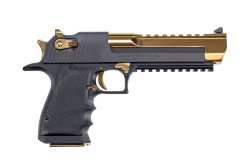 This special edition of the iconic Desert Eagle from Magnum Research comes in an impressive two-tone combination. The deep black pistol is adorned with titanium gold details such as the barrel, safety lever, hammer, slide, rear sight and magazine base. This interplay of contrasts makes the gun an eye-catcher and at the same time an unmistakable special edition. 
The "Black & Gold" is offered by Ferkinghoff International in its distinctive and durable surface finish in .50AE or .44 Magnum calibers.
Mossberg 590 Retrograde tactical shotgun in many versions

In addition to the new 940 JM, a competition shotgun developed by successful shooter Jerry Miculek, Mossberg offers a journey back in time to the first tactical shotguns under the product name 590 Retrogade. The Mossberg 590 Retrograde features an ambidextrous safety, dual extractors, a positive steel-to-steel lock-up, twin action bars and a reliable cartridge elevator for smooth repeating. Different versions such as walnut stock with or without ghost ring sights are available.
| | |
| --- | --- |
| Model: | Mossberg 590 Retrograde |
| Gauge: | 12/76 |
| Magazine capacity: | 8+1 rounds |
| Barrel length: | 20"/51cm |
| Overall length: | 41"/104cm |
| Stock: | Walnut  |
Pro Ears Stealth Elite NRR28 hearing protection earbuds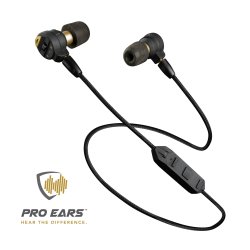 Ferkinghoff International introduces the brand new Stealth Elite hearing protection earbuds. Behind it is an active in-ear hearing protection which reduces the hearing damaging noise peak by an attenuation value of 28 dB. Audio amplification capabilities ensure excellent acoustics. This also comes into its own when the hearing protection is connected via Bluetooth to a mobile phone (Apple and Android), iPod and other devices. You can switch seamlessly from one device to the other and also make phone calls or listen to music. The lanyard cable prevents twisting and provide additional durability against cable breakage. The built-in microphone is also of particularly high quality. Even rain showers do not pose a problem for the waterproof hearing protection. The Stealth Elite NRR28 earbuds can also be used without a cable, but then the Bluetooth function is omitted and only the hearing protection remains active. The Pro Ears Stealth Elite NRR28 is supplied with 6 foam and 6 silicone tips in different sizes.
New trigger: Timney's The Impact AR-15
Cheaper trigger assemblies for AR-15 systems without compromising trigger characteristics, safety, material quality and reliability! That was Timney's goal in developing the new Impact trigger. The functional parts of the trigger are made from hardened billet steel, inserted into a T6 aircraft-grade aluminum alloy housing. 
Each trigger is handmade, calibrated and tested and features a crisp, clean break. The trigger is simply installed using the original pins from the shooter's rifle. The specially developed Timney fitting system reliably prevents the pins from moving during dynamic shooting sequences and ensures a firm grip of the trigger.