"As a specialized trade fair, we definitely consider ourselves responsible in some way for helping to shape the transfer of knowledge within the industry, as well as acting as a driver of topics that are currently moving our industry," says Enforce Tac event manager Isabelle Teufert. "The startups within the security and defense industry bring highly innovative and future-proof products as well as impulses to our trade fair – this makes it a very important component in my eyes," Teufert continues. In addition, Enforce Tac offers all participating startups the opportunity to introduce themselves and their products free of charge within the newly expanded demonstration area and also on YouTube in Enforce Tac TV.
BayStartUP GmbH: change in "military technology" industry – New investors and startups are in the starting blocks
With regard to startups within the industry, Christoph Rommel, Head of Industry Cooperation, BayStartUP GmbH, explains. "For a long time dealing openly with the topic of military and military technology was, let's say, 'a rather difficult topic' for startups and the startup ecosystem in Bavaria. Startups more or less avoided addressing this market openly, 'dual-use' products being rather less welcome," adding, "That has changed significantly now, in connection with the Ukraine conflict. Although startups with a focus on the military sector are still rather rare, you can already see some spin-offs in this area, e.g. ARX Landsysteme. A change is also evident on the investor side. Some institutional investors are already investing specifically in these sectors, but the first business angels are also showing a willingness to invest in startups in these areas. For example, the former startup Quantum Systems from Gilching, which manufactures electric drones that are currently also being used in the Ukraine war, was able to close another major financing round in 2022. The investors involved were also openly communicated."
At Enforce Tac 2023, BayStartUp GmbH will be represented in a double role: Christoph Rommel will not only moderate the startup pitches in the Demonstration Area, he will also give a presentation on the various cooperation opportunities between industry and startups.
New Side Event at Enforce Tac 2023: Bayern Innovativ GmbH invites you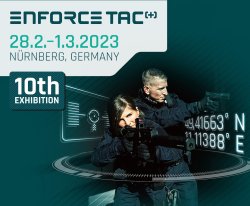 According to Enforce Tac, the Free State of Bavaria will provide half a million euros for the new Bayern Innovativ specialization field in 2023. In this context, State Secretary Weigert also referred to the role of the 70 Bavarian sector companies as the drivers of innovation. In this context, Bayern Innovativ GmbH will invite to the "Bayern Innovativ TechHub Lunch" on the second event day of Enforce Tac 2023. The aim of the event with Roland Weigert (State Secretary in the Bavarian Ministry of Economic Affairs, Regional Development and Energy) is to present the motivation for the TechHub and the resulting offer. In addition to the State Secretary, Dr. Rainer Seßner and Dr. Matthias Konrad (management of Bayern Innovativ GmbH) will also be present. They will of course be joined by startups and other Bavarian companies in the sector. The event's motto is "Encounter, exchange and networking". 
Enforce Tac 2023: growth and increasing relevance
Enforce Tac is a trade fair for government agencies with security tasks. It takes place this year from February 28 to March 1, 2023, in Nuremberg right before the IWA OutdoorClassic. This year, the exhibition area is 22,200 m², a significant expansion and one hall more than compared to 2019, where it was 13,730 m². The Enforce Tac is only open to representatives of the military/LE and trade visitors.
We from all4shooters.com will of course be there with our international editorial team and will report about the most important news and trends.