With a total of 395 shooters and 1661 matches, between August 19th-25th, 2018 in Eisenstadt, a town of the Austrian Burgenland, the 28th World MLAIC Championships for target shooting with muzzle loading guns were held.

Twenty-five countries attended: Argentina, Australia, Austria, Belgium, Canada, Czech Republic, Denmark, Finland, France, Great Britain, Germany, Hungary, Italy, Luxembourg, the Netherlands, Norway, Poland, Rep. of South Africa, Russia, Switzerland, Slovak Republic, Spain, Sweden, USA.
With 44 medals, Germany ranked first, followed by France with 25 medals and Great Britain with 17.




2018 Muzzle Loading World Championships, Pedersoli guns at the top
Pedersoli, one of the leading manufacturers of the guns used in these events, was the main sponsor. And as every year, the Italian company recorded a good performance with guns that made the podium. All in all, Pedersoli manufactured guns from Gardone Valtrompia won 46 of the medals: 14 gold, 12 silver, 20 bronze medals, plus one new World Record.

Worthy of note was the great number of Pedersoli guns in the following disciplines: Civilian (Civil rifle flintlock – 50 meters) with 40 rifles out a total of 58, Maximillian (Flintlock rifle – 100 meters) with 21 Pedersoli guns out of the 31 total and Michelet (Military musket, flintlock – 50 meters) with 23 Pedersoli guns out of the 29 in total.
Achim Bailer (German Team) in particular, won a gold medal in the Pennsylvania discipline with a score of 99/100 using the Swiss Match rifle, and Daniela Andreikova (Slovak Team) with a bronze medal in the Walkirie discipline, with a score of 96/100 using a Gibbs rifle.
"We conclude by thanking the organizers and the entire staff of volunteers, always smiling and helpful, not caring about the fatigue and the heat and we also thank the 395 athletes, of course, who have once again been able to stand out, by showing tenacity, sound values and the spirit of sportsmanship," said Stefano Pedersoli, the company's marketing manager.
Victories achieved with Pedersoli guns in different disciplines. In total, they are 46. In the table, the individual performances.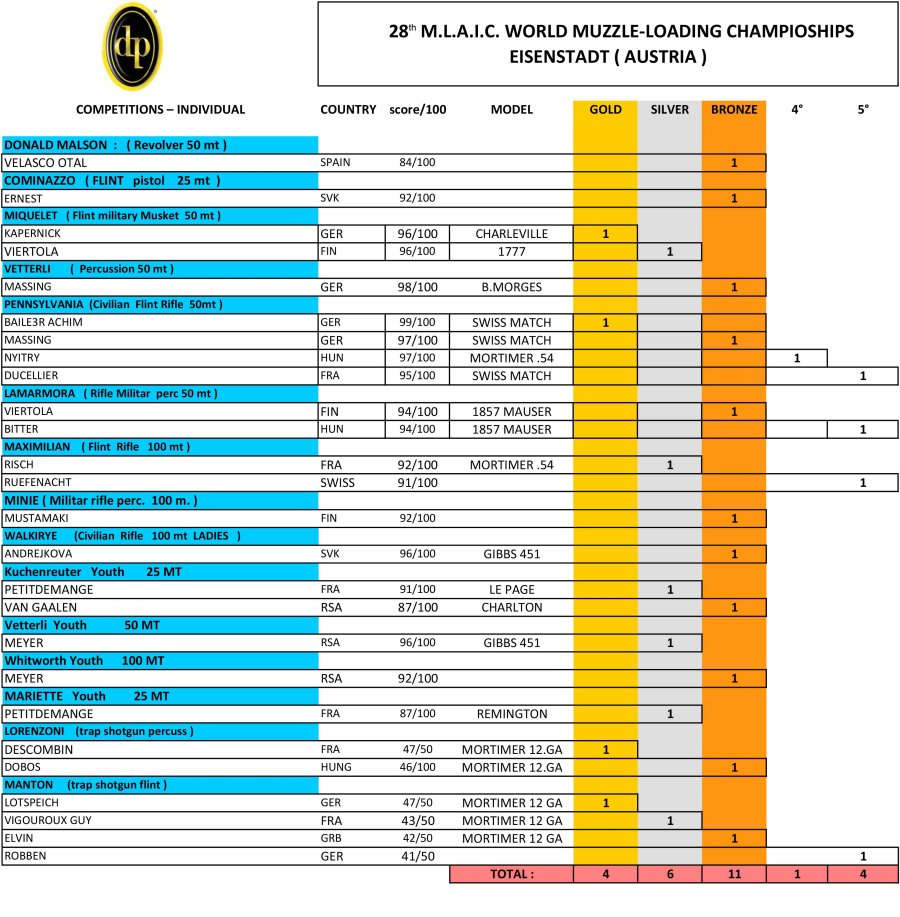 For more information please visit Davide Pedersoli & C. website.