"More magazine capacity than nine millimeter Luger, more power than .380 auto, designed specifically for concealed carry":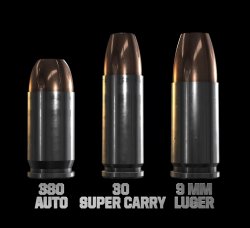 Federal Ammunition introduces a whole new caliber, the 30 Super Carry describing it as the most revolutionary self-defense advancement in nearly 100 years.  The 30 Super Carry was actually conceived to bridge the gap in handgun self-defense between .380 auto and 9mm Luger, featuring a.312-inch-diameter projectile. 
According to the manufacturer's claim, the new cartridge delivers the same muzzle energy as 9mm Luger, with ballistic performance and penetration that far exceeds that of .380 Auto, while being designed specifically for concealed carry. 
The highlight here is in fact size: the dimensions allow chambering in handguns with reduced grip circumference and smaller overall size, yet still offer more magazine capacity than 9mm Luger. 
New caliber for self defense - 30 Super Carry: smaller is better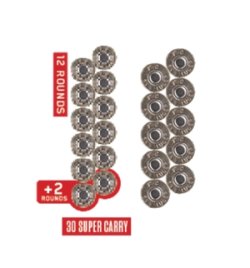 In detail, a magazine the size of a standard 9mm Luger pistol's should carry at least two additional rounds of 30 Super Carry ammo. 
But it's not all about more cartridges in your magazine: being designed from the start for concealed carry and not originally developed for the military and law enforcement like other popular cartridges, the new addition to the world of handgun ammo offers the perfect balance of power and usability for real world self-defense scenarios, including less recoil for rapid re-engagements and more rounds on target. 
It seems really convincing so far and like a real innovation. But finally we are talking also about the need for new firearms. The future will show us, if there is a realistic chance in the market for this cartrdige. One of the decisive factors will be the firearms industy. 
The video below from Federal Ammunition fully explain the virtues of the new ammo and the brandnew, innovative caliber:
Video: features of the new Federal 30 Super Carry cartridge
This video has been hidden because of an external service (YouTube) that could potentially collect personal data.Allow video services for the duration of the visitAllow video servicesStop allowing video services
Federal provides some data about the 30 Super Carry capacities compared to other popular cartridges: in terms of penetration and expansion, a 100-gr 30 Super Carry HST bullet has a penetration of 15.5 inches, expanding to .530 inches; for a .380 Auto 99-gr bullet the values are 9.95" and .588" respectively, while for the classic 124-gr 9mm Luger HST they are 14.5" and .571". As for energy and velocity, for the same bullet weights and type the 30 Super Carry achieves a muzzle energy of 347 foot-pounds and a velocity of 1250 fps; the .380 Auto gives 223 foot-pounds and 1030 fps, while the 9mm Luger reaches 364 foot-pounds and 1150 fps. And what about the venerable US classic, the .45 ACP? Well, a 230-gr bullet here achieves 404 foot-pounds of energy and a velocity of 890 fps. Draw your own conclusions.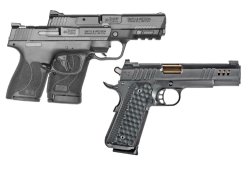 In case you are wondering, there are already pistols chambered for the new cartridge. In cooperation with Nighthawk Custom and Smith & Wesson, Federal says that initially available models include the Nighthawk Custom President and GRP and the Smith & Wesson M&P Shield Plus and Shield EZ.
Did Federal really design the "perfect" self-defense cartridge? The world of firearms is overly conservative and only time and experience will tell if the new ammo can convince users. For the time being, the 30 Super Carry surely sounds as an option worth testing.