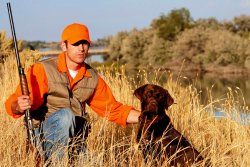 Headquartered in the town of Anoka (Minnesota, U.S.A.), Federal Premium Ammunition is a brand owned and operated by the well-known ATK Group conglomerate, and dedicated to the manufacture and distribution of centerfire and rimfire ammunition dedicated to all civilian fields of use, from hunting to sport shooting and self-defense.
Its renown products are some of the most popular between hunters, sportsmen and all-round civilian shooters worldwide, and are sold through a global distribution network with licensed dealers in forty-four Countries.

Federal Premium Ammunition
One of Federal Premium Ammunition's latest products, very recently launched on the U.S. market and soon to be exported worldwide, are the Federal Premium Vital-Shok High Density Buckshot shotshells.
Technically speaking they are not a new product: they've been available for years now, but only to professional pest controllers, working for several Federal agencies in the United States, engaged in the control of the population of certain invasive species such as feral hogs.
Given the high level of satisfaction between those operators with the performance of this load, Federal Premium announced in June 2015 that this previously restricted product would become commercially available to the general public − with shipments of this new ammunition currently being delivered to U.S. distributors.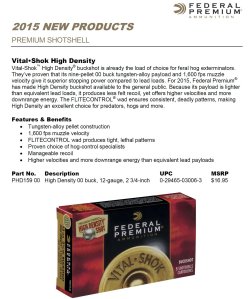 Federal Premium Ammunition
Federal Premium Vital-Shok High Density buckshots are a fully lead-free load − using nine 00 Buck tungsten-alloy pellets as a payload that travel at a blistering high muzzle velocity of 1600 feet per second (487,68 meters per second) and thus providing superior stopping power if compared to the most direct competing lead-based loads due to the higher level of downrange energy, despite using a lighter material that also offers a lower, very manageable felt recoil level, making them an excellent choice for shooters of all genders and ages.
Furthermore, the use of Federal Premium Ammunition's own Flitecontrol wad allows the Vital-Shok High Density buckshot to ensure consistent and deadly patterns − a true must for hogs, predators, and other "hard" game".
As of today, Federal Premium Vital-Shock High Density buckshot shells are available in a 12 gauge, 2.¾"/70mm ("Standard") option only; others may come in the future. In the United States of America, they're sold in five-shotshells boxes at a manufacturer's suggested retail price of $16.95, although street price may vary; details concerning availability and pricing for export markets have not been disclosed so far.
Federal Premium Ammunition