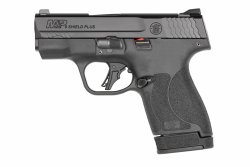 On the night between March 15-16, S&W unveiled it as part of its first Internet presentation – the new evolutionary stage of S&W's M&P Shield line of pistols. Its name: M&P Shield Plus. Designed for concealed carry, the M&P Shield Plus is the most advanced pistol in this line, according to the manufacturer, equipped with a 13-round magazine, this in a slim, micro-compact grip frame. The M&P Shield Plus in 9mm Luger caliber comes in a variety of configurations, not least versions from Smith & Wesson's in-house tuning workshop, the Performance Center, from which guns with different sights and slide cutouts to accommodate red dot mounting plates ("Optics Cuts") are to come.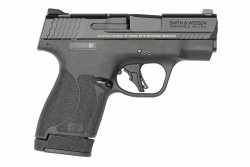 Here's what Smith & Wesson has to say about the latest evolution of the M&P Shield

Kyle Tengwell, Smith & Wesson's deputy director of marketing, says, "We're excited to announce the next evolution of the M&P Shield pistol, the M&P Shield Plus. Packed with popular features such as a flat-face trigger, large capacity magazine, optics cuts, and more, the M&P Shield Plus product line has been designed to meet the needs of today's firearm consumer. With over three million M&P Shield pistols sold in the past decade, the Smith & Wesson M&P Shield is a proven, reliable platform with the ability to stand the test of time. And best of all, the new M&P Shield Plus pistols are rolling out to retailers across the country [editor's note: the US] now."
Designed for concealed carry – Features of the new M&P Shield Plus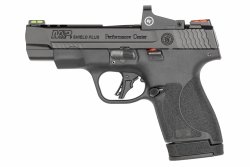 As mentioned, the M&P Shield Plus is available in Standard models as well as Performance Center-finished versions. It is also available with and without a manual safety. The M&P Shield Plus features the model's signature 18-degree grip angle, which leads to a more natural point of aim and aiming posture, provides better recoil control and allows quick follow-up shots. In addition to the aforementioned flat-face trigger, the M&P Shield Plus has an improved grip texture, specifically geared toward concealed carry. Barrel in the standard version is 3.1"/79 mm long. There are two magazines, one that holds 13 rounds thanks to an extension, and one that is designed for 10 rounds and is flush with the grip. Typical of the M&P Shield Plus from the Performance Center are the optics cuts and the optional ports found at the top front slide slopes, on the left and right, three each. In addition, the front sight features a yellow-green glow rod and the rear sight two red fiber optic inserts. Oh, and a longer slide – with a correspondingly longer 4"/102 mm barrel – is also available for the PC models. The MSRP of the M&P Shield Plus starts at $553 (about 463 euros) in the US.