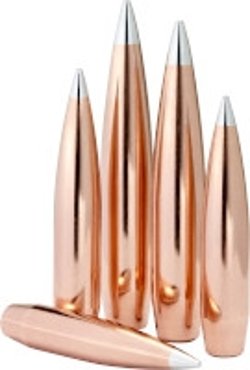 Hornady has proudly announced what the US Company describes as  "the ultimate low drag, high performance match bullet": the A-Tip Match. The new product, that also marks Hornady's 70th anniversary, was developed by the highly specialized "Ballistic Development Group" (BDG) – the company's own own small 'skunkworks' division – after years of research. The distinctive feature of the new bullet is the precision-machined aluminum tip (that's what the "A" in the name stands for). The tip is longer than polymer tips which moves the center of gravity, so enhancing inflight stability.  According to the manufacturer, combined with advanced manufacturing processes and quality control measures this aeroballistically advanced design results in fact in tighter groups and reduced drag variability.
As Joe Thielen, Assistant Director of Engineering, explained: "We wanted to incorporate aluminum tips in a full line of match bullets for years because we can make longer tips than we can with polymer materials. This longer tip is a key component that helps move the center of gravity of the bullet rearward, thus enhancing in-flight stability and reducing dispersion. The problem has always been the cost to produce a tip like this, but we've developed a cost-effective process for manufacturing these aluminum tips while staying affordable for serious match shooters."
You can see a product intro video here: https://vimeo.com/332099503/db88960c5b
Hornady A-Tip, longer and more accurate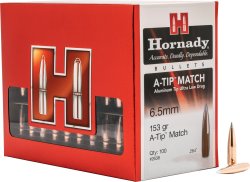 The longer aluminum tips are machined to be caliber-specific, and when coupled with highly refined AMP bullet jackets, aggressive profiles and optimized boattails, the result is enhanced drag efficiency (high BC) across the board. Moreover, each bullet design is carefully crafted for minimal drag variability to maximize accuracy and consistency.
The Doppler radar-verified low drag coefficient also means that bullets are forgiving of twist rate, seating depth and muzzle velocity. In Thielen's words: "We designed the A-Tip projectiles with accuracy and precision first and foremost. Many low-drag bullets on the market today have very aggressive secant ogives, which look great on paper and yield high BCs, but usually these types of projectiles are very finicky when it comes to accuracy or performance in different chambers, standard twist rates, seating depths and barrels." 
During the manufacturing process the bullets are sequentially packaged "right off the press" without being batch handled or tumbled, ensuring that each bullet in the box is a clone of the bullet before it and after it. Handling is minimal too. A-Tip bullets will be available in 100-count boxes, and retailers will also sell sleeves of five sequential 100-count boxes packaged together, as well as a case pack of two 500-count sleeves for a total of 1,000 sequentially packed bullets. Since the bullets will not be touched or tumbled, there will be some slight oil residue, so a bullet polishing bag will be included with each 100-count box for the hand loader to use in preparing bullets for loading.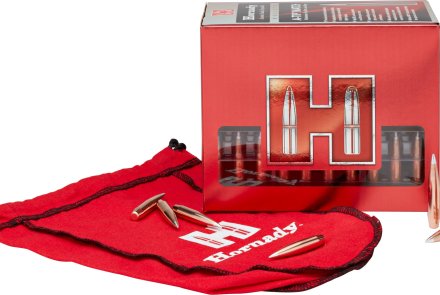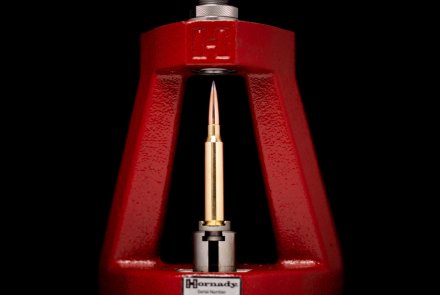 Initially, Hornady A-Tip bullets will be produced in the following calibers / weights (with added Doppler radar G1 and G7 BC values):
| | | | |
| --- | --- | --- | --- |
| Caliber | Weight | G1-BC-Values | G7-BC-Values |
| 6mm | 110 Grains | .604 | .304 |
| 6.5mm | 135 Grains | .637 | .321 |
| 6.5mm | 153 Grains | .704 | .355 |
| 7.62mm | 230 Grains | .823 | .414 |
| 7.62mm | 250 Grains | .878 | .442 |