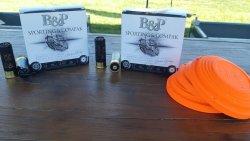 The shooting range of Crevalcore, Italy, hosted our test day of Baschieri & Pellagri cartridges.

The staff in attendance, our friends Federica Gozza and the technician Gialunca Garolini, brought some new products and other loadings that have been part of Baschieri's production for a long time and are increasingly appreciated both by sports shooters who regularly compete in these disciplines and by hunters who train with their hunting guns. 

In Baschieri's catalog the range designed for Sporting and Compak is wide, but in this occasion the cartridge chosen for the test is the 12-gauge Sporting and Compak with 28 gram loading.   
Video: Baschieri & Pellagri Compak and Sporting Medium Range
This video has been hidden because of an external service (YouTube) that could potentially collect personal data.Allow video services for the duration of the visitAllow video servicesStop allowing video services
Sporting and Compak 12 gauge cartridge by Baschieri & Pellagri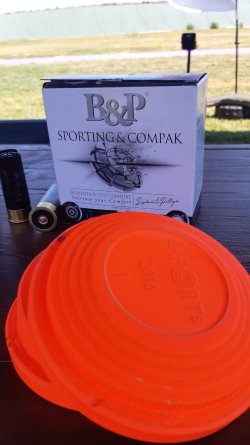 Loaded with a photodegradable wad and suitable for medium-range shooting, this cartridge features the classic Gordon System which cushions the effect of recoil, giving the shooter the possibility of facing prolonged shooting sessions with less fatigue and greater accuracy.

Loaded with G2000 powder, the Sporting and Compak is available with No. 8 and 8.5 black tempered lead shot. Perfect especially as a first barrel for close-range clay pigeons, during our test session this cartridge confirmed to be soft on the shoulder and effective on clay pigeons with clean breaks up to the medium distances of 30 meters and beyond.

The remarkable speed developed by this cartridge is 405 m/s. Because of its characteristics we noticed that this cartridge can be fired comfortably with any hunting rifle, both semi-automatic and break-action guns. As a demonstration of this, Gianluca Garolini brought to the firing range for the test both a recently manufactured semi-automatic, the Beretta A 400 Explor, and a beautiful but dated Beretta over-and-under that did not cause the slightest stress in the two repeated series of clay pigeons.

These are important aspects both for a professional shooter and for a hunter who wants to train occasionally at the shooting range in order to arrive at the hunting season ready and sure of his means.
Baschieri & Pellagri  Sporting and Compak cartridges

| | |
| --- | --- |
| Manufacturer: | Baschieri & Pellagri |
| Model:  | Sporting and Compak |
| Gauge: | 12 |
| Head Brass:  | 12 mm |
| Case: | 70 mm |
| Powder: | G2000 |
| Lead: | 28 g |
| PCF: | Stud |
| Lead Shot:  | 8-8½ |
| Box: | 25/250 |
| Shotgun Chamber (mm):  | 70, 76, 89 |
| Shot Material:  | Black tempered lead |