Baschieri & Pellagri proposes to its large audience of fans attending HIT 2018 some revisited classic hunting cartridges and new solutions that confirm the combination of tradition and technology that has always distinguished the Italian company.
BIG Game cartridges for wild boar hunting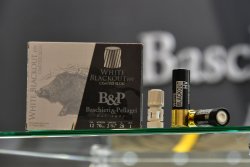 For wild boar hunters comes here comes a new 12-gauge shell in the Big Game series with a completely redesigned White Blackout slug, characterized by a weight of 28 grams, high velocity and high fragmentation power that can hit and transmit a lethal shock even to the toughest of game animals.
A white exterior coating minimizes barrel leading, ensuring high accuracy thanks to the special plastic wad. The White Blackout slug reaches 570 m/s.
Baschieri & Pellagri Super Flash
Still in 12 gauge, the historic Super Flash, once used for pigeon shooting, comes with a traditional cardboard case but with plastic wadding, a standard 36 gram load of nickel-plated lead shot and F2 powder to guarantee velocity and regularity during the hunting season. The same cartridge is available in 20 gauge with a 28 gram load.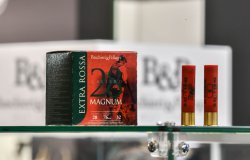 Still in 20 gauge, a new Short Range cartridge loaded with F2 powder and a generous load of 32 gram of shot with spreader to satisfy above all the needs of those who hunt with pointer dogs and need lethal, well distributed patterns at short and medium ranges.
For the more and more important and popular 16 gauge, Baschieri proposes the F2 Extra, obviously loaded with F2 powder in a 70 mm case and 32 grams of lead shot with the same spreading characteristics, therefore equipped with couvette, felt wad and a dispersion element.
Turning to the smaller gauges, the 28 gauge magnum Extra Rossa shell, loaded with 32 grams of lead shot and a plastic case with star-shaped crimping, meets the needs of a market that offers more and more performing shotguns with magnum chambering.
Flash cartridge for sport shooting

Still for the 28 gauge, a Flash version with 24 grams of number 7.5 lead shot in a 70 mm case is dedicated to sport shooting. The new range of products is completed by a .410 Flash shell dedicated to sport shooting with 18 gram of lead shot and a 76 mm plastic case.