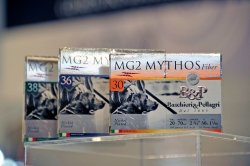 Baschieri & Pellagri special collections are exclusive products, in which the carefully selected components, the attention to detail in the charging phase and the ballistic test results guarantee constant, unforgettable and thrilling performance for hunters who want nothing but the best.
This year at HIT 2016, the company from Bologna presents a new line that derives from the revamping and combination of two special collections - MG2 and Mythos - to create one single line, the MG2 Mythos. One of the main features is undoubtedly the high velocity, thanks to the use of MG2 powder.
The special tempered nickel-plated lead shot produces a perfect burst pattern with high residual energy.
In the models with plastic wading, the burst pattern concentration is guaranteed by a frost-proof wad with a high-capacity 6-tab pre-cut container.
Both the 12 and the 20 calibre come with a felt wad, ideal for firing your first barrel at short/medium range.
The MG2 Mythos is a line of state-of-the-art cartridges designed to give you the best results for various climatic conditions and types of game, whilst meeting the highest quality standards.