In the company of Baschieri & Pellagri management and shooters dedicated to the dynamic shooting discipline, we tested in quick and repeated sessions on different targets all four types of ammo that make up the new Active line dedicated to dynamic shooting. The technical specs studied by Baschieri to ensure the best performance to shooters have found a full confirmation in terms of velocity, comfort and accuracy.
This video has been hidden because of an external service (YouTube) that could potentially collect personal data.Allow video services for the duration of the visitAllow video servicesStop allowing video services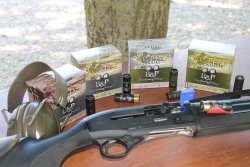 This new line presented by the Bolognese company in the main 2017 specialized shows includes 4 types of ammunition with slug, buckshot and shot loads.

Among the main goals common to all the range: low recoil, almost totally reduced lead fouling in the barrel after firing, concentration of the spread and extreme accuracy.
The cartridges  fired along a dynamic shooting course are in fact many and they are shot in rapid succession, the targets between the obstacles are never predictable, time runs inexorably during the shooter's performance, who finds in the ammunition his fundamental ally.

Baschieri & Pellagri Active slug
This cartridge is loaded with a 28 gram lead slug protected by a surface treatment that makes it very accurate while keeping lead fouling in the barrel to a minimum. Thanks to the Gordon System that reduces the effects of recoil, the shooter can continue shooting for longer with the right level of concentration and accuracy. The muzzle velocity of this cartridge is 410 m/s.

Active Buckshot baskets & pellets

This cartridge is loaded with 9 buckshot balls (3 layers of 3) in a pre-cut plastic shot cup for an optimal spread pattern.
Also in this case the 70 mm Gordon System case with a 12 mm head reduces recoil so shooters can keep shooting even in challenging sessions with constant results. For this cartridge the muzzle velocity is 410 m/s too.

Baschieri & Pellagri Active 28 and 32 grams
These two shotshells have a light load with 28 grams and 32 grams of No. 6 shot. The pre-cut shot cup produces highly concentrated spread patterns. Also in this case the Baschieri patented Gordon System case is used, while the powder used is the F2 x32 for the 28 grams cartridge, and the Nike for the 32 grams one. The muzzle velocity of these cartridges is 405 m/s.