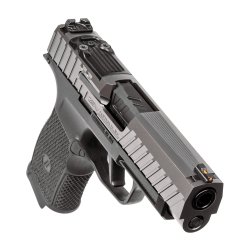 After introducing the "Micro-Compact" Z365 pistol based on SIG's P365, it was only a matter of time before ZEV Technologies announced a gun based on the P365 XL. And here comes the 9mm Z365 XL Octane. The gun comes standard with an Octane Slide with RMSc compatibility, laser cut diamond texture grip, PRO Barrel with Black DLC finish, and Zev's fiber optic and combat sights.
"The Octane slide was designed by founder Al Wolf and is the perfect storm of end user driven features. Aggressive slide serrations help with manipulations while the Combat Sights allow the shooter to get faster sight acquisition and maintain sight picture more easily during follow up shots. With RMSC compatibility the Z365 XL ushers in a new age of concealed carry," they say at ZEV Technologies.




The Z365 XL Octane slide is also available as upgrade for your SIG
The slide's features include improved glare resistance and grip with ZEV's signature slide channeling and serrations. As stressed by the manufacturer itself, "The Z365 and Z365XL Octane slides is optics compatible with the Shield RMSc and platforms that share the same footprint. PRO Barrels feature dimpling and a streamlined hood design that incorporates the ZEV logo slashes and caliber markings. Zev Combat Sights have a notch width of .140 & Notch Dept of .145 will allow you enough room to keep your eyes on target during transitions." 
The optic cut allows mounting of a red dot without the removal of the rear sight, and it is compatible with the Shield RMSc, SIG Romeo Zero and Holosun HS407K.
ZEV's Octane slide, by the way, is also offered as an accessory for upgrading your existing P365 and P365 XL pistols.
---
Technical specs and price of the new Z365 XL Octane from ZEV
Exclusive ZEV Z365 Octane Slide, Titanium Gray
RMSC Optic Cut, compatible with the Shield RMSc, SIG Romeo Zero and Holoson HS407K
ZEV Z365 PRO Barrel, Black DLC
Chambered in 9mmZEV Z365 PRO Barrel, Black DLC
ZEV Fiber Optic Combat Sight Set
ZEV RMSC Cover Plate
SIG Sauer P365 Grip with ZEV Diamond Pattern Laser Stipple
SIG Sauer P365 Standard Curved Trigger
Includes two 10 round SIG Sauer P365 Magazines
MSRP in the US is 1.299 USD
We'll report later about availability in EU
---