Pistols from Taurus's TX22 series are popular .22LR striker-fired guns that, since their introduction in 2019, have been offered in several variants including the TaurusTX22 Compact and Competition models. But what If you already own a "standard" TX22 pistol and want to go "competitive"? Taurus has the solution in the form of the TaurusTX 22 Competition Conversion Kit, with which you can quickly transform your standard TaurusTX 22 pistol into "a high-performance competition-ready firearm". Besides competition shooting, intended use is target shooting and other precision shooting applications.
TaurusTX 22 Competition Conversion Kit, easy and quick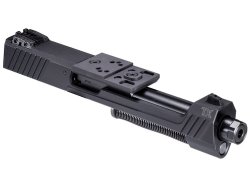 The manufacturer claims that the TaurusTX 22 Competition Conversion Kit "is engineered with precision to deliver unparalleled accuracy, speed, and control". The kit includes a match-grade barrel, a lightweight slide, a skeletonized trigger for a crisp, clean trigger pull all the necessary parts/tools needed for installation – which is quite easy in itself and only requires a few minutes. The kit is also an optics-ready platform, with the following footprint compatibility: Trijicon RMR / Holosun, Leupold Delta Point Pro, Vortex Venom/ Doctor Noblex / Burris Fast Fire, C-More STS. In case you don't wont to use optics, a white dot front sight and an adjustable rear notch are provided. Barrel features a matte black finish, while slide is hard anodized black.
The match-grade barrel is 5.25"/133 mm long as compared to the 4.10"/104 mm standard barrel; the lightweight slide is longer than the standard TX22 one, too. The kits parts improve shot accuracy and consistency, with the lightweight slide also reducing recoil and allowing for faster follow-up shots. 
Of course, you can switch between your standard TaurusTX 22 pistol and a competition-ready firearm – and back – whenever you like and according to the different shooting scenarios.
As stated before, the TaurusTX 22 Competition Conversion Kit includes all components needed and is covered by Taurus's Limited Lifetime Warranty. The price in the U.S. for this versatile conversion kit is $199.99.