Nostalgia is the keyword: after Brownells started proposing old-style AR-15 furniture sets and then complete rifles (we introduced and tested them here), the "retro" mania seems to be all the rage at the moment. A Kentucky-based US company named DoubleStar, manufacturers of high-quality, US-made AR components, rifles, pistols and edged weapons, is now introducing its Retro Parts Line. And since we have a soft spot for old-style guns we couldn't pass this up! 
DoubleStar's  Retro Parts Line consists of the following products/options for now:
Vietnam-era 3 prong flash hider;
delta ring, A1 style;
A1 stripped upper receiver and A1 complete upper receiver;
black polymer 12" A1 rifle triangle handguard;
A2 stripped upper receiver and A2 complete upper receiver.
Retro parts for retro-builders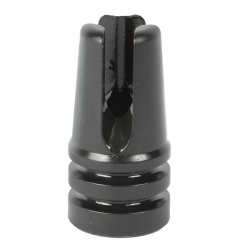 Why producing Vietnam-era inspired parts for AR-15s? The answer is simple: as explained by the manufacturer, "DoubleStar saw a need within the market to provide necessary parts for gun enthusiasts to complete their retro builds." Original M16s and M16A1s from 1960s and 1970s (and even M16A2s from 1980s) are getting scarce and expensive nowadays, while "retro-builders" are more and more. So there is definitely a serious interest out there.
In detail, the reproduction Vietnam-era 3 prong flash hider features 1/2 x 28 tpi and is made from steel and phosphate finished. Price is 14.99 USD. The grey M16A1 style delta ring is 21.99 USD and the black handguard is 39.95 USD. The most interesting products are the uppers, of course. DoubleStar's A2 style stripped upper receiver is forged aircraft 7075 T6 aluminum and anodized to Mil-Spec, featuring the typical A2 brass deflector. Its price tag is 119.99 USD. If you want the A2 complete upper receiver – that includes the forwards assist assembly, ejection port door assembly and dust cover – you'll need 217.99 USD.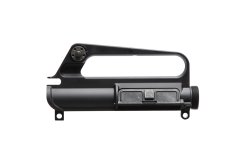 Even more appealing to retro-fans, the A1 stripped upper receiver is available for 154.99 USD. Machined from 7075 T6 aluminum and hard coat anodized to military specs, this receiver is a replica of the first "Slabside" upper receivers from the Vietnam era. For 199.99 USD you can also have the A1 complete upper receiver with ejection port door assembly and dust cover. Needless to say, these uppers do not have the forward assist, brass deflector, or M4 feedramps to maintain the original era look.
All DoubleStar Retro Line parts are designed for rifles chambered in 5.56x45mm NATO.
In addition to this, the company also offers a 20" A2 Heavy Barrel upper including heavy barrel in 5.56x45mm NATO for  459.99 USD. Will they ever offer complete retro rifles? Let's wait and see...