Article also available in other languages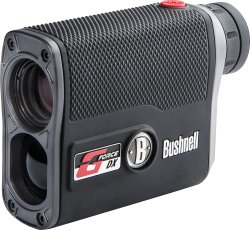 Bushnell Outdoor Products
Headquartered in the town of Overland Park (Kansas, U.S.A.) and now an ATK Sporting Group brand, the well-known Bushnell Outdoor Products company is one of the world's premier manufacturer of hunting, shooting and observation optics and electro-optical designs, boasting 66 years of pioneering experience and innovation in this field.
More specifically, today the Bushnell Outdoor Products company is a market leader in the field of laser rangefinders, a very dynamic and interesting sector given the implied technical aspects and the marketing possibilities: laser rangefinders are today a must-have for all long-range hunters and sports shooters worldwide.
Bushnell's latest hand-held laser rangefinder, first showcased during the trade shows season of early 2014, is dubbed the G-Force DX, and it is now being commercially distributed on the international civilian and tactical markets. The Bushnell G-Force DX laser rangefinder was conceived and developed as a direct evolution of the company's own models of the past years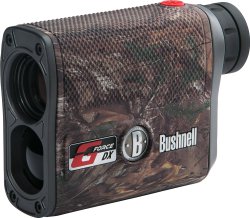 Bushnell Outdoor Products
As such, it remains lightweight, reliable and easy to use: its overall weight doesn't exceed the 8oz./227gr. threshold, and all controls are located in and around the eyepiece area − as a matter of fact they're limited to the top, bright red activation button and to the twisting eyecup.

The Bushnell G-Force DX is powered through a single 3-Volts CR123A commercial battery, held in a secure, waterproof compartment protected by a Posi-Thread battery door. Its fully waterproof, shockproof chassis is entirely manufactured out of rubberized-surface metal, and available in gun grey or Realtree Xtra camo variants.

The 6x21mm match with the VDT (Vivid Display Technology) system to provide a significant improvement in contrast, light transmission and clarity in order to allow a quicker and positive target acquisition in all environmental conditions. The Bushnell G-Force DX rangefinder operates in a 5-1300 Yards (4,5/1200 Metres approx.) range, with up to ½-Yard accuracy and 1/10-Yard display precision, a 1300-Yards reflective ranging performance, a 900-Yards tree ranging performance and a 600-Yards deer ranging performance.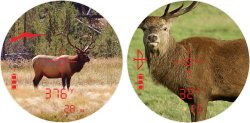 Bushnell Outdoor Products
At the "heart" of the Bushnell G-Force DX laser rangefinder is a 2nd-generation ESP ("Extreme. Speed. Precision.") high-velocity processor, allowing easier, quicker and more accurate calculations.
The G-Force DX rangefinder is totally O-ring sealed and nitrogen purged for total waterproof and fogproof protection; it can withstand complete immersion in water and stay dry inside. The interior optical surfaces won't fog due to rapid temperature change or humidity.
Furthermore, the Bushnell G-Force DX rangefinder offers the VSI ("Variable Sight-In") option, allowing the user to pre-set holdover and ballistic drop compensation to provide a more accurate trajectory calculation in three different modes.
Much like its most direct predecessors in Bushnell's rangefinders line, the G-Force DX model integrates an inclinometer and the ARC − "Angle Range Compensation" − function for long-range shooters and bow hunters, in two different modes: the "Bow Mode" provides true horizontal distance from 5 to 99 Yards (90,5 Metres approx.), while the "Rifle Mode" provides bullet drop and holdover data from 100 to 800 Yards in centimetres, inches, MILs and MOAs.
This video has been hidden because of an external service (YouTube) that could potentially collect personal data.Allow video services for the duration of the visitAllow video servicesStop allowing video services
The quality and performance of the Bushnell G-Force laser rangefinder were acknowledged by the authoritative Outdoor Life magazine in April, following a gear test of six different rangefinders in which it was classified as a "Great Buy" and awarded four stars out of five.
The Bushnell G-Force DX laser rangefinder is sold along with a single CR123A battery, a safety neckstrap and a carry case. It also comes with a built-in tripod mount, and is compatible with magnetic attachment systems.
The Bushnell G-Force DX laser rangefinder is available on the United States market for a minimum advertised price (MAP) of $399.00 for the gun metal grey version and $419.00 for the Realtree Xtra camo version. Prospective non-US buyers may want to inquire with their closest retailers or their national authorized Bushnell distributors for local availability and pricing: click THIS link to access the Bushnell international distributors list on the company website.


Bushnell Outdoor Products