To those who love hunting small game in America with a classic-looking gun in typical Italian style, F.A.I.R proposes the Iside Basic side-by-side.  F.A.I.R., Fabbrica Armi Isidoro Rizzini has specialized in the manufacture of functional and highly reliable sports and hunting shotguns since 1971.  The company has been producing since 1971 exclusively in Italy. Above in the picture you can see Luca Rizzini, the owner of the company at his stand at the SHOT Show 2019, who personally introduced us the new model.
The F.A.I.R. "Iside" family, in its smooth bore versions, includes the "ISIDE" with manual extractor; "ISIDE EM", with "triple depth" laser engraved action and automatic ejector through large ejectors. "ISIDE TARTARUGA GOLD" with colour hardened action, gold subjects and wood recoil-pad and "ISIDE GARDENA" that has a double trigger / single trigger shooting system, ejector, divergent barrels, in order to have a large bullet group (oo) in shooting both shots with the rear double trigger actioned first.
F.A.I.R "Iside Basic": features of the new model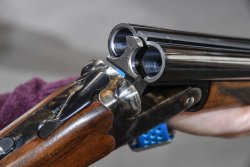 Available in 12, 16, 20, 28 gauge and .410 bore, its body action is machined from solid forged steel blocks and scaled to match the gauge, with the exception of .410 which uses the same body size of the 28 ga. Barrels are available in two different lengths, 71 cm and 68 cm (28 in and 26.8 in), equipped with internal and interchangeable Technichoke chokes with 3" / 76 mm magnum chamber, with the exception of the 16 gauge that features a 2"3/4 / 70 mm chamber.
The rib is concave with an anti-reflective matte finish and ends with brass bead front sight. This shotgun also features barrels with the distinctive F.A.I.R  internal chrome lining, to ensure long-lasting and consistent ballistic perfomances.
Elegant and light: the new model F.A.I.R. "Iside Basic"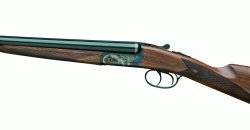 With its elegant look, the rounded body profile and the color case hardened finish, the F.A.I.R "Iside Basic" side-by-side has slender lines thanks to the English stock and the thin fore-end. The select European walnut wood  is oil-finished. Iside Basic is a classic double-trigger gun but on request the company also manufactures a single-trigger version with selector; ejection is automatic. The weight of the Iside Basic side-by-side is standard and does not exceed 2.9 kg in the 12 gauge down to 2.5 in the smaller gauges.
---
For more information about the model "Iside Basic" and all other models already available in all EU markets, please visit the F.A.I.R. website.
Find all the news from SHOT Show 2019 on all4shooters.com.