F.A.I.R. proposes to double-barrel shotgun fans an over/under whose features are well suited to both hide hunting and walked-up hunts with pointing dogs. The Classic De Luxe over/under is part of the Classic series, characterized by slim and elegant lines, just as its name implies. Only downside is that the F.A.I.R. Classic De Luxe model is offered exclusively to the Italian market for the time being. But in the future, who knows?

F.A.I.R. Classic De Luxe: details and available gauges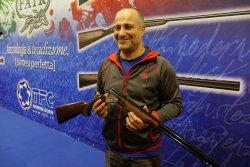 The lightness, which is essential on walking days, is one of the features that distinguish the gun thanks to an Ergal light aircraft-grade aluminum alloy. Total weight ranges from 5.7 lb/2.6 kg for the 12-gauge model to 5 lb/2.3 kg for the smaller gauges. On the nickel-plated surfaces, the laser engravings with three levels of depth depicting gold-inlaid hunting scenes and flying wild birds stand out pleasantly. The Classic de Luxe over/under is manufatured by F.A.I.R. in 12, 20, 28 gauges and .410 bore.

The internally chromed barrels for better resistance and ballistic performance over time are available in two different lengths of 68 and 71 cm, with a 3"/76mm magnum chamber. A set of Technichoke Hunting XP50 internal and interchangeable chokes is available to the hunter for different types of hunting and environments. The long-stroke ejectors are selective automatic for a quick and safe ejection of fired shells. Stock and Schnabel forend are made from oil-finished select European walnut wood, with fine pitch laser checkering and double grip. The opening lever is pierced, while locks feature spiral springs and hammers with double safety notches. The trigger is single selective, the slide selector being on the top tang. Looking forward to field-testing the F.A.I.R. Classic De Luxe over/under, we appreciate in the meantime its features.

---
For further information on the Classic De Luxe over/under please visit the F.A.I.R. website.