The first novelty that Pedersoli presents at the Las Vegas fair is not a muzzle-loader, but a centerfire gun. It's a shortened version of the model 1886 lever action rifle in .45/70 caliber with a 19.6"/ 50 cm round barrel. In this way, the length of the new 1886 Carbine is exactly 100 centimeters, or 39.37 inches. The 6-groove PMG (Pedersoli Match Grade) broach rifling with a 460 mm twist allows for an effective stabilizing of the .45/70 cartridge bullets even in a barrel shorter than average. The tubular magazine under the barrel holds 6 cartridges.
Other features of this carbine include the forged and color case-hardened steel receiver, the action machined from solid steel blocks and the quality walnut stock with a steel butt plate. The weight of the Pedersoli 1886 Carbine is 7.9 lb / 3.6 kg and this, together with excellent handling and balance, makes it an excellent gun for hunting in the woods, where swinging spaces are limited and you often have to shoot instinctively.
The Pedersoli 1886 Carbine's sights consist of an adjustable tangent rear sight and a dovetail-mounted front sight (which means it's drift-adjustable) with a brass insert.

The power of the .45/70 cartridge, especially in the new loads expressly dedicated to lever guns like Hornady's Leverevolution ammo, enables you to put down even large ungulates cleanly and safely, thanks to the 325-gr bullet that exits the barrel at over 600 meters per second.

The Pedersoli 1886 Carbine is also perfect as a "Mountain gun" or rather as a self-defense gun to protect yourself when hiking in areas populated by dangerous animals – a very American concept but also very pragmatic, since in the USA many hikers are attacked by bears, mountain lions and deer every year.

The retail price for the Pedersoli 1886 Carbine is 1721 euro (price may vary in your country due to VAT and import duties).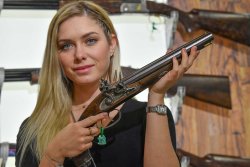 Franco Palamaro, © F.PALAMARO
There's a new version for the Howdah pistol too. The handgun takes its name and design from the large-caliber, usually double-barreled pistols that were used as a last-ditch self-defense gun during tigers hunts in colonial India, which were carried out with elephants as a means of transport and defense. The hunters dominated from the Howdah , a sort of wooden platform mounted on the back of the elephant. If a wounded tiger tried to reach the hunters, the very short and handy gun could instantly stop the attack. Over time, the term Howdah also came to identify the handgun itself.
Pedersoli already offers a centerfire version of the Howdah in .45/70 -.410 caliber in its catalog – we have already talked about it extensively – and a percussion version, but with this model it takes a further step back in time, introducing a flintlock gun. Its exact denomination is Howdah Hunter Shotgun Flintlock, and it's in .20 gauge with a smooth, unchoked bore, which allows for the use of both slug and shot. The barrel features a nice rust blue finish that goes well with the walnut stock. Weight is 4.8 lb / 2,2 kilograms, and retail price is 1190 euro (price may vary in your country due to VAT and import duties).