The 1886/71lever-action rifle by Davide Pedersoli is revealed at first glance for what it is: a replica of the original Winchester, made ultramodern by advanced technical solutions and materials. In other words, a modern classic with its Wild West style and traditional lines, combined with classy wood furniture and a matching finish. We tested the Premium model, intended for a broad public of Western shooting enthusiasts and hunters.
Historical accuracy and modern technology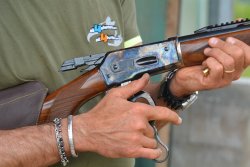 Pedersoli has always drawn on a vast collection of historical originals to build detailed replicas of virtually every gun from the past. Of course, the Winchester 1886/Model 71 could not be missing. Currently the Classic and Premium models of the 86/71 are only available in the muscular .45-70 cartridge.

The Boarbuster (Mark II version included) is available in .444 Marlin or .45-70 and has a starting price of 1877 euros for the Red version with hi-viz orange stock and up to 2306 euros for the Mark II version with Cerakote finish and adjustable cheek rest. The Premium model, which we are going to examine much more closely, has a list price of 1817 euros. 

The 1886/71 by Davide Pedersoli
It catches your eye, no doubt. But aesthetics is also function, not just charm. Several parts of the gun, including the frame and the grip cap, are color case hardened, just like other metal parts – a guarantee of protection and therefore durability. The stock is made entirely from solid grain American walnut, and features a very well executed hand-made checkering for a perfect grip when swinging.

The barrel length and magazine capacity are identical to the classic 1886/71 model, the half-length magazine holds five cartridges while the rifle's design and finish absolutely deserve the "Premium" title.

Practicality and use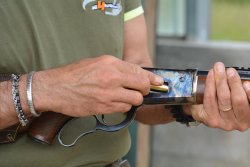 Needless to say, even the most beautifully designed gun does not make anyone a good shooter. I'll say more – even if you think you're a great shot, an adaptation period is always necessary with any new gun. However, it has to be said that this lever-action rifle always works in a smooth and dynamic way, which not only doesn't hurt, but also helps to become acquainted with a tool that will have to accompany us in the most extreme and challenging hunting and shooting situations.
Already from the first shots, we had flawless feeding and case ejection, even during quick shooting strings, with very fast and close reloading cycles. The Premium's trigger is adjusted at just over 4.4. lb/2 kilograms, with a smooth, progressive trigger release. The rubber recoil pad and the custom leather cheek rest helped to reduce an already quite mild felt recoil thanks to the perfect balance of the whole and a weight proportionate to the caliber: not too light to cause punishing recoil, not too heavy to make it hard to carry. In short, it most closely resembles perfection. 
Fire testing the Pedersoli 1886/71 on the shooting range
Factory zeroed for 300 grain bullets, we tested it firing the most muscular Sellier & Bellot 405 grain instead, with really satisfactory results even if it was "simple" range use.

Two fire tests, and then quick strings focused on silhouettes. Well, the groupings were of the utmost satisfaction! We are talking about 3.9"-4.7" (10-12 cm) groups, and between 5.9"-8.6" (15-22 cm) shooting without support and free swinging from distances between 45/50 m and 70/80 m! Not bad for a gun that's not a sniper rifle.. 

Using the normal iron sights, I was pleasantly impressed by the rapid target acquisition, even if for purely instinctive shooting personally I would like a more bent stock and with greater cast given my levers and being 6 ft 3" tall! But you can customize it both when ordering and using after market parts. The Picatinny rail allows in any case for the mounting of scopes and red dots, which are very useful when hunting wild boar.

After I got the hang of the lever-action system, the possible rate of fire in quick shooting strings impressed me, as on the other hand the Boarbuster already did. To put it plainly: an expert can fire follow-up shots almost as fast as with a semi-automatic rifle, all with the mathematical certainty of having no jams whatsoever, for any reason! And this is no small advantage.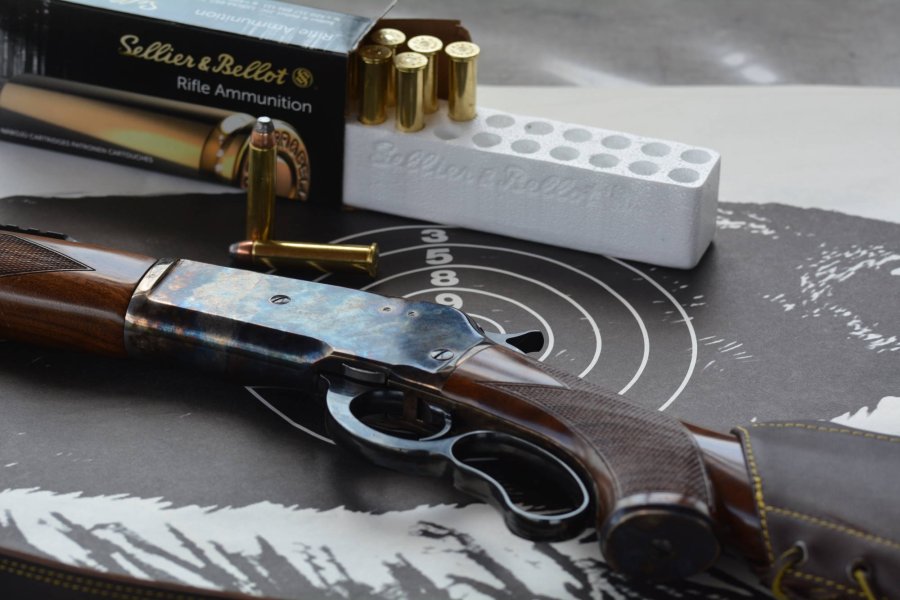 Pedersoli 1886/71 lever-action rifle in short

Of course, we missed the hunting test (for now...), but during our test the Pedersoli 1886/71 Premium turned out to be a beautifully finished lever-action rifle and an absolutely reliable "tool". To keep it short and sweet, if I were in a hostile environment at risk of encountering dangerous species, I would feel safe with it! The rifle is compact (despite the barrel being longer than the Boarbuster's one), handy and well balanced. As already said, appearance and finish are top quality. It's therefore a gun that will certainly delight fans of classics and replicas. It will however capture the attention of many hunters for a thousand reasons – and not just wild boar hunters. The caliber itself, in fact, allows for lightning-fast shooting with absolute stopping power on any game you can encounter, and great levels of intrinsic accuracy, which up to 200 meters allow you to engage virtually ...everything!
| | |
| --- | --- |
| Manufacturer: | Davide Pedersoli |
| Model: | 1886/71 Premium |
| Type: | Lever-action rifle |
| Caliber: | .45-70 Government |
| Action: | Lever-action |
| Magazine Capacity: | 5+1 cartridges |
| Barrel: | 24"/610 mm |
| Overall Length: | 42.5"/1080 mm |
| Trigger pull weight: | 4.7 lb/2.150 g |
| Weight: | 8.1 lb/3.700 g |
| Price: | 1817 euro (price may vary in your country) |
| Finish: | Color case hardened frame, blued barrel |