There must be a reason why in the popular imagination big game hunting scenes are almost always associated with double rifles, and it is simple – the safety that these guns can ensure. Break-action rifles are in fact not only synonymous with elegance, but have always accompanied the hunting trips of those who can't, and do not want for any reason, run the risk of a jam or a misfire. The simplicity and at the same time the mechanical ruggedness of break-action guns leaves no room for doubt especially in contexts such as those of big game hunting, where the PHs that accompany the hunters can often confirm their reliability even in extreme situations. The field we are referring to – ungulate hunting – does not pose excessive risks of direct encounters with the wild game, but can in any case it can guide us in an examination of the points in favor of Express rifles. 
To face a hunting trip with an Express rifle allows you to open and inspect the gun at any time, avoiding obstructed barrels, tampering, unintentional discharges or other bumps in the road. Shooting comfort can be lower than with semi-automatic guns, but you will shoot more quickly and instinctively in the woods thanks to the general compactness of these firearms. Being certain that the gun will fire without jamming, especially with double trigger models, does not make us regret the lack of a third or more rounds available. Hunters are often even more concentrated and accurate on game, pondering the two shooting opportunities available. Modern Express rifles, while maintaining a classic appearance, allow the hunter to use not only iron sights, but also optics that improve visibility and accuracy in the forest. 
F.A.I.R. Express rifles: Iside Safari side-by-side double rifles
The family of side-by-side double rifles manufactured by F.A.I.R. is named "Iside Safari". The smooth-barrelled Iside side-by-side shotguns are one of the flagships of this company, which has therefore decided to adapt the platform of these very successful double-barrelled shotguns introducing substantial changes that could guarantee ruggedness and safety to the Express version intended for big game hunting, while maintaining their refined design.

The result is a family of firearms with three main models:
Iside Safari with engraved action and manual extraction; 
Iside Safari EM with engraved action and long-stroke automatic ejectors; 
Iside Safari Prestige Prestige with the same mechanical design but with the addition of side plates.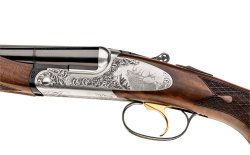 The guns of the Iside Safari series are recognizable for the reinforced action, the mono-block barrel coupling and the particular stock design: a classic detail is certainly the pistol stock design with many different shapes, and the EM and Prestige versions with Bavarian cheek rest, and a beavertail forend for a firm and easy grip. 
Another unique feature of these guns is that they are optics-ready, in addition to the iron sights already present with a V-notch rear sight and a high-visibility fiber optic front sight. Action, trigger guard, forend iron and mono-blocks are machined from solid billets. Barrel chambers are particularly strong. Barrels are 21.6"/55 cm long. The internal locks feature hammers with double safety notches and shell extraction can be manual or automatic thanks to long-stroke selective ejectors. The wood used for stock and forend is always oil-finished select European walnut, with fine pitch laser checkering. The 3D laser engravings on the side plates and receiver bottom faithfully depicts wildlife, large ungulates and floral motifs. Another aesthetically pleasing detail is the pierced opening lever. 
One of the most recent models that stands out for its classic shapes is the Iside Vintage Safari external hammers side-by-side, a real tribute to tradition lovers. The F.A.I.R. double rifles of the Iside Safari series are available in 8X57JRS-9.3X74R, 30R Blaser, 30.06 Spr., 270 Win., .308 Win, .243Win., 7X57R. 
F.A.I.R Safari over/unders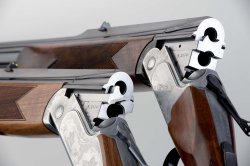 For the manufacturing of F.A.I.R. Express rifles, F.A.I.R. makes use of specialized technicians and collaborators with a long experience in rifled guns. The Express Safari models come in 4 different configurations: 
SAFARI FXW
SAFARI 500
SAFARI DE LUXE
SAFARI PRESTIGE. 
Built using 20-gauge action bodies, Safari models offer reliability and elegance without neglecting ease of handle, reaching weights of about 6.6 lb/3 kg. Also in this case, features and quality of materials are the same as the F.A.I.R. rifles described above, i.e. mechanical parts machined from solid billets and European select walnut furniture. Barrel length is 21.6"/55 cm. 

The precise adjustment of the barrels shooting convergence in the Safari models is very important and barrels are aligned by hand in the F.A.I.R. shooting tunnel. 
Reliability and accuracy are guaranteed by the company's test fire. Acceptance testing requires  two rounds to be fired per each barrel within a 19.6"/50mm diameter circle from a distance of about 50 m. An important feature of the Safari models is the optional pair of interchangeable smooth-bore 20-gauge barrels; hunters can thus use the same gun with familiar aesthetic features and ergonomics in different types of hunting. The De Luxe and Prestige models stand out for their fine finishes, on which extra-quality Bavarian-style stocks are fitted as standard, while the Safari FXW model is fitted with a walnut FX-WOOD stock.
Calibers available for the Fair Express Safari are: 8X57JRS, 9.3X74R, 30R Blaser, 30.06 Spr, .270 Win., .308 Win., .243 Win., 7X57R, 6.5X55, 6.5X57R.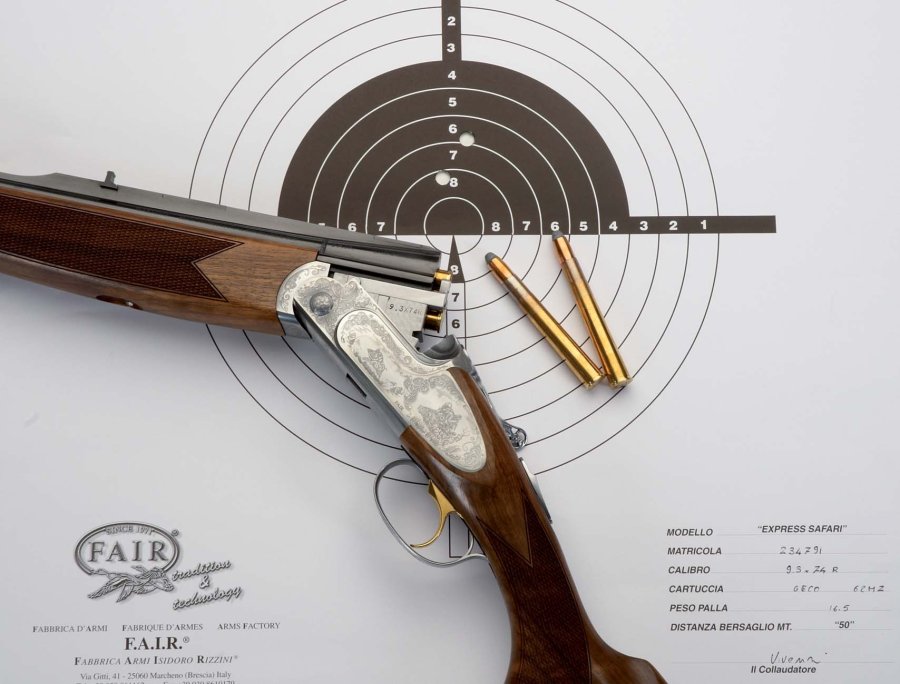 ---
For more information on Express rifles please visit the F.A.I.R. website.