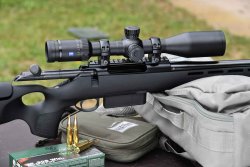 Zeiss Sports Optics presented the new V6 line last year, as an evolution and replacement of the already popular Conquest DL line. The Conquest V6 introduced a zoom ratio of 6x and the unprecedented integration of high-quality FL lenses in the optical scheme; it's the same type of state-of-the-art glass used in the Victory line of riflescopes, allowing the new Conquest V6 optics to reach a light transmission of 92%.
Additionally, lenses feature premium Zeiss T* coating customized for each lens and LotuTec external protective coating.
Other features shared by all models in the Conquest V6 line are a 30mm tube with monolithic construction, availability of Z-Rail mounting interface, a reticle in the second focal plane and 2m of adjustment at 100m.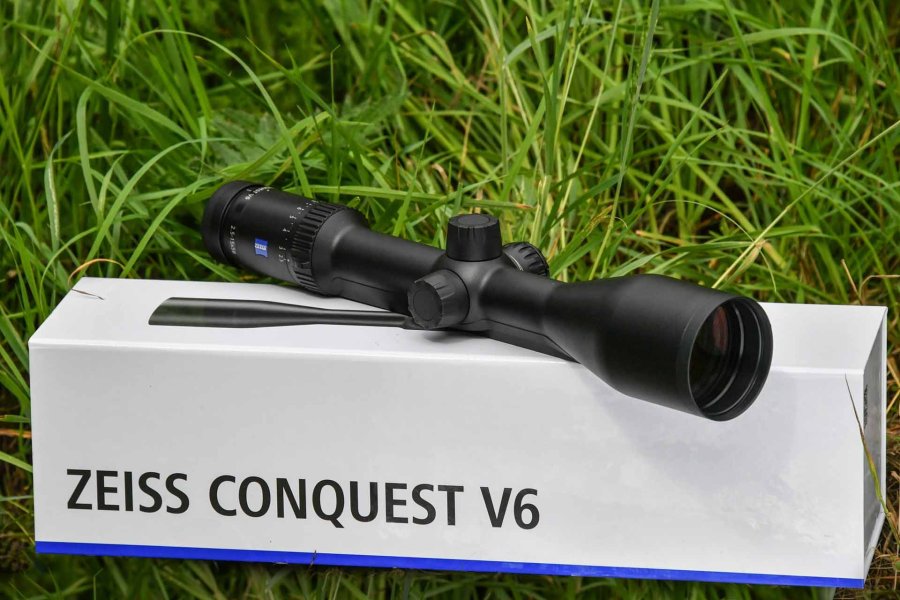 But let's focus on the two models that the German manufacturer sent us to live fire test: the Conquest V6 2.5-15x56 and Conquest V6 5-30x50.

The first riflescope is equipped with standard hunting turrets, with a click value of a 1/3 MOA – 1cm at a 100m each, protected by a screw on cap and an illuminated #60 Reticle, very fine with a Fiber Optic red dot in the center of the crosshairs that can be finely adjusted and that turns off when the gun is held vertically.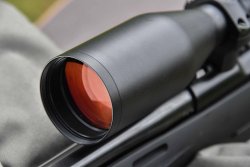 We received this riflescope with the optional Z-Rail.
The 5-30x50 we received is configured as a long-range sporting and hunting riflescope, with Ballistic Turrets with Ballistic Stop and multiple revolutions. Click value on both turrets is ¼ MOA with 80 clicks per rotation (20 MOA per rotation). Elevation adjustment range is 62 MOA, while windage offers a range of 34 MOA. Reticle in this model is non-illuminated. Four reticles are available: #6, #43 (mildot), ZBR and ZMOA.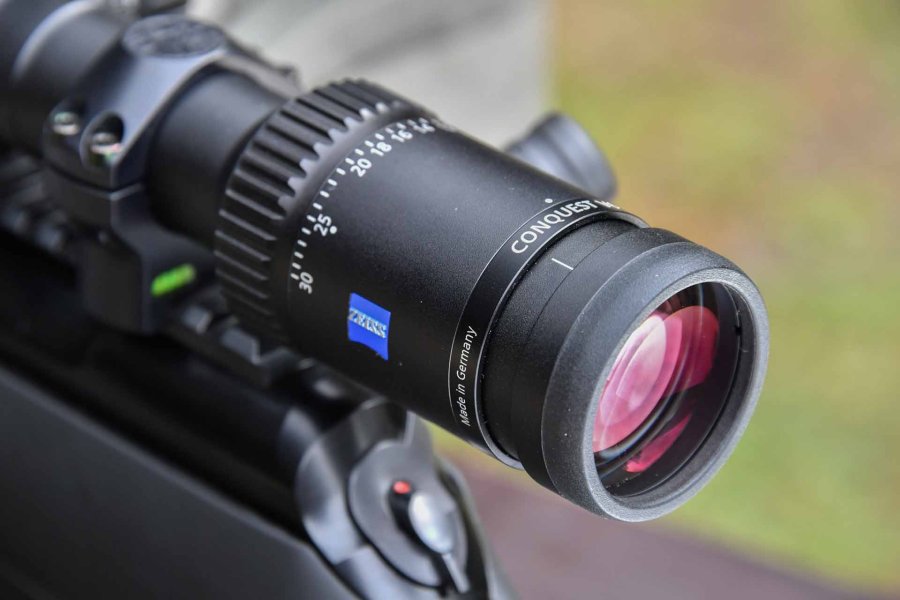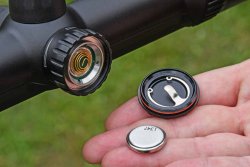 The 5-30x50 is suitable for sitting, mountain and long-range hunting, and sport long distance shooting; the 2.5-15x56 is an all-rounder, that can be used from driven hunts and stalking all the way to Safari, Mountain, medium and long range hunting.
We immediately tested the riflescopes using two bolt action rifles, a Roessler Titan in .308 Winchester and a Bergara break-action chambered in the same caliber.
Appearance of the Zeiss Conquest V6 line is very good. Finish is excellent, the hard matte coating is smooth and does not reflect to much light; it is elegant and will complement well the appearance of high end hunting rifles. Lots of space on the mounting surface of the 30mm body to adjust for correct eye relief and mounting rings placement.

This video has been hidden because of an external service (YouTube) that could potentially collect personal data.Allow video services for the duration of the visitAllow video servicesStop allowing video services
The ballistic turrets are excellent, correctly sized and with great feedback when turned, each click crisp and consistent. Once the gun is zeroed, the turret can easily be set with a zero stop feature.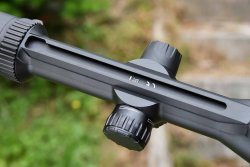 The fast focus eyepiece allows for -3 / + 2 diopter adjustment, and the eye relief value is a generous 90 mm. Exit pupil in the 5-30x50 is excellent in the low and medium magnification settings, all the way up to about 25x, then it becomes a bit on the smaller range (from 9.5 to 1.7 mm) - still perfectly useable, but the eyebox suffers when we dial the highest setting. Note that this is subjective, and since eyebox is so forgiving on any magnification except the highest, it may just be us… On the other hand, the 2.5-15x56 is almost perfect all the way, with 9.5 to 2.8 mm.
The image viewed through the V6 is purely Zeiss. Crisp, clean and super clear. We had the chance to stay late in the shooting range (not allowed to live fire at dusk though… ) so we did test the glass at twilight, and we found that the colors, contrast and brightness are really good – almost at Zeiss Victory level - after all Zeiss states that this is the only riflescope to use FL lenses at the marketed price point. FL glass also drastically limit fringing, increasing contrast and edge to edge sharpness.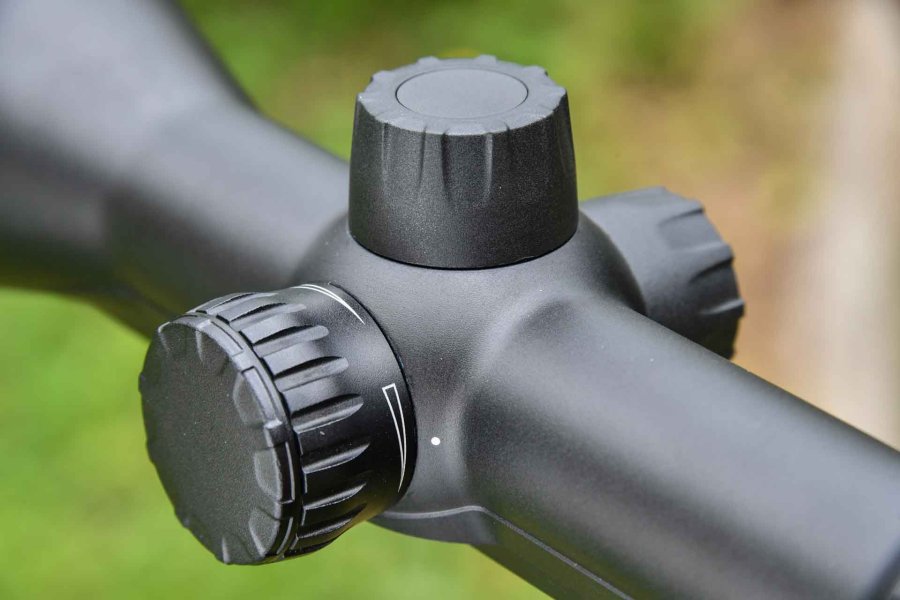 The machined metal magnification ring is smooth and well dampened, however it's thinner and offers slightly less grip than average, with a small raised lug and thin grooves. The third turret on the left side is either a parallax adjustment knob (focusing from 50 m to infinity) in the 5-30x50, or the illuminated reticle brightness control, in the 2.5-15x56. To activate the dot in the center of the crosshair, the knob is pulled and to turn it off, pushed in. The brightness is continuously adjusted; parallax is free at 100 m.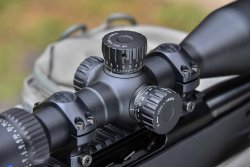 We stated that performance is excellent, but when we compare the quality level to the price range - 1895 euro MSRP for the Conquest V6 5-30x50 with ballistic turrets, plus the Zeiss branding, it becomes exceptional.
The Conquest V6 2.5-15x56 with Z-Rail is 1,695 euro, again a very good price. Remember, these are MRSP, so it is very possible that a better deal may be available at your gunshop, plus the price may vary according to your local VAT tax.


Data table:
| | | |
| --- | --- | --- |
| Model: | Conquest V6 2,5-15x56 | Conquest V6 5-30x50 |
| Manufacturer: | ZEISS | ZEISS |
| Magnification: | 2,5-15x | 5-30x |
| Effective lens diameter: | 24,3-56 mm | 47,3-50 mm |
| Exit pupil diameter: | 9,7-3,7 mm | 9,5-1,7 mm |
| Twilight factor: | 7,1-29 | 14,1-38,7 |
| Field of view at 100 m: | 16,4-2,7 m | 7,4-1,2 m |
| Diopter adjustment range: | +2 / -3 dpt | -3 / +2 dpt |
| Eye relief: | 90 mm | 90 mm |
| Centre tube diameter: | 30 mm | 30 mm |
| Objective tube diameter: | 62 mm | 56 mm |
| Length: | 352 mm | 380 mm |
| Weight: | 690 g | 740 g |

You can find more information on ZEISS Conquest V6 riflescopes directly at the website of the company.