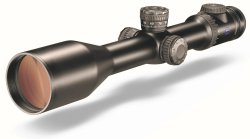 At the 2016 edition of the HIT Show in Vicenza (northern Italy), the Bignami company showcased the new 4.8-35x60mm entry in the Zeiss Victory V8 line of riflescopes − a top-of-the-line model that offers the best available performance in all long-range shooting situations, from hunting to sport shooting and professional applications.
Thanks to the wide 60mm lens, the Zeiss Victory V8 offers an extremely high level of light transmission – which makes it extremely reliable even in the lowest environmental light conditions. At a 35x magnification setting, and thanks to its wide exit pupil, the Zeiss Victory V8 4.8-35x60mm makes even the smallest and most distant targets appear close, clear, detailed, and brightly colored.
The Zeiss Victory V8 4.8-35x60mm riflescope also sports a brand new ASV Competition reticle adjustment system, and a groundbreaking 92% light transmission factor: a true top performer.
The manufacturer's suggested retail price for Italy is set at €3.210,00.