Every year, Pulsar chooses Las Vegas to introduce a completely new model, sometimes even a completely new class of instrument.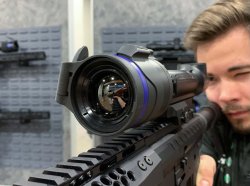 This year, the new model is called Talion XQ38: a compact lightweight and versatile thermal imaging hunting riflescope featuring versatility, comfort of use, and greatly advanced functionality. 
The innovation starts from the multi-point prism mount for exact positioning on the rifle: on this block, multiple fastening points allow the Talion can be mounted effortlessly on various types of rifles. 
Simply slide the thermal riflescope forth and back until you reach the most comfortable eyepiece viewing position. Then lock down.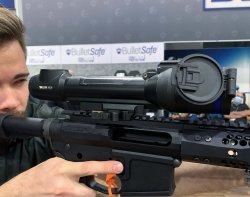 The battery is field replaceable in the easiest and fastest way, thanks to the Talion's unique battery cover. Simply release the lock to open and raise the cover on the upper part of the riflescope and quickly replace the battery even in complete darkness. The Talion XQ38 is powered with Pulsar's proprietary APS5 rechargeable battery; one cell can power the talion for up to 9 hours of active use of the device on a single charge. The mechanism reminds us of a 1888 "Trapdoor" Musket lock.
Apart from the power on button just in front of the focus ring, all controls are concentrated on a round panel just above the eyepiece. The configuration of the panel and the placement and function of the buttons follow the usual Pulsar menu logic, so switching to the Talion has almost no learning curve. The placement also guarantees full ambidextrous access to the optic.
The focusing ring is provided with a raised fin, that not only helps with the focusing operation to increase leverage, but also is precision indexed so that when the fin aligns with the raised "crest" in which the power button is located, the Talion is precisely focused to 70 m. 
This is extremely useful in night time and in complete darkness. The Talion is rugged, built out of magnesium alloy, and is compact enough to be carried in a coat pocket. It's built to take it: bad weather, cold, rain – you name it.
The Talion boasts a lot of additional features, new algorithms for enhanced image quality, a Lynred sensor – and more. But all this will be analyzed in depth in our upcoming Talion XQ38 test and video!
The Talion Xq38 price and exact availability to the market is yet TBD.
Continue following us on allhunters.com!