Officially launched the first of September 2020, the new Thermion XG50 3-24x42 thermal imaging hunting riflescope from Pulsar introduces the first ever vanadium oxide (VOx) uncooled microbolometer from world renown BAE Systems to be integrated in a Pulsar thermal imaging device.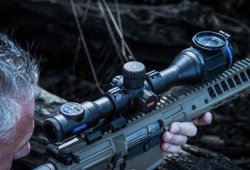 Featuring extremely high specs, such as 640x480 resolution, 12-micron pixel pitch, full frame rate (50hz) and top-class sensitivity, the new sensor allows for unprecedented performance in the Thermion flagship line of hunting optics.
That's just a kind of "early bird" for the fans of all4shooters.com with basic info. We are in close contact with Pulsar to provide more details and for sure also an exclusive test.
Pulsar Thermion XG technical features and advantages for hunters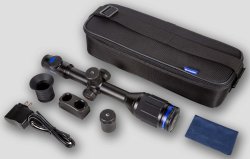 The Thermion XG50 offers a thermal detection range of 2400 yards/2200 meters with excellent quality, detail and clarity, on a 1024x768 AMOLED microdisplay. Digital zoom is set at 8x, allowing the native 3x magnification of the high-end 42 mm diameter, 50 mm focal length 1:1.2 fast Germanium objective to reach 24x.
Field of view at 100 m is 15.4 m. The image processing engine offers Picture-in-Picture, color palettes, and enhanced Rock, forest and identification viewing modes. All the great features that made the Thermion hunting riflescopes a benchmark reference on the hunting scene are also included: first of all, the form factor of a sleek, familiar and streamlined traditional daytime riflescope, with a standard 30 mm mounting surface tube, and rugged, full machined metal construction.
And then, built-in video recording with audio, Wi-Fi connectivity with Stream Vision app support, recoil activation, 5 rifle profiles, 13 variable electronic reticles and one-shot zeroing freeze functions, manual, automatic and semi-automatic calibration modes - and last, but not least, Defective pixel repair feature. The electronic reticle feature consistent ½ MOA clicks and an adjustment range of 103 MOA.
Availability and official pricing for European customers has still not been announced yet. Keep following all4shooters.com for all updates!